5 Mobile Apps Trends That Will Dominate The World In 2022
20 Oct 2021
"Continuity is the key to the right direction of mobile development. Your future apps should consist of present-day technology.. Let's have a meaningful look at the mobile app trends that are going to be the most full flowing."
It is high time to make UX supremely organic in the interaction process between mobile apps and users. This trend is ruling the globe nowadays. As an intriguing and complex phenomenon, it consists of a number of sub-trends of app development such as cross-platform development to clarify the authenticity of business ideas, chatbots to make interaction easy with users, mobile wallets to ease the process of payments, etc.
The process of making UX maximally organic is growing, and the trend has become the need of the hour, but the problem arises when both the business owners and mobile app developers fail to match the pace of being a part of popular trends. To sustain and thrive in the business it is essential to reach some kind of accord so that you'll always remain competitive in the highly competitive market. Though it is not required to implement all trendy features into your mobile apps. But it is important to acknowledge the app market and thus swiftly and decisively move in its direction. This post is an analysis of what awaits us in the nearest future of mobile app development.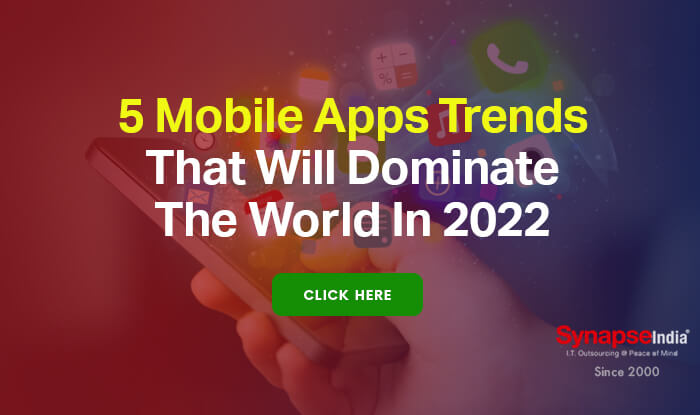 The Current Status of Mobile Development
Continuity is the key to the right direction of mobile development. Your future apps should consist of present-day technology. All booming mobile trends such as AI, AR, IoTare the result of rigorous and consistent efforts. The current mobile app trends will certainly evolve into new ones keeping a technological legacy amid upcoming challenges of users' needs.
That is why we hardly observe evolution in mobile app development in which complete disruption occurs. Though, the COVID-19 era has enlarged the parameters of the mobile development sector. Since the lockdown, staying remote has become the new social motto of the app development world. Businesses work in the direction to provide simpler, easier, and more user-friendly apps to the people.
What trends will affect mobile development in 2022?
Trends are like rivers: the more water replenishes the river the wider and stronger it becomes. In the mobile app domain, the flow of users' interest will determine which trend will dominate the world of app development, others will keep running in parallel and with time, they will disappear one day. Let's have a meaningful look at the mobile app trends that are going to be the most full flowing:
Super Apps
Lately, the trend of large multipurpose applications is gaining popularity. Traditional speaking, every mobile application has been designed and developed to meet a certain kind of need of users. For example, an app in the healthcare sector will focus on different aspects of the healthcare domain such as fitness, healthy food, anti-sedentary lifestyle, etc.
These days mega applications which can perform the whole spectrum of tasks are gaining a huge fan following. The developers are working on creating an environment in which all possible needs of the users can be satisfied. The consumer logic behind the popularity of this trend is simple: it is more convenient to use one application able to perform 10 tasks than to install 10 apps able to perform 1 task each.
Counter-fake Solutions
Fake events are personated as real events in today's media and the actuality of truth remains behind the shield of misinterpretations. People may have doubts regarding the veracity of stories available on different news websites, but social media has nothing to resist fakes. Often, we do not fact-check any news we see on Facebook walls, consequently, the need arises to implement fact-checking algorithms into social media apps. Developers sitting at media houses are working on creating a new technique where it becomes plausible to separate the wheat from the chaff.
AI-based cross-checking solutions are being used to validate data in social media. Automated algorithms use anti-fake filters on millions of fake posts being published on social media every single minute. Nonetheless, Twitter and Facebook are tentatively putting their efforts in the direction of counter-fake solutions, but a purely counter-fake mobile solution is still waiting to go off.
Security and Anonymity
Many apps collect the personal data of users. Though the motive behind such data collection is to deliver an improved service, however, users fear the risk of data leakage. And there are media giants in the market that are infamous for selling personal information. This causes mistrust amongst the users for various purposes.
Henceforth, the need has surfaced to set up the security of personal data. Technological features like face recognition, fingerprint, 2-factor authentication have long been practiced by mobile developers. However, the data protection issue is still prevailing in the market and is a matter of concern and it seems like the trend will remain relevant in mobile app development for a while.
Touchless Interfaces
The simplification of mobile applications is gaining immense popularity. Users prefer apps that they can operate with minimal effort. This means the interface has to be as smooth as possible. Fast-moving and evolving life urges mobile developers to develop new kinds of touchless interfaces.
Voice-driven interfaces comprise one of the two promising touchless solutions accessible these days. Another one is the gestures that control smartphones. The two methodologies have effectively been applied to touchless control in differing degrees. Simultaneously, the two of them are far from debilitating their capacities as far as the touchless ease of use of mobile devices. Coincidentally, the infamous COVID has added fuel to fire too: don't touch your telephone – avoid infections!
Voice assistants, for example, Siri and Alexa address the cellar whereupon completely fledged touchless interfaces can be fabricated. Voice assistants enjoy two fundamental benefits: they don't consume a lot of room on the screen, and they need no manual activity to be activated.
Neomorphism In Design
Patterns in future application development can't evade issues like UI design. The plain UI with moderate components is viewed as standard in applications' design while laconicism in data display is a standard. Nonetheless, designers continue to search for new types of interface enrichment. One of them suggests neomorphism components that look accessible.
Neomorphism permits mirroring three-dimensional objects pointed toward fortifying tasteful impressions from programming items. Such a methodology, in any case, makes the UI more difficult to scale. That is the reason pure neomorphism seldom happens in mobile application development. But generally, pseudo-3D components are added to plain moderate interfaces.
Tags: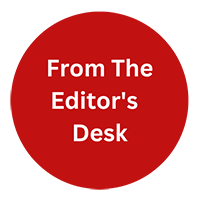 "From the Editor's Desk" is not just about the content. Our content writers will be sharing their thoughts on industry trends, new technologies, and emerging topics that are relevant to our readers. We believe that it's important to stay up-to-date with the latest news and trends, and We excited to share my thoughts and insights with you.