5 Tips to Hire a Proficient PHP Developer for Superior Web Development Needs
04 May 2017
"For a successful project delivery, business owners needs expert supports having intensive experience in web development platforms, high technical skills, and creative approach PHP developers in India take every project as a challenge and show their best possible efforts to make it matchless"
To get enterprise level web development solutions, it's truly imperative to employ highly qualified professional having good domain expertise and long years of relevant experience. A dedicated team of web developers can do miraculous things in meeting your customized needs perfectly.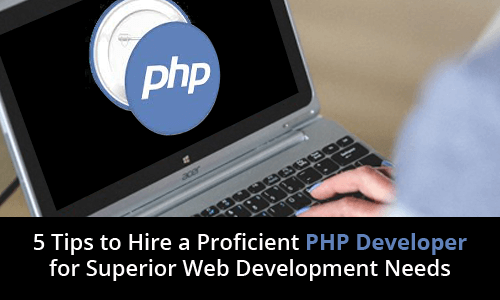 PHP is one of the most proficient choices to deliver world class web development services and that's why this platform is preferred by various fortune brands like Facebook, Tumblr, Wikipedia and much more. The PHP platform can be easily integrated with MySQL, RDBMS and its latest release PHP7 offers most exclusive features like reduced memory consumption, handling fatal errors, scalar declarations and much more. So, for a superior class web development needs, you must hire PHP developers in India. There are various things you need to consider while hiring your software partner.
Here are some considerable points, you need to analyze when employing a PHP professional:
- Experience and expertise: Depending on the complexity of your project, you should scrutinize the expertise of a developer. The experience of a developer depends on his core skills, coding techniques, and domain expertise.
- Adaptability to change: For any web development professional, it is truly important to continuously connect with the latest market trends and adopt new time-tested technologies to provide the next generation web development solutions. Developers should be able to understand the client's requirements and deliverables adequately. Additionally, they should be flexible and ready to provide professional assistance even in the tight deadlines.
- Quality assurance: Every web development company has multiple departments. Each department has its own specific role to make the end product flawless. So, hiring a reputable web development company is always good as they offer top- notch services with quality assurance.
- Seamless Communication: Good and coherent communication can bring good results. If you're providing services globally, you must have good communication skills, where good means maintaining the complete transparency of the project with a client, the practice of understanding clients needs and fulfill their expectations accordingly.
- Follow a standard approach: When you are looking forward to hire a PHP development company to meet your web development needs, don't forget to check if they follow an organized, business standard approach with various project management tools and techniques like Gitlab, Hubstaff so that the assigned tasks can be monitored, managed and updated across the entire team effectively.
At SynapseIndia, PHP developers have good command over diverse PHP frameworks and will deliver you award-winning solutions to meet your business objectives efficiently.
Tags: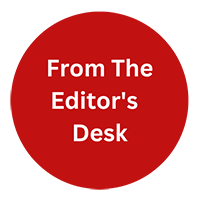 "From the Editor's Desk" is not just about the content. Our content writers will be sharing their thoughts on industry trends, new technologies, and emerging topics that are relevant to our readers. We believe that it's important to stay up-to-date with the latest news and trends, and We excited to share my thoughts and insights with you.