7 Reasons Why Best Custom Mobile App Development Company Are Gaining Popularity?
31 Jan 2023
"Customized mobile apps are the new trend of the tech world. Businesses of every size have understood the benefit of customized apps; a customized mobile application is the best way to engage customers and increase conversion rate. Therefore, both the need and demand for a custom mobile app development company has increased."
The changing technology has seen an increase in demand for mobile phones. Its usage is not only restricted for entertainment purposes, in fact, the growth of the ecommerce industry and social media sector has increased the dependency on mobile phones. Today, not only individuals but companies also rely on phones to improve their productivity. A mobile application has become a powerful business tool that maximizes customer reach.
Companies these days prefer customized mobile apps in order to improve their customers' experience. Moreover, a customized mobile application has more functionalities that add value to the business.
On average, approximately 7.5 hours per employee per week are saved if you invest in custom mobile app development. And 82% of business owners believe it helped them earn revenue from additional commercials, says a development report.
A custom mobile app development company can create an application from scratch and later on modify it as per your requirements. A mobile app can be fully or partially customized as per the requirement of your business and the target audience.
Benefits of Custom Mobile App Development
Custom Mobile App Development Improves Efficiency
Customized mobile applications are built as per the company's specifications, the purpose of these apps is to improve customers' engagements and increase ROI. Businesses use different kinds of mobile applications to connect and involve their customers, often generic applications don't deliver the desired results. Hence, customized apps are developed considering the industry requirements, enhance employee productivity, which also boost business ROI.
Higher Scalability
Your customized application scalability depends on your company's requirements. If you want to increase your customers' engagement then you must communicate your needs to your development team, only then your development team will be able to serve your particular needs and can scale up functionalities if required.
Greater Productivity
Businesses want to increase their productivity by leveraging technology. When you are capable enough to install various tools and have a team of experts who hold proficiency in getting the best out of these tools then it is best for you to work on improving your productivity. There are many apps available in the market that can help the companies to increase their efficiency.
Enhanced Security
If you want your app to succeed in the market, then make sure it is properly secured. It is crucial for every business to keep its data safe and undoubtedly custom mobile applications have increased the level of security. You can select any database, cloud storage, and servers to protect your data.
Benefits of Hiring Custom Mobile App Development Company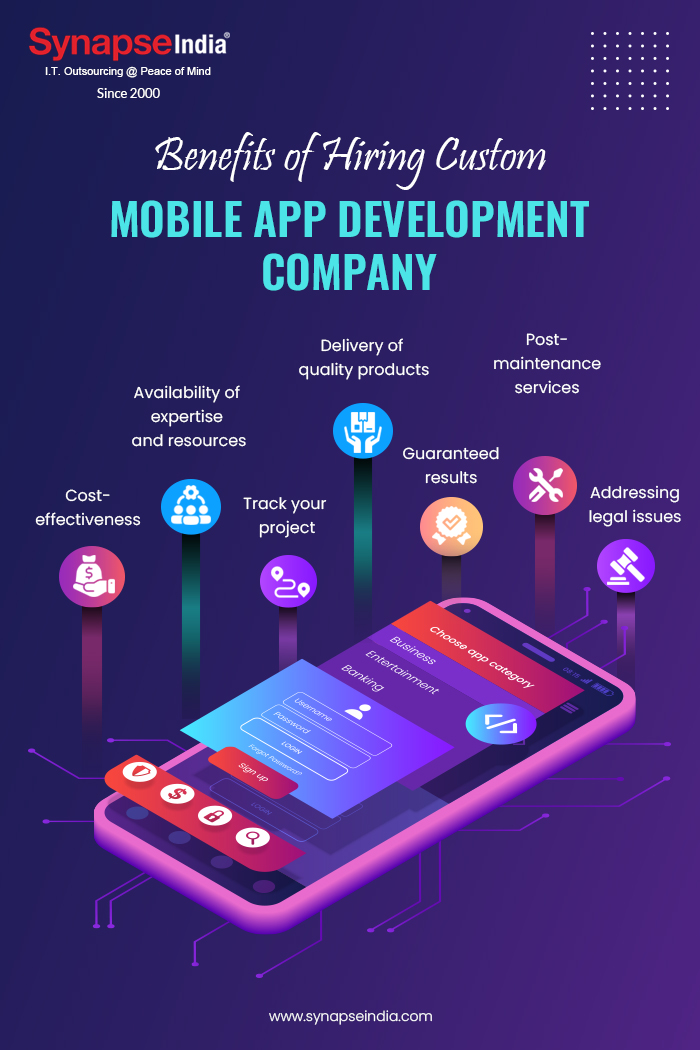 There are two ways through which you can develop your own mobile application; you can hire a team of experienced developers or outsource your needs to the custom mobile app development company.
However, it is wise to hire a team of dedicated mobile app developers from the best mobile app development company because as an organization you can enjoy certain advantages over freelancers. Let's understand the benefits that a team of mobile app developers can provide.
Cost-effectiveness
Outsourcing your mobile app needs is a convenient and cost-effective option. For any type of app be it a gaming or e-commerce application, they will help you complete your project within the budget as per your requirement. You will also be provided with customized services.
Availability of expertise and resources
Another key benefit of hiring a development team is the availability of expertise and resources, which comes as a complete package when you sign a contract with the team. By using team services, you can benefit from the latest tools, licenses, and software languages needed in the mobile app development process.
Delivery of quality products
A development team has a reputation, and it will do whatever it takes to maintain its reputation. Additionally, they are updated with recent technologies and new programming languages. Hence, they work hard and smartly to deliver high-quality products that provide positive feedback while launching the app.
Addressing legal issues
Hiring a reputed custom mobile app development company helps to avoid the chances of facing legal issues. As the team is legally certified, they provide consistency in the task. You can rest assured that the development team will run according to the indictments of the contract they signed with you.
Track your Project
When you hire a dedicated development team, you have complete control over them. The app development team divides the project into several small sections and plans the task by scheduling it effectively. You can track their work progress and monitor timely updates of each segment of the work process.
Guaranteed Results
As the development team consists of highly skilled developers, they can follow the latest technologies to develop your products. Improves team productivity at the start of work. They are experienced and can assure you about the outcome of the project.
Post-maintenance services
The role of app development companies does not end with just completing your project. They also support post-launch services like updating any advanced features, new functionalities, bug fixing, etc. The company has a professional team and excellent infrastructure to meet your long-term business goals. They provide ultimate customer support as well as post-maintenance services to make your business successful.
Conclusion
It is clear from the above discussed advantages that it is best to hire a custom mobile app development company for your application development needs. Whether you need an iOS team or an Android team, it depends on your specific needs.
Do your due diligence before outsourcing your needs, there is no point to cut corners at the time of hiring developers. Take your time to find the best development company because at the end of the day you want your result to be satisfying.
SynapseIndia can help your business to develop a competitive app, to know more about our services contact us today!
Tags: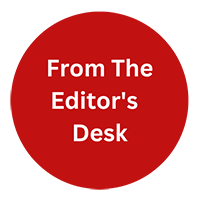 "From the Editor's Desk" is not just about the content. Our content writers will be sharing their thoughts on industry trends, new technologies, and emerging topics that are relevant to our readers. We believe that it's important to stay up-to-date with the latest news and trends, and We excited to share my thoughts and insights with you.