7 Reasons why you should think about WordPress for designing website
25 Jun 2015
"The platform of WordPress for website designing is the first priority of website designers as it can customize hassle free and it is offered a bunch of plugins and a wide range of flexible elements."
When you are searching the best option for your website designing you will get WordPress is one of the best platforms that fulfill your requirement.The Platform of WordPress is loads with several benefits. Let's see a seven reasons why you should go to WordPress developer in India for designing your website.


1. WordPress is Freeware: WordPress Platform is freeware. You can develop your website as per your needs and requirements. In the software world various things are available free like Java, used for android phones and banking software's.
2.WordPress is Easy to Use: This platform is very handy. Users of Microsoft word can easily use WordPress. The task of writing a page and post in WordPress is like a butter bread. It allows you to develop your own website and become the owner of your own website. The main focus of WordPress platform is to offer you the personal website that you could control as like a website admin.
3. Loads with various Functionalities: It offers an easy and smooth way of designing and allows you to add functionality to your website. WordPress has tons of plugins for almost everything you want or anything you could imagine.

4. WordPress is SEO Friendly: When you design your website in WordPress platform, then Search Engine Optimization becomes very simple and affective. Adding SEO functionality with WordPress is very light task and easy to use.
5. Make Your Website Unique with Quality WordPress Themes: The website functionality does not only imperative for successful business, website looks also matter. Eye catching website is helpful to grab the attention of the website visitors and to make more customers. The website is an important online asset and the only business card as seen online. So, it is also imperative to make your website look awesome. WordPress has loads with a variety of themes and these are just the skins or the designs that you include and they finally change the look and feel of your website.

6. It offers a Built-in feature of adding a Blog: WordPress has built with a feature of adding a blog. Blogging is the best ways to promote your products and services. Adding an informative and quality content to your website and let people fall for your products and services. You can also convey anything to your readers using videos and Infographics.

7.WordPress is Customized: It is complete content management system. So, everything you can do whatever you want with it. There are the broad collections of flexible elements that can be used to your website header, footer and sidebars.
Tags: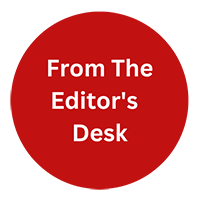 "From the Editor's Desk" is not just about the content. Our content writers will be sharing their thoughts on industry trends, new technologies, and emerging topics that are relevant to our readers. We believe that it's important to stay up-to-date with the latest news and trends, and We excited to share my thoughts and insights with you.