Development of eCommerce Business and its Contribution to Global Economy
04 Jul 2022
"eCommerce is the future of global economy. Let\'s read the blog to know about development of eCommerce business and its contribution to global economy."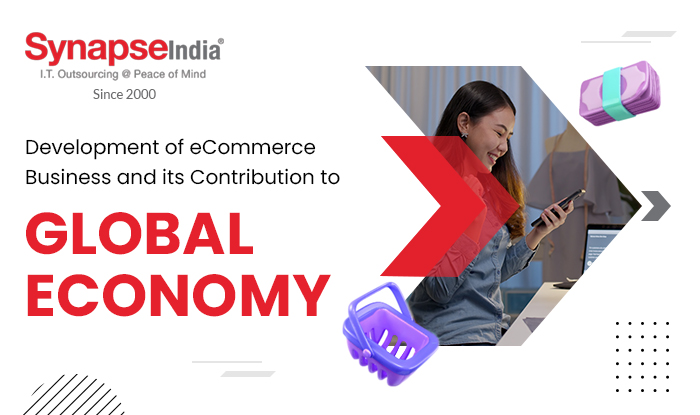 The Internet has significantly changed the commercial field of B2C sales. There are many retailers and product brands that are already selling their products with the help of e-marketplaces, stores, etc. E-commerce marketplace or online e-commerce marketing is the place where a single person can even find a variety of different brands of products or services that come from multiple vendors, stores, or people on the same platform.
The e-commerce marketplace is the main type of multi-channel e-commerce where products and inventory information are provided by multiple third parties. In today's competitive world, eCommerce has become the most exciting industry. The entire eCommerce marketplace runs on a software infrastructure. This allows providers to sell their products and services on a website. Despite all the favorable factors, e-commerce has not been easy for many startups to meet the challenges of the industry.
Quick Glimpse on eCommerce Insights
eCommerce business is the future of the global economy. Consumers spent $861.12 billion online with the US, an incredible 44.0% year over year, according to estimates. That's the highest annual USA e-commerce growth in at least two years. It's also nearly triple the 15.1% jump in 2019.
The online share of total retail sales has been steadily increasing e-commerce penetration reached 21.3% in 2020. That represents an increase from 15.8% in 2019 and 14.3% in 2018. The more than five percentage point increase in e-commerce penetration is by far the largest year-on-year jump ever recorded in US retail sales. As per a cloud-based eCommerce solutions provider, no other year has seen a two-percentage point gain in digital penetration. Had it not been for the surge in online sales due to the pandemic, the $861.12 billion in e-commerce sales would not have been reached until 2022.
Impact of eCommerce on Businesses
Needless to say, this has had a negative impact on physical stores, although some positive changes have also been affected by this. It has hit traditional businesses as they can't provide the kind of discounts offered online, for one thing, and have to keep working hours.
Now it has become a matter of adapt or perish for mainstream companies. This is why many companies with brick-and-mortar stores are also starting to jump on the e-commerce bus; even supermarket chains like Reliance Fresh and Big Bazaar offer their customers the convenience of ordering groceries online.
They pack customer orders from their stores and deliver them to their doorstep. This gives these stores a double advantage: direct and online customers and allows them to increase their sales.
If we were only to talk about the impact of e-commerce or online shopping on the economy as such, it is definitely positive. We have already seen how it benefits both buyers and sellers.
Reasons Behind Development of eCommerce Business
E-commerce business is the best option available for people to build a better business world to ensure future success instead of doing traditional mode of business. For any businessperson, having an eCommerce business is an added advantage to their business. Various factors for the development of the e-commerce business:
1. Wide Platform
E-commerce attracts a wide range of customers from across the country or the world to your business. Therefore, it is a good choice to choose an e-commerce platform to cross the geographical barriers of your business. You can also read about Shopify PIM integration and how it helps in businesses grow.
2. 24-hour Service
E-commerce provides us with 24-hour services at all times, even at midnight. So, customers don't need to visit a physical market if they need something overnight. It is the most convenient option for people who are often busy with their work schedules. Thus, it helps you to be available to your customer 24/7.
3. Business promotion
E-commerce is directly related to your business promotions as it is the age of digital media. Making your business available online is crucial for your business development, such as wide exposure, high convenience, easy to manage, global customer, etc. and will help create a strong, global brand image for your business.
4. Lower cost
If the inventory management of goods and services is an automated process, there will not only be a reduction in costs, but also in risks. Also, having an e-commerce business is much more profitable than a physical store as it saves additional expenses like rent, electricity, and many more.
5. Economy
As there is no investment in terms of infrastructure or insurance in the e-commerce business, more money can be invested in the strategy, products, and promotion. It will boost your marketing strategies and thus can also increase the traffic on your eCommerce website.
6. Easy setup
The cost of setting up e-commerce business is extremely low compared to setting up a physical store. Also, it is quite a bit easier to license and permit an eCommerce marketing site than a physical store.
eCommerce Business and its Contribution to Global Economy
Economic Growth
Electronic commerce affects economic variables and growth rates. It leads to higher wages, higher living standards for people, the structuring of markets and the expansion of marketing, increased sales and exports, and thus increased production and growth rates. The use of modern technological means of commerce by the states increases the strength of their economy and its growth, and this is beneficial for the social, health and education sectors, due to the use of modern technological means in management, and in the e-commerce framework, it is possible to develop production according to its electronic nature, which increases sales, and increases corporate profits.
Electronic commerce provides the right climate for increased production and efficiency by supporting the computer and software industries, the technology industry, and other associated industries such as electronic storage media, networks, and communications, which are the infrastructure for electronic commerce.
The expansion of electronic commerce requires more of these products, which increases their production. In particular, the use of electronic means in commerce increases the level of management and organization within the institution and the development of its productive activities, such as the search on the Internet for new sources of financing abroad and the production of new types of Goods suited to nature. of electronic commerce, which works to support the economies of the countries.
Capital Market
Electronic commerce affects the capital market, since capital flows are exchanged between surplus units, savings units, and deficit units of investors, through the issuance of long-term stocks and bonds, which plays a crucial role in stimulating economic growth and investment. Trading increases the efficiency of stock exchanges, where contracts for the purchase and sale of securities traded on the stock exchange are concluded.
The possibility of obtaining information on these traded securities quickly, and the issuance of purchase and sale orders for brokers, everything is done electronically, electronic trading provides great flexibility through the availability of contracts or purchase orders. purchase or sale, through email. or modern electronic means used in circulation, and provide rapid market information to investors, noting that brokers cannot provide this information on securities traded in the market quickly at times.
Exports
Electronic commerce helps increase foreign trade, especially exports, by facilitating access to global markets, doing business easily and quickly without administrative or commercial restrictions, responding to changes in consumer demand and marketing local products. in these markets, increasing exports from these countries.
Electronic commerce is increasing trade in services between countries. This sector represents approximately 55% of total world production. With the emergence of modern ICTs, the realization of electronic commerce facilitates the process of convergence between consumers and producers and eliminates geographical distances.
Future Scope of e-Commerce Businesses
In terms of the future of electronic commerce in the 21st century, experts predict promising and glorious figures. In the foreseeable future, electronic commerce will be confirmed as the main tool for the sale of goods and services. Successful e-commerce will become the notion that will be inseparable from the web because electronic shopping is becoming more and more popular and natural. Therefore, in the face of future trends, e-commerce will have enormous potential for growth in sales and promotion.
Every year, there is continuous growth in e-commerce offerings. The sales volumes of the online store are much higher than those of brick and mortar. To this day, the rise of Internet sales is the basis for the magnificent future of electronic commerce. In order to attract more customers, owners will not only have to increase the number of services available to them, but they will also have to pay more attention to elements such as design, good presentation, etc. Read more about why startup eCommerce companies should opt for BigCommerce or Shopify?
Final Words
Do you want to build your e-commerce for the future? SynapseIndia can help you! We have been working since 2000, and helps you to enhance the experience, optimize processes and thus increase the sales conversion rate. Our well-versed and dedicated developers build custom eCommerce solutions as per your requirement. To hire eCommerce developer, simply connect with us.
Tags: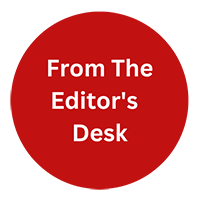 "From the Editor's Desk" is not just about the content. Our content writers will be sharing their thoughts on industry trends, new technologies, and emerging topics that are relevant to our readers. We believe that it's important to stay up-to-date with the latest news and trends, and We excited to share my thoughts and insights with you.