eCommerce Software Development in India: How Its Fundamentals Have Changed?
14 Dec 2022
"Post pandemic, entrepreneurs have seen an exponential growth in the eCommerce sales. eCommerce industry is going through a massive tech transformation. Businesses are implying advance technology to attract customers and to retain the existing ones."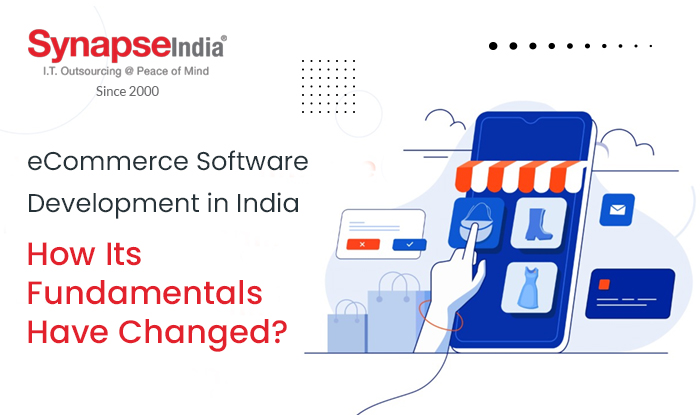 The Covid-19 pandemic has transformed the realm of eCommerce sales worldwide. The eCommerce industry has seen surprising growth in recent years, consequently, improving the software development process of the eCommerce industry. The change in eCommerce will inevitably shape the future of consumer-centric industries. Because of the cut-throat competition entrepreneurs seek better and faster outcomes and owing to technological advancement eCommerce has become one such platform that can deliver desired results.
Before digging further, it is critical to understand that the scope of eCommerce is not only limited to online shopping, in fact, it entails B2B, B2C, and C2C selling and buying of goods and services. eCommerce software development was more like an infant in the first decade of the century, but it has seen tremendous growth in the last 10 years.
The challenges that an eCommerce business faces are varied but eventually reduced and managed by the execution of technology. Currently the fundamentals of eCommerce have changed; tech advancement is the primary factor that has led to the growth of eCommerce software development.
The Dawn of Headless eCommerce
Early 2000s saw a significant change in the Indian marketplace, it was the time when eBay arrived in India. However, eBay failed to gather much popularity at that time and couldnt successfully survive the glam of brick-and-mortar stores. Vendors were not ready to have their own e-Commerce outlets majorly because of the sheer knowledge of technology. However, things changed with the arrival of Amazon in 2013 and with the development of CMS platforms such as Shopify.
The purpose of headless eCommerce is to provide a digital platform to the vendors that gives them the freedom to sell their products online without any design or development constraints. This eCommerce architecture has gained popularity in the Indian marketplace because it allows vendors to focus on their eCommerce capabilities from other content management systems and website functionality. To be precise, they do not have to be involved in the development process. Moreover, this notion of headless eCommerce guarantees unique customer experience and helps shoppers to expand their reach who seem stuck in monolithic platforms.
The Mobile Shopping Boom
The sudden upsurge in the usage of smartphone and internet penetration has provided a way to the vendors to promote and sell their products via mobile. Apparently, the trend is reshaping the purchasing habits of countries where mobile phone users are majorly millennials. To attract more customers and to trigger quick purchase decisions, many eCommerce giants provide exclusive apps to users and simultaneously give them multiple buying options. Companies around the globe are embracing the advent of Smartphones because it is the most convenient medium to drive sales. Moreover, mobile wallets have indeed made payments hassle-free and make it easy for eCommerce to thrive. eMarketer reports that 59% of eCommerce sales are now made through mobile phones.
Digital Marketing Prominence
The expansion of digital marketing has contributed to the growth of eCommerce sales. Businesses are doing their best to leverage the popularity of various eCommerce platforms. They know digital marketing generates better ROI, expands customer reach, and provides better offers and discounts to customers.
Social Media Marketing
The growing popularity of social media platforms like Facebook, Instagram, and Twitter has prompted many eCommerce companies to invest into social media marketing. As per the report published by Kinsta, around 74% of consumers make their purchase decision on the basis of their social network. Moreover, online stores with social media presence attract more consumers and have the probability of selling more.
Email Marketing
With the boom of internet marketing, emails have emerged as a powerful source of marketing for eCommerce websites. Statistics reveal that when email marketing is done right it could potentially yield $44 for each $1 spent.
The Rise of Augmented Reality
eCommerce businesses find it difficult to cope up with the high return rate of purchased products. Product returns are not easy for businesses to manage, an estimated return deliveries in the US will cost industry about $550 billion in 2020. Young and small businesses suffer the most because of consumers this toxic habit. Moreover, many consumers abandon their cart because they do not feel assured of the product.
However, with the advent of augmented reality (AR), eCommerce businesses are doing their best to give consumers an immersive experience. eCommerce software development has reached a level where users can experience the product in real-time from the comfort of their homes. Google survey of consumers found that 66% of shoppers use AR because the technology helps them in making a purchase decision.
Digital Payment Innovations
Earlier eCommerce platforms offered limited payment options to the users, such as- credit/debit cards, internet banking, and cash on delivery (COD). But because of the account safety issues and complicated payment procedures many people drove away from online shopping. However, the growth of the fintech industry has completely changed the scenario. It is the prominent eCommerce software development that has reformed the payment process. The introduction of digital wallets like Google Pay and PayPal has made it easy for eCommerce entrepreneurs to survive and thrive in the consistently growing eCommerce world.
The popularity of blockchain and cryptocurrencies is also worth mentioning. Though the concept of making payments through digital currency is infant in India but globally more than 22,000 outlets allow customers to pay with cryptocurrencies.
The Growing Need for Cybersecurity
The flip side of the eCommerce world is hard to ignore, it has given rise to cyber risks. The world is witnessing an unprecedented growth of e-Commerce, cyberattacks on and around eCommerce websites, marketplaces and users continue to rise. However, the consumers lack of knowledge regarding safety browsing causes cyber threats, phishing attacks, and online fraud. Also, eCommerce websites that fall victim to such attacks may find their reputation is in dingy.
Final Words
Indeed, eCommerce software development has made things easy for both online merchants and customers. The fundamentals of eCommerce have changed extremely, the advancement of technology is the primary contributor of the transformation. In the coming decade, the eCommerce landscape will be fueled by an apparent growth in technology.
Tags: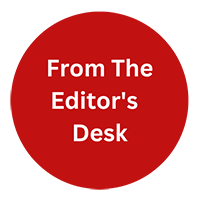 "From the Editor's Desk" is not just about the content. Our content writers will be sharing their thoughts on industry trends, new technologies, and emerging topics that are relevant to our readers. We believe that it's important to stay up-to-date with the latest news and trends, and We excited to share my thoughts and insights with you.