Hire Android Wear app developer to build next-gen apps
14 Sep 2018
"Hire Android Wear app developer from SynapseIndia to build next-gen Android Wear apps for your businesses in USA or anywhere in the world."
Hire Android Wear app developer from SynapseIndia to build next-gen Android Wear apps for your businesses in USA or anywhere in the world. We keep a close tab on the wearable market trends and develop feature-rich and ROI driven apps.
We have ranked among the top providers of Android Wear app development services across the world owing to our unmatched team of Android Wear app specialists, dedication to accomplish every project on-time with 100% quality, flexible hiring models and many more reasons.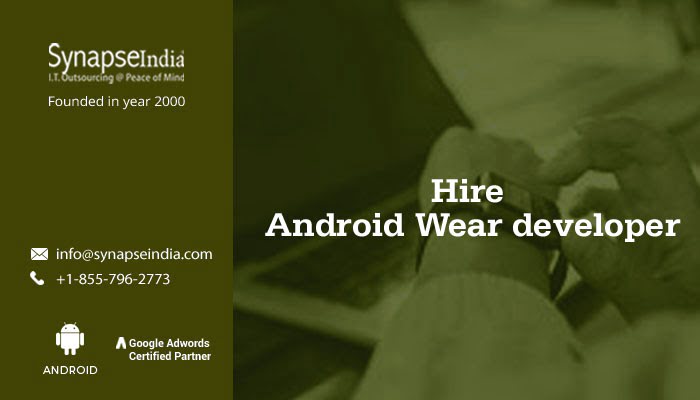 How our Android Wear app developers give a new life to your business?
Our specialists help you to win the battle for supremacy by developing & launching out-of-the-box Android Wear apps.
Our developed Android Wear apps are easy-to-market and drive high sales & revenue.
Faster development cycle and unmatched app quality help you to gain the upper hand in the competition.
Hire Android Wear app developers for your project on full-time or part-time or hourly basis.
We maintain 100% transparency from the project initiation to final delivery.
Our experts have deep knowledge of Wear OS (Android Wear).
They are Google certified Android Wear developers.
Don't let your competitor grab business opportunities. Hire Android Wear app developer today!
Contact us for any query at info@synapseindia.com
Tags:
Author

: Manish

Manish, a blog expert by profession, knows how to deliver perfect blogs for various services such as cloud computing, game development etc. From the blogs written by him, it is evident that they are the epitome of knowledge sharing. His expertise and brilliance to deliver unique blogs is what that makes him stand out of the box.