Hire BigCommerce Developer to win the online competition
30 Aug 2018
"Hire BigCommerce developer from us if you want to conquer the cut-throat competition of this online world."
Hire BigCommerce developer from us if you want to conquer the cut-throat competition of this online world. It is of utmost priority to have an upper edge and BigCommerce offers it quickly to the eCommerce retailers. This platform is quite popular and comes with an assurance of promised future for your USA project. SynapseIndia, being the leading eCommerce web development company has programmers who help in exploiting all the feature of this technology.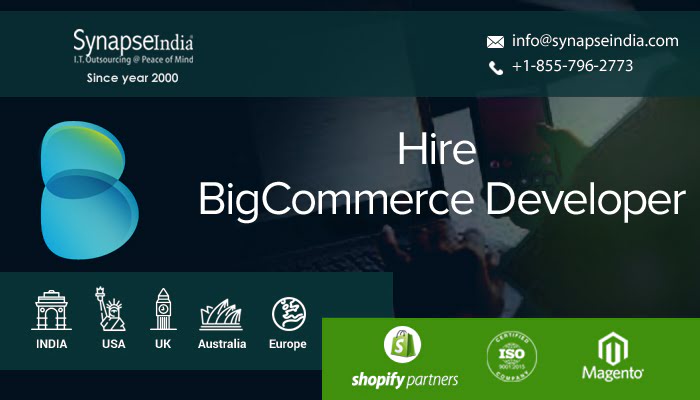 Know here why you should hire our developers -
Capable and agile - The BigCommerce development team working with us has the potential to handle all kind of work challenges related to this platform by implementing logical and agile methods.
Strong knowledge base - Having served international clients and by staying updated with all the framework of BigCommerce, thereby, maintaining a very good knowledge base. Another main reason to hire BigCommerce developer from us.
What can you anticipate from our BigCommerce Developers
From creating a proper plan to executing it, our developer do everything for you, such as -
Theme development & Customization
Store Design/ Redesign
Add-ons development and integration
Maintenance & Support
Migrating Services
Tags:
Author

: Ashish

Carrying a healthy expertise in web development, business analytics and website designing, Ashish Dean is a diligent digital marketing professional. He has a deep insight on various aspects of brand and project management, enabling him to earn an area of expertise within the digital marketing industry. With his innovative ideas and powerful analytical ability, Ashish has always brought significant improvements in the digital marketing arena.