Hire CodeIgniter developer - Achieve success with SynapseIndia
08 Oct 2018
"Hire CodeIgniter developer from SynapseIndia to get client-oriented web development services & solutions in USA, UK, Australia, etc."
Hire CodeIgniter developer from SynapseIndia to get client-oriented web development services & solutions in USA, UK, Australia, etc. Our CodeIgniter developers are knowledgeable and highly dedicated towards the project work.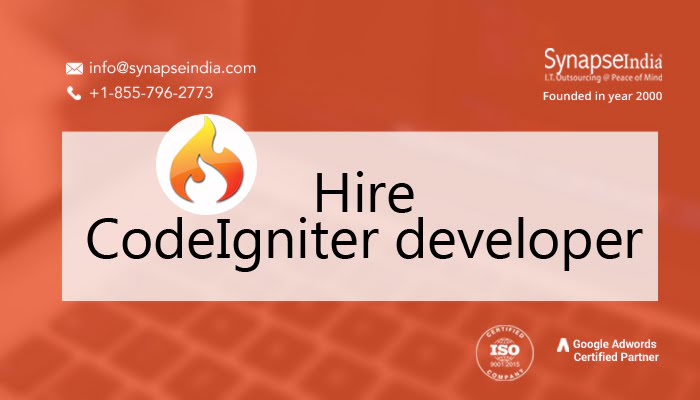 If you want to engage the most reliable and experienced CodeIgniter experts for your simple to complex project then we have the best resources available for you at affordable prices.
We have a huge experience in developing high-end web solutions for almost every business vertical that exists in this world. We have catered our services for retail & wholesale, hospitality, travel, finance & banking, automotive, science & education, logistics & supply chain, apparel, consumer products, electronics, etc.
Recently, we created a SaaS-based application that is especially used by a client for organizational internal operations. Check our CodeIgniter portfolio here: https://www.synapseindia.com/portfolio/CodeIgniter-developers
Why hire CodeIgniter developer from SynapseIndia?
You get a trustable resource who can deliver an ideal web solution with assured satisfaction.
We have CodeIgniter certified specialists who proficiently accomplish all projects with the quick turnaround time.
They follow an organized coding approach and ensure that the developed website or web application is robust, secure and scalable.
Do you want to hire CodeIgniter developer for a website development or enhancement project?
Get in touch with us at info@synapseindia.com
Tags:
Author

: Manish

Manish, a blog expert by profession, knows how to deliver perfect blogs for various services such as cloud computing, game development etc. From the blogs written by him, it is evident that they are the epitome of knowledge sharing. His expertise and brilliance to deliver unique blogs is what that makes him stand out of the box.