How Mobile Apps Have Changed Banking?
02 Nov 2022
"Mobile applications have changed the way baking activities are performed. With each passing day mobile applications are becoming the primary interface of executing banking transactions."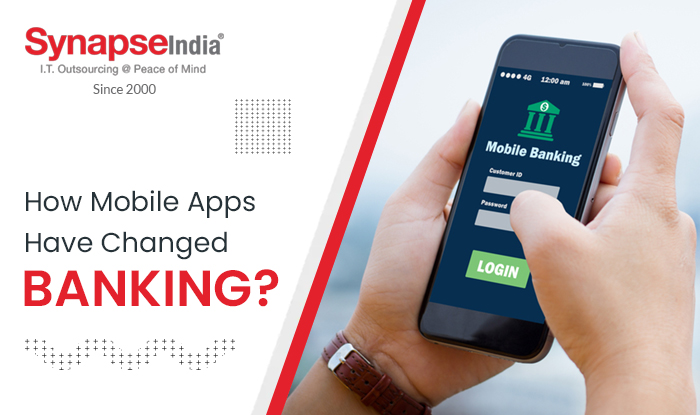 Do you remember when was the last time you visited your bank? Most of you dont even know the answer because it didnt happen recently. If today every movement is occurring on the web, it is sensible that banking can likewise be executed on the web. With the huge progression in technology the mobile applications used for banking these days are exceptionally secure and modern and give users a sleek experience.
Likewise, the mobile banking applications have become exceptionally instinctive and simple to utilize compared with its prior bulkier renditions. Mobile banking app development has become more secure and reliable. In addition, an individual who has no experience in operating a technical device can also effectively transact through a mobile application. There are numerous different advantages of mobile applications which have definitely changed the financial area and made banking immensely simple.
Why Do People Use Mobile Banking Apps?
Clients change to mobile banking applications since it is an easy-to-use device for everyday financial activities. As per Statista, 90% of clients in the US utilize mobile banking applications to actually look at their balances, 79% do it to see late exchanges, 59% to cover bills, and 57% to make transfers. They would use web-based banking for those services before, but more users are switching to mobile applications.
Clients choose mobile banking applications as their primary bank interface and in light of the fact that applications offer far more prominent choices of personalization.
Another significant advantage of utilizing mobile banking applications (also present in web banking) is that they're accessible day and night and you can get to them from any place you are. You no longer have to rely on ATMs or branches to indulge in any kind of monetary transactions. You can fulfill your banking needs from the comfort of your home.
Benefits of Mobile Apps in Banking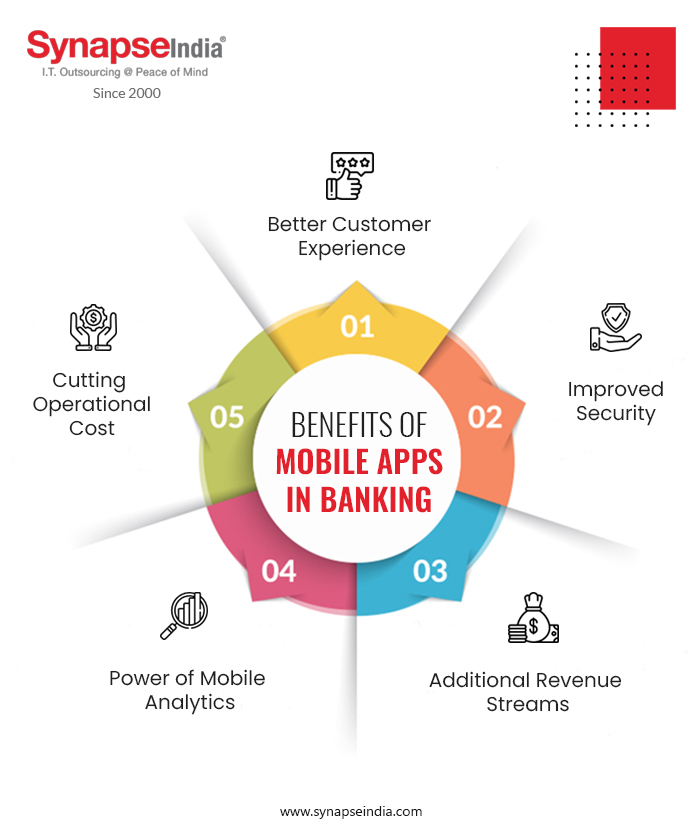 Improved Security
No doubt, cyber-crimes have become a threat, however banks can use mobile application development to guarantee elevated degrees of safety. Mobile banking strategy is to provide users with extra hardware security choices to make mobile banking applications safer than their web-based counterparts. Solutions like biometric authentication have made mobile devices more secure.
Cutting Operational Cost
Building mobile banking applications and advancing them as the principal channel for banking activities can decrease banks' operational expenses. Mobile applications permit banks to go paperless, which saves time, money, and normal assets. It's also a method for cutting costs for branch maintenance and operations. To wrap things up, mobile applications offer exchanges that are multiple times less expensive than ATM exchanges.
Better Customer Experience
By fostering a helpful and well-designed mobile application, banks can work on improving their general client experience. Mobile banking applications are always accessible for clients - they are consistently within their reach.
Clients can satisfy any of their financial requirements at any point and from anywhere. The personalization choices of products and services offered by means of mobile banking applications are far more noteworthy than those in branch-only or Internet situations.
The mobile climate is one of the most mind-blowing business cases for leveraging AI to further improve the user experience. ML centric devices observe users habits and activities and thus try to deliver them a personalized and improved experience. Such banking applications show significant data as indicated by the predictions of a ML model.
Power of Mobile Analytics
Mobile banking applications are an incredible software tool for fintech industries to collect and examine a wide range of information and get significant feedback from the customers. They can become familiar with clients' habits and needs, which is extremely strong information for product development. Data and feedback assembled by means of mobile applications can enormously assist in improving the overall customer experience.
Additional Revenue Streams
As per a survey, mobile banking applications can affect customer engagement and return on investment in more than one way. Monetary institutions can produce extra income by offering value-added services in the applications, similar to retail offers or travel protection. Clients utilizing mobile applications are more involved in financial exercises than branch-only clients and utilize more items. They're likewise more faithful to a brand if the mobile experience is satisfying.
Fintech Is the Future of Financial Companies
Fintech has managed to gain a place in the tech-oriented world, and it has developed so much that it has become progressively challenging to tell the hype from the real world. Future trends in mobile banking will include technologies like artificial intelligence, machine learning. Throughout recent years, chatbots and artificial intelligence, blockchain and crypto resources, robo advisors and neobanks, and a bunch other digitization symbol have become trendy buzzwords in the trade industry.
Global banks turned up corporate endeavor arms and digital incubators, investing in, or copying solutions from emerging organizations. Around the world, Eastern technology organizations launched messaging super-applications with a huge number of clients and inserted monetary services, outcompeting the capability of Western-managed jurisdictions. American tech firms dug in deep, as well, tracking down ways of giving monetary products without contacting the third rail of guidelines.
Conclusion
How to build a banking app? is a tricky question but bank clients do hope to have a dedicated, customized, well-designed and helpful application for as much banking of their services and products as could reasonably be expected.
Current customers are so attached to their cell phones that they additionally anticipate that their monetary institutions should be at the pocket's range. We as a whole love to have the option to check our bank balance at whatever point and any place we need. Combining rich and helpful elements with high security principles allows banks to hold their ongoing clients and win new ones.
Tags: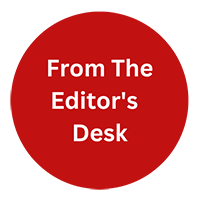 "From the Editor's Desk" is not just about the content. Our content writers will be sharing their thoughts on industry trends, new technologies, and emerging topics that are relevant to our readers. We believe that it's important to stay up-to-date with the latest news and trends, and We excited to share my thoughts and insights with you.