How to Choose Right Company for Custom SharePoint Application Development Services
13 Jun 2014
"SharePoint application development services are easily available these days. But what matters actually is that you choose the right service provider for your project. You need to choose a company that has a proven delivery model besides being content-oriented and mutually collaborative. Companies in India are most suited in this regard owing to the extensive range of customization they offer for SharePoint."
Microsoft SharePoint is a framework meant for using as a toll for enterprise level content management and other apps. The platform which it offers is scalable and is known to perform best with any deployment environment. Some fine facts about SharePoint are using it US healthcare industry can save over $300 billion per year. The retailers can increase operating margins by more than 60% and manufactures can save up to 50% in product development cost. Globally 78% of all the Fortune 500 companies make use of it. 1 out of every 5 knowledge workers, users it for accessing information. 62% of information workers use it on daily basis. 34% of SharePoint users don't feel like they are using it to the fullest capacity. All these and many more highlights the major benefits it brings into the table. To make the most of it a developer must have the idea about the industry standard best practices associated with the app development using it.
SharePoint and India connection
The fresh perspective of the web industry has added much to the scope of implementation with more than one platform to run any application. The SharePoint 2013 comes with the best in class support for helping developer create cross-platform apps. Being the leader of outsourcing industry when it comes about IT, India has an extensive range of customization offering in regards to SharePoint. SharePoint development company India has the entire arsenal to outperform the rest of the development hubs in various parts of the world. Some of the major services that come with it are shared below.
a. Making of portals meant for enterprise collaboration which are intranet dependent.
b. Application for business process controlling
c. CMS system deployment for enterprise level
d. Migration from one version of SharePoint to another
The Traits of the Right Partner
Not every name must be trusted while dealing with the process of screening for best SharePoint development agency. A company which has the caliber to deliver app building support through SharePoint must have a proven track record of years. Just going through generic proposal for the same forwarded to you by the sales department should not motivate you for giving the project. The right company has a proven delivery model. All the stages involved in it do comply with agile methodology. When you hire the support of an authority company then you are up for getting certain benefits, and looking over these aspects you can determine which one is right in most of the cases. Your application must be following being developed in the environment of right company.
a. Fully Scalable: With every growing demands of the app project they use the framework for your advantage adding features.
b. Mutually collaborative: An office space where knowledge sharing is practiced is set for the course of success. This kind of environment is built with the help of SharePoint features which lets people share with one another their ideas and other relevant information with ease.
c. Content-oriented: Do make sure that a company who knows the complete feature of SharePoint publishes content which are meant for the use and help of user.
The above points together may show you how to make the selection of the right company in order to deal with projects pertaining to SharePoint app development.
Tags: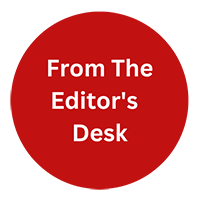 "From the Editor's Desk" is not just about the content. Our content writers will be sharing their thoughts on industry trends, new technologies, and emerging topics that are relevant to our readers. We believe that it's important to stay up-to-date with the latest news and trends, and We excited to share my thoughts and insights with you.