Hybrid mobile app development services from SynapseIndia – UWP for Windows apps
10 Dec 2018
"SynapseIndia delivers mobile app development services to empower businesses with mobile technology such as UWP."
SynapseIndia delivers mobile app development services to empower businesses with mobile technology such as UWP. With enterprise-level mobile apps, the company creates a number of different ways in which business can leverage the tools.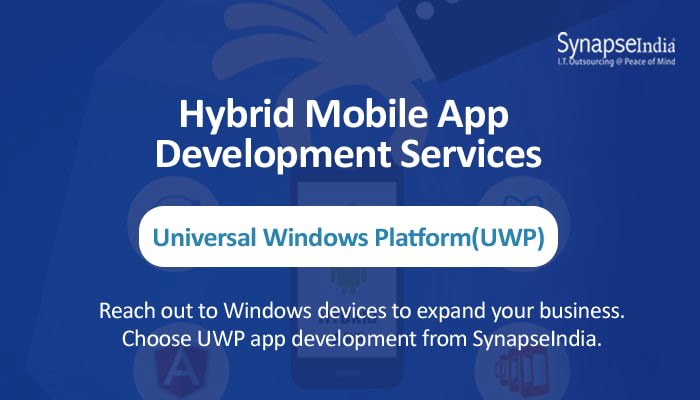 The mobile app development industry is ever-changing and dynamic in nature. The team of mobile app developers and designers continuously upgrade their tools and technologies to stay at the forefront of development. They use a highly efficient software development life cycle (SDLC) to ensure the quality of the products. Also, a rapid development model helps that deliver projects at an astonishingly shorter turnaround time.
The team at SynapseIndia, deploy a number of app development toolkits to create robust and bug-free apps. The Universal Windows Platform (UWP), for instance, enables the developers to build apps for any Windows device including desktops, and smartphones, and tablets. UWP also offers new APIs and features for a vast range of apps, including enterprise apps, packaging apps, and education apps.
Businesses of every size and category can enormously benefit from the deployment of a hybrid mobile app. Hybrid apps create extra advantages by ensuring that a business can target customers across different devices and online platforms. Small and medium-size businesses can substantially benefit from hybrid mobile apps.
Tags:
Author

: Nilesh
Nilesh is an industry-expert technical content writer carrying a wide experience of writing blog posts and marketing content. He writes as per his great technical/IT knowledge acquired through the years to provide informative content. Also, the author has a real expertise in writing detailed and specific content for technologies.