We understand the power of a logo. Your targeted audiences and potential customers directly relate your logo to your business/ brand and services. In other words, if your logo is not impressive, several opportunities may slip from your hands. And, if it catches the attention of your potential customers, then you may expect great opportunities to come your way!
Our focus is always on delivering best and simply outstanding web designs and logo designs that are quickly understood and immediately liked by people (your targeted audiences). That is why; we hire only the most competent, creative, skilled and adept web designers and logo designers. The ultimate goal of our web design services is to help you build a strong corporate identity, enhance your brand presence and attract more customers. Our web designing services are geared towards helping you increase your prominence in your respective domain.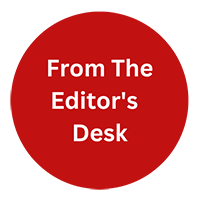 "From the Editor's Desk" is not just about the content. Our content writers will be sharing their thoughts on industry trends, new technologies, and emerging topics that are relevant to our readers. We believe that it's important to stay up-to-date with the latest news and trends, and We excited to share my thoughts and insights with you.