Reasons Why Clients give Repeat Business to SynapseIndia
29 Aug 2019
"This blog talks about the reasons why SynapseIndia gets repeat business from existing clients."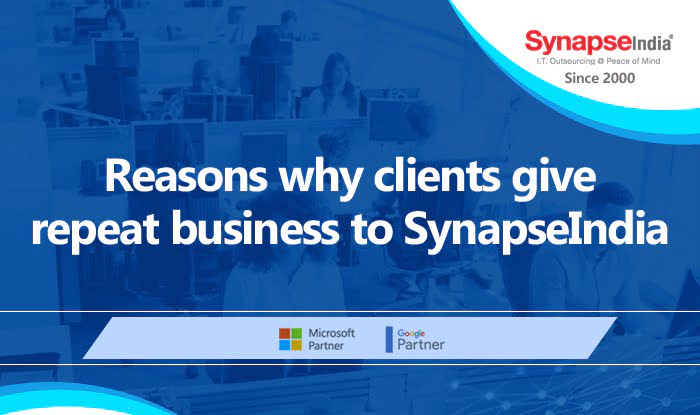 SynapseIndia has earned a reputed name in the IT industry by successfully delivering 10,000+ projects to diverse clients in USA, UK, Australia, Canada, etc. Getting repeat business from existing clients is a big achievement for us. We believe in developing unbreakable relationships with clients and our 60% repeat business rate is the hallmark of our client-focused strategies.
Startups, SMEs and large enterprises across the globe prefer to approach us whenever they have any IT related requirements or face any business hurdles.
Here, we present the top reasons why clients give repeat business to SynapseIndia:
End-to-end custom IT solutions under a single roof

One of the major reasons for getting repeat customers is our diverse range of IT services. Be it software development or website design or online store development, you get what you desire.
We don't believe in giving a conventional solution. We go through your unique business requirement and offer a highly customized solution that helps you achieve business goals and generate maximum ROI.
Cost-effective development with no compromise on quality
We provide cost-effective offshore IT services that perfectly fit your budget and vision. We are able to develop exceptional quality websites, software and mobile applications due to our strict adherence to the best development practices and international quality standards.
We cut down the development cost by using proven methodologies. We carry out testing throughout the project cycle and before the final delivery. You can rely on us for secure and bug-free IT solutions.
Our client-centered approach
We are a client-centered IT company that focuses on the complete satisfaction of each and every client. Our client satisfaction rate is 99.8% and we are constantly evolving our processes and strategies to delight clients in a better way.
Our aim is to make your business profitable and future-ready. We achieve this objective by offering the most appropriate solution in a time-bound manner.
Technically sound developers
Most of the clients have great experience of working with our developers and they want to re-hire them for future projects. Our developers possess distinguished qualities that set them apart from the resources of other companies. We have a big team of experienced, certified, skilled and hardworking developers who always exceed the expectations of clients with quality work.
Our resources exclusively work on your project and give their best efforts to make it successful. They proactively share out-of-the-box ideas with you so that your project drives the best results.
Our clear and concise communication
Another reason that compels our clients to give repeat business is our clear, concise and timely communication. No matter where our clients reside, we communicate with them regularly or whenever required through call, Skype and other channels.
Clients love to give top ratings to our developers for their excellent communication and soft skills. We easily manage time zone differences and ensure that all project milestones are achieved as per the requirements of clients.
A dedicated customer advocate for every project
SynapseIndia strongly believes in customer advocacy and therefore assigns a dedicated customer advocate to each project. The assigned customer advocate acts as a facilitator between the development team and the client.
We ensure that all concerns of clients are addressed within the 24-hour deadline. Client feedback helps us to build better solutions and therefore we timely implement the feedback into the projects.
Satisfied clients are our assets and we are consistently growing our IT outsourcing company by achieving new levels of client retention every year. You don't have to worry about anything when you give your project to SynapseIndia, IT Outsourcing @ Peace of Mind. Get in touch with our team today.
Tags: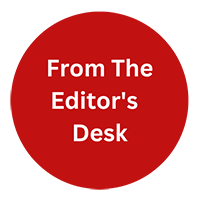 "From the Editor's Desk" is not just about the content. Our content writers will be sharing their thoughts on industry trends, new technologies, and emerging topics that are relevant to our readers. We believe that it's important to stay up-to-date with the latest news and trends, and We excited to share my thoughts and insights with you.