Retail industry technology trends that will transform business in 2020
09 Jul 2020
"This blog is about the latest technology trends of the retail industry that help to transform the business to a great extent."
The digital transformation is reshaping the online retail business to reach more customers, offer better products, & increase sales. You need to follow the 2020 latest technology trends for the retail sector and transform the way of doing business.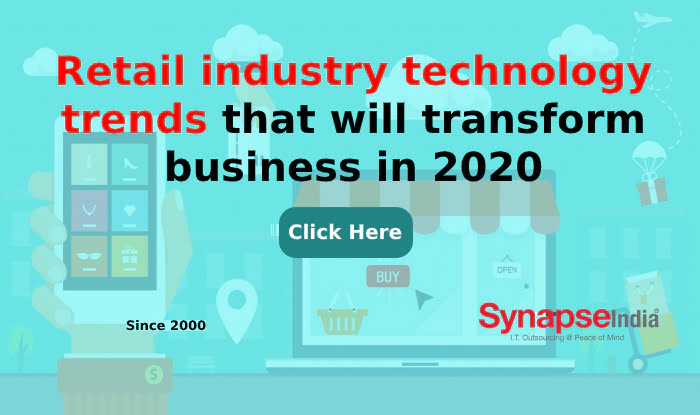 Despite the COVID-19 outbreak that has changed the business priorities of retail experts. At the same time, technical innovations have offered a way to see bright future ahead.
In this regard, we at SynapseIndia, as leading IT Outsourcing service company bring you here several technology trends for retail. Also, we provide result-oriented technical support to clients spreading across the globe.
Here are the top innovative trends for the retail industry that will transform the sector for the next few years.
A. Rise of eCommerce Stores
During the pandemic situation, mainly retailers switched their retail industry business to eCommerce with a view to continuing sales. This particular trend is not meant only for unusual circumstances but for the future ahead.
In fact, 25% of people out of total population of 7.7 billion individuals are already shopping via eCommerce platforms. This number is going to rise rapidly to 2.14 billion by 2021 and the years ahead. Therefore, this technology trend is meant for the future of retail industry and its great success.
Being a retailer, you can run both your physical store and online shopping website or mobile app to sell more. This definitely increases your chances of expanding business widely, reaching more customers, and increase company's value.
B. Machine Learning for Forecasting Demands
Understanding the demand of customers is a crucial element for your retail industry business. Looking at previous sales patterns is an ideal way to predict future sales.
Instead of doing this activity manually, avail the technology support of Machine Learning. A data-oriented technology attached with retail business website or mobile app helps to predict sales. It helps to analyze whole customer-related data of your business to predict which products to offer at a specified time.
Have a clear idea as when to offer, what to offer, and to whom to offer. This helps to improve overall customer experience.
C. Social Media Selling
Online shoppers not just prefer eCommerce websites for laying hands on preferred products. But also have their eyes set on various social media platforms.
As per estimation, 41% of online shoppers prefer to shop via social media websites and the number is increasing rapidly.
This trend is calling for you to adopt social selling platform integration technology with help of a website development partner. Leverage the impact of social platforms to advertise your products and services, receive feedback, and sell products.
D. Self-Checkout Technology
The shopping habits of retail industry customers have changed a lot. Now is the time for distance free shopping with no need to pay in cash and deal with physical staff.
Many physical retail stores are adopting the technology of staff-free and cashier-less stores features to maintain social distance. The main element is the self-checkout retail business software that allows customers to simply scan the products and pay online.
In reality, around 81% of shoppers prefer self-checkout options at physical stores to stay safe and healthy. This technology is again the future of retail industry and fully impacts your business in a positive manner.
Wrapping Up
If you are thinking to adopt futuristic technologies for retail, then get in touch with SynapseIndia, as ideal technology partner. 20+ years of successful experience, 10,000+ projects completed, and a team of certified developers, make this appropriate company for you.
Contact us for any query at info@synapseindia.com
Visit at: https://www.synapseindia.com/industry/retail-software-development.html
Tags: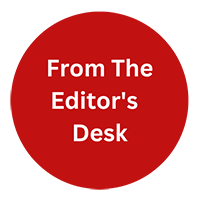 "From the Editor's Desk" is not just about the content. Our content writers will be sharing their thoughts on industry trends, new technologies, and emerging topics that are relevant to our readers. We believe that it's important to stay up-to-date with the latest news and trends, and We excited to share my thoughts and insights with you.