Seven Popular Social Media Tricks and How to Use Them to Drive Your Brand's Success
09 Aug 2023
"Find out how to use the power of various social media channels to enhance your brand's success story. Explore seven excellent strategies to make your social media drive growth and success for your brand."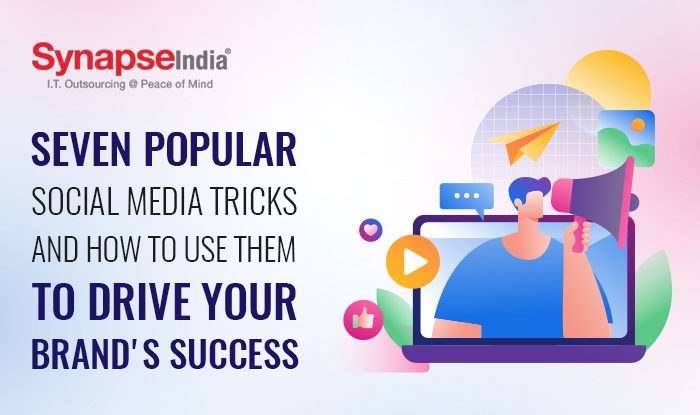 With the rising buzz for social media, every business is trying to cash in on it, and it has turned into a thumb rule of success in the digital world these days. Brands are competing to make as much use of these social networks as possible to increase the visibility of their brand over the web and eventually increase their fan base.
In the ever-growing landscape of social media marketing, employing effective strategies plays a significant role in forming brands reputations and success. Considering the diverse attributes of followers and fans on social networks, they impact your marketing efforts and strategies to a great extent. However, just having a digital presence does not suffice; you must employ certain tricks to stand out amidst the competition. In this blog, we will discover seven renowned tricks to harness the power of social media and boost your brand's success.
Know your Audience and optimise content Accordingly
There exists a long category of fans in the world of social networking, and understanding their types and preferences is crucial in formulating marketing strategies to drive growth.
Enthusiastic fans are the cheerleaders for your brand. They are passionate about advocating your brand and your positive experience with it to others. And for harnessing their power, engaging them with exclusive content, early entry passes, exciting offers, and sneak peeks is the best. Additionally, motivating them to take part in user-created content campaigns, contests, and hurdles will augment their positive impact.
The constructive critic
Constructive critics offer invaluable feedback and ideas for enhancement. By incorporating their ideas for product or service enhancement, you can show them that their opinions matter to you. Additionally, trying to address their concerns in a timely and transparent manner earns you their loyalty in the long term. And if you respond to their suggestions and feedback, irrespective of their type, you can convert them into brand ambassadors.
The followers
This is the category of passive followers who do not interact with your brand actively. You need to create convincing and quality content using appealing visuals, storytelling, and more interactive components to grab their attention. Besides, engaging them through polls, quizzes, and surveys and inviting them to participate with your brand keeps them engaged and retains them for a longer term.
The customer-turned-Advocate
Customers who convert into advocates of your brand have had an exceptional experience with you. Asking them to share their story through testimonials and reviews lets you understand where your strengths lie. Providing them with referral incentives encourages them to spread the word about you to their network.
Consistent Branding is key
Brand coherence is key to setting up an identifiable identity across social media networks through a uniform logo, colour scheme, and tone of voice across different social media channels. This builds trust and guarantees that your audience can easily understand your brand every time they find it on their feeds.
Influencer marketing
Influencers are the ones with a considerable social media following and power in their niche. Collaborating with them can expose your brand to a larger audience as they promote or review your products or services to their social media fanbase. Using their influence, you have good chances of enhancing your brand's visibility, trust, and credibility.
Running contests and giveaways
There is a tribe of followers who engage with your brand occasionally. And converting them to ardent followers requires some special efforts, like running contests and giveaways that resonate with your audience and align with your brand image. Additionally, limited-time promotions, limited-edition products, or some exclusive events encourage your audience to share the contests and offers with their friends, amplifying your reach to a wider audience.
Engagement is king
Social media is considered an interconnected network. To reach a large audience and improve growth and success rates, there is a constant need to interact with your users and customers. Besides, nurturing loyalty by acknowledging and rewarding your loyal fanbase is a key to succeeding in the diverse domain of social media. Execute loyalty programmes, offer customised discounts, or amaze them with elite perks. Such gestures will further strengthen your bond with them and make you long-term advocates who will succeed and expand exponentially.
Using video content and hashtag strategies
Videos are the most powerful medium for sharing your brand's story and showcasing products and services. Videos, irrespective of their type, like short clips, behind-the-scenes videos, or live streaming, always grab attention and enhance a brand's visibility. Additionally, using the correct hashtags improves the discoverability of your content online. Constructing branded hashtags for the campaign and persuading your viewers to use them will cultivate user-generated content and collective engagement.
Final Words
If you use these seven different social media tricks, your brand can create a powerful online presence, reach its target audience, and boost its success rate. Nevertheless, it's critical to constantly examine your attempts, monitor the performance metrics, and adapt your strategy as the social media space evolves. Keep in mind that genuineness, reliability, and authentic connections are the bricks of a social media success story. So, go forward and embrace the power of social networking, taking it to a brand-new level!
Tags: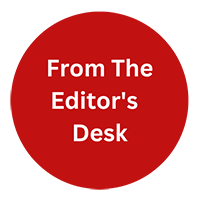 "From the Editor's Desk" is not just about the content. Our content writers will be sharing their thoughts on industry trends, new technologies, and emerging topics that are relevant to our readers. We believe that it's important to stay up-to-date with the latest news and trends, and We excited to share my thoughts and insights with you.