Seven Simple Tricks to Mitigate Shopping Cart Abandonment and Enhance Online Sales
09 Aug 2023
"Are you also struggling with Shopping cart abandonment in your e-commerce stores? In this blog post, we are suggesting a few simple strategies to make sure that your potential buyer goes the extra mile and completes the check-out process."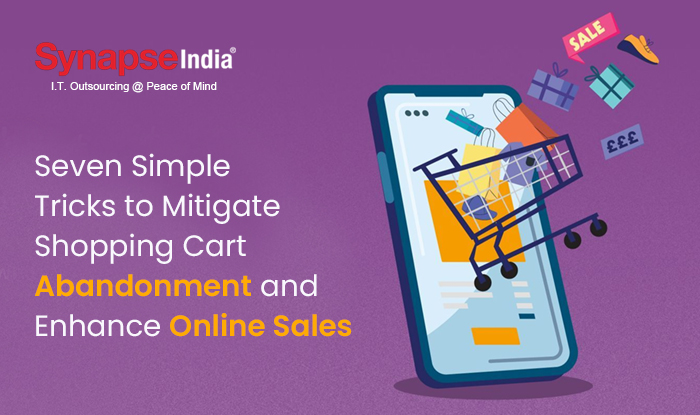 Shopping cart abandonment is one of the major problems online businesses or e-commerce stores often face. Businesses lose trillions of dollars every year as customers don't finish the checkout process. Sometimes, due to the total prices, which include several other charges as well, the price of products increases substantially. Sometimes, the customers, due to some other diversion, forget that they have added something to their cart. This behavior is contrary to the experience in traditional brick-and-mortar structures, where people usually end up buying the products without adding anything to their cart. Thus, the problem is unique to the e-commerce store development process, and a unique multipronged strategy is required to mitigate the losses due to this. In this blog, we will discuss in detail simple ways through which we can reduce the cart abandonment rate and boost online sales.
Some Interesting Facts to Consider
Data shows collected from 41 different sources on neglected carts, 69.57% of shoppers leave without purchasing. This leads to losses of about $18 billion annually. In addition to this, here are some other statistics available that show the criticality of the problem and why it cannot be ignored.
The extra cost of shipping and being forced to create an account are two main reasons for leaving the cart.
Mobile users have the highest rate of cart drop-out at 85.6%.
Travel and airlines hold the highest shopping cart abandonment rates.
With e-commerce store optimisation, 35.26% of lost sales can be regained
Foolproof ways to reduce shopping cart abandonment
Smooth Payment Processing
Processing payments is a complex process behind the curtain, but for customers, it takes just a fraction of a second. Using secured payment gateway software is critical to building trust among customers. If the software keeps security as its priority, then people don't fear entering their personal details. Additionally, having multiple payment options, like enabling them to connect to Amazon Pay, Apple Pay, PayPal, etc., so that customers don't have to enter their credit card information next time, Also, having EMI options helps customers deal with their budget constraints, and options like the same as shipping addresses save time.
Reminding buyers who deserted their carts
At times, people forget to complete the check-out process due to various reasons, like increased prices due to shipping, taxes, etc., page speed, payment methods, and a lack of technical knowledge. So, reminding customers about the status of their cart and indicating their progress level in the cart, like how much more they need to do to complete the check-out process, it will not only ease the business process but also enhance revenue generation.
Enabling a smooth check-out process
The check-out process is where many abandonments happen. A simple check-out process without mandating customers signs in and create profiles, as the users fear the series of promotional emails post-profile creation. Provide customers with ample options, such as creating a new account, signing in with an existing account, or checking out as a guest. As the data suggests, a single-page checkout process outperforms a multi-page, lengthy checkout process.
Making it feasible to save carts
You add products to your cart, then start doing something else, and then get back to your cart, where everything disappeared. This is extremely frustrating and often leads customers to abandon that purchase entirely. So, saving it for later is the best thing that can be included to ensure that customers end up buying the items in their cart.
Reduce page load time
Reducing page loading time is a significant factor to keep in mind as an e-commerce owner, as the biggest slowdown occurs at the check-out page. When this happens frequently, shoppers leave their carts. Besides, many users prefer shopping through their phones, and when your website is not optimized for mobile, it may lead to cart drop-out.
Offer free shipping
Providing free shipping is one of the most efficient methods to ensure the completion of the checkout process. Most people are likely to abandon their carts if they find at the end of the checkout that additional shipping charges have also been added to their cart. Besides, shipping fees, at times, surpass the value of the product itself. Either as a store owner, mention the shipping fee or provide the terms and conditions to get free shipping.
As the data suggests, the online stores that have clear shipping policies get more purchases, and even if the customer has one product in their cart, they end up buying more than one product, which substantially increases the profitability of the business.
Assurance of security with an SSL certificate
All customers look for a secure shopping experience, so if your business website lacks Secure Socket Layer (SSL), your potential buyers may leave the site as quickly as they observed it. Besides, it makes the purchase experience extremely handy with multiple secured digital payment methods and currency conversion to make buying easier for customers.
Conclusion
There is no doubt that e-commerce store development is rising these days, and every business online looking to make the most of it is completing most of their checkout process. And there is no need for your business to get shopping cart recovery plug-ins if they use the precautions and optimize their e-commerce store this way.
Tags: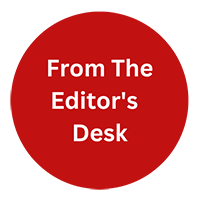 "From the Editor's Desk" is not just about the content. Our content writers will be sharing their thoughts on industry trends, new technologies, and emerging topics that are relevant to our readers. We believe that it's important to stay up-to-date with the latest news and trends, and We excited to share my thoughts and insights with you.