Six Crucial Benefits of Hiring Dedicated Software Development Team for Outsourcing
07 Feb 2023
"Discover the six essential benefits of outsourcing to a dedicated software development team, including increased efficiency, flexibility, cost savings, and access to specialized skills. Maximize the potential of your project with expert support."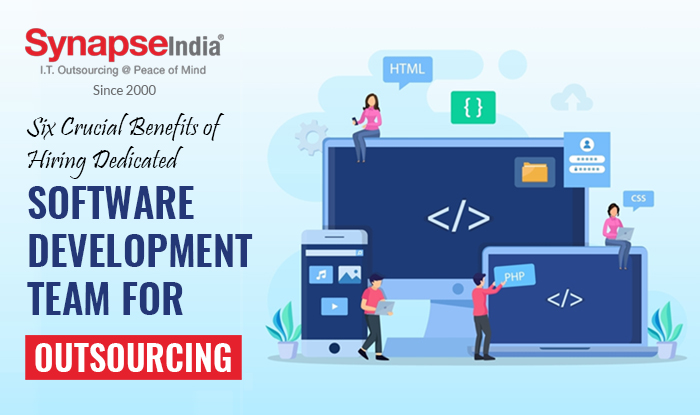 Outsourcing has become one of the finest ways of helping businesses as it experiences growth in the various stages of the business cycle. In fact, many big organizations around the globe prefer to outsource some of their work. Hiring a dedicated software development team on a contract basis has gained popularity because of its lower operational costs and streamline operations. Moreover, in order to achieve constant growth, finding an equilibrium point between in-house employees and outsourced resources is essential.
Outsourcing offers several advantages to an organization and in order to comprehend those benefits it is required to first understand why contracting out could be the right decision for your business. How will it help in the growth process and what value does it add?
Let's look at some of the top reasons for contracting out operational tasks.
Grow More Rapidly
Retain Flexibility
Maintain Lower Costs
Maintain Company Focus
Increase Brand Loyalty
Provide Continuity & Risk Management
Six Benefits of Outsourcing
Grow More Rapidly
When companies are performing great, they need to hire more employees to manage their back-office operations. But often they cannot afford the expense that goes into hiring and supporting new staff. To overcome this troublesome situation, outsourcing is the best solution. Because a dedicated software development team that works on contract basis is affordable and also companies have the choice to cancel the contract whenever they want. Indeed, assigning some of the work on an outsource basis is a great way of managing steady growth while keeping the core of your internal team focused on important tasks.
Retain Flexibility
Truth to be told, as the business grows the need to hire employees also grows. At the very least, outsourcing gives you an option of flexibility. In the time of need, you can grow your team on the contract basis without worrying about the financial commitment of hiring in-house employees. Once your busy phase is over, you can abort your contract and switch back to your good old days of in-house team.
Maintain Lower Costs
Sometimes the cost of expanding to different locations can be sky-high. In these cases, it is wise and economical to consider outsourcing instead of indulging in the process of business expansion internally.
If the business growth results in an increased office space, try hiring a dedicated software development team on contract out basis for easy tasks such as telemarketing or data entry rather than moving to a new location. It is affordable, effective, and profitable.
Outsourcing can also lower costs by reducing the expenses associated with bringing on new employees, such as:
Different Ways Through Outsourcing Reduce Expenses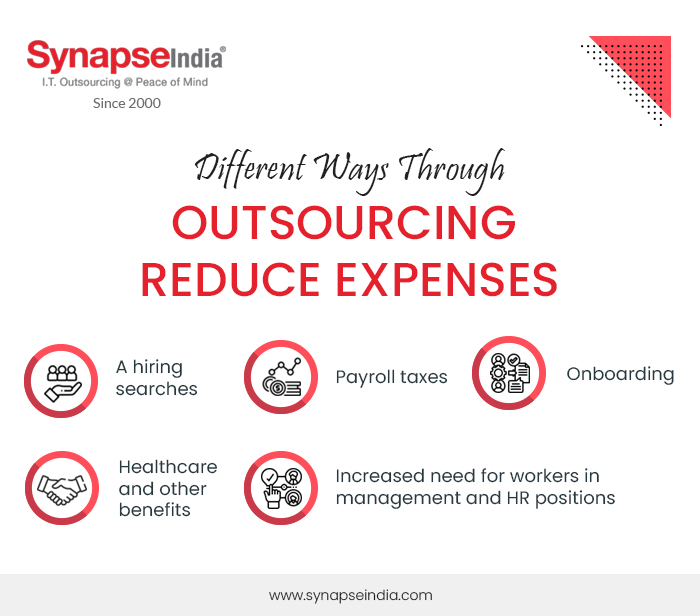 A hiring searches.
Onboarding
Healthcare and other benefits
Payroll taxes
Increased need for workers in management and HR positions
Maintain Company Focus
One of the crucial benefits of outsourcing is its ability to give employees the time they need to remain focused on the other important tasks of your business. For example, customer service is an integral part of any business but at the same time it is time-consuming and can create distraction in the organization. However, if an organization chooses to outsource its customer-service department, it can generate two benefits.
First, your customers can 24*7 avail the benefit of customer service.
Second, the internal team of your organization can focus on their own tasks, helping your business to perform more effectively and efficiently.
Outsourcing is a tool that not only boosts business growth but enables employees to create a business environment that represents the highest of standards. Small businesses often lack the ability to provide mass customer service. Outsourcing this aspect of your business will give your company a more professional image.
Increase Brand Loyalty
An exceptionally trained customer support staff, supported by the board with years of experience, will provide your clients with the kind of administration that makes them want more. Going from no support staff to an industry-driving support staff is almost difficult to do internally. The financial strain and experience needed to assemble such a group are essentially too overwhelming for most organizations. The expert services that an outsourcing organization gives will leave your clients feeling really focused on and appreciated.
Provide Continuity & Risk Management
Times of high employee turnover can add vulnerability and irregularity to a business. Outsourcing gives a degree of progression to the organization while reducing the risk that an unsatisfactory degree of activity could bring, even over a short period of time.
For example, your HR manager is on expanded clinical leave and her administrative assistant is leaving for a new position. Outsourcing the human resource function decreases risk and permits the organization to continue to work while the supervisor is inaccessible. It likewise gives you an opportunity to employ another aide without rushing the decision in light of the fact that the workplace is understaffed.
Wrapping Up
Organizations frequently think about reevaluating in terms of cost reserve funds; however outsourcing can accomplish something other than lower costs. As your business develops, outsourcing a dedicated software development team can be a method to promote innovation, disrupt your industry, and access new ranges of abilities that reposition your organization in the market.
While thinking about how outsourcing can assist you with developing, don't restrict yourself to taking a look at the expense of employing outside workers as opposed to taking care of an undertaking with your present staff. Zero in on the worth a project worker's aptitude adds to your organization. Regardless of whether through extending creation, marketing your organization all the more widely, or disrupting the manner in which your industry carries on with work, outsourcing can give you an opportunity to innovate, develop, and rise above the competition.
Tags:
Author

: Surbhi Vats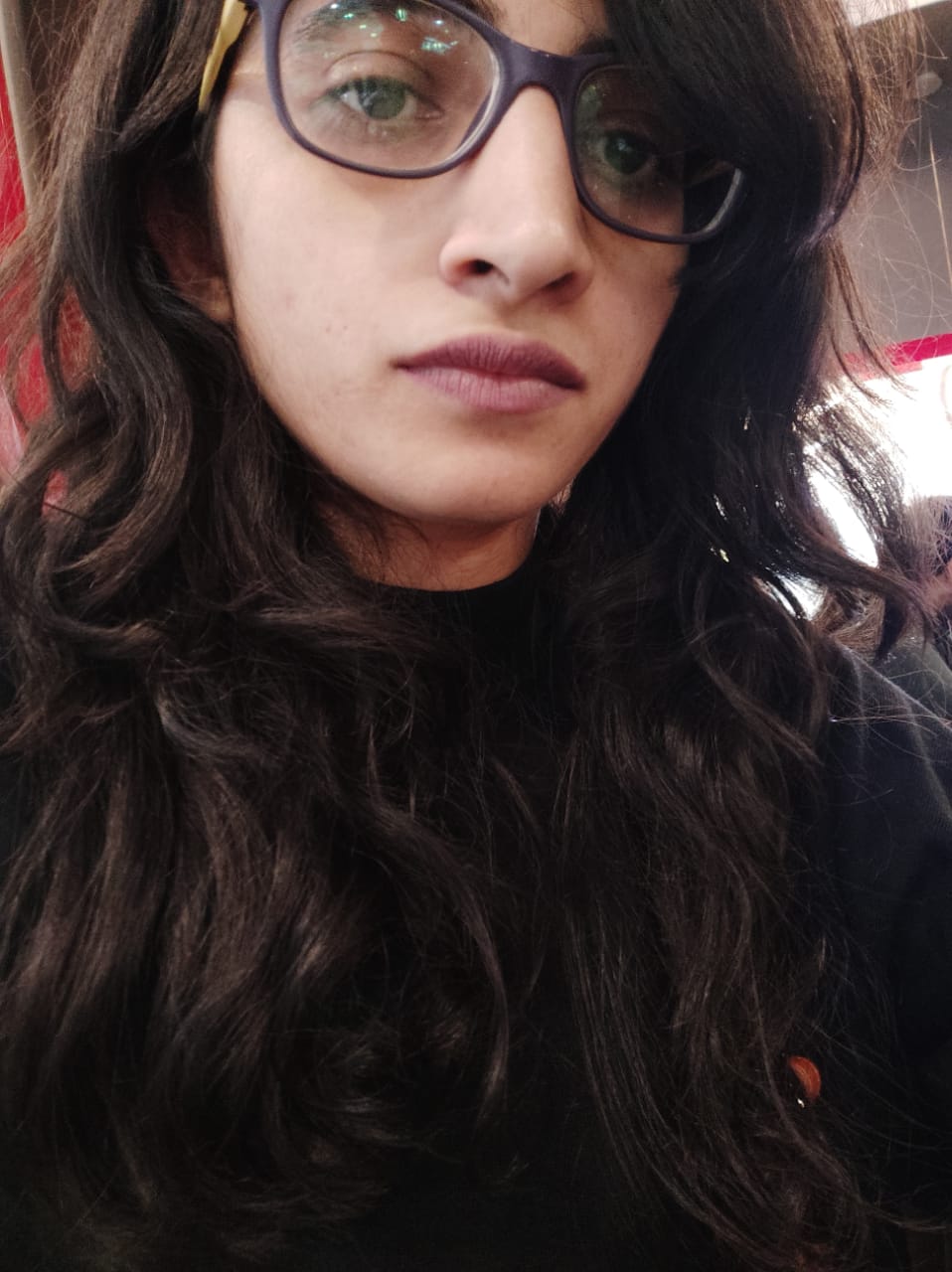 Surbhi Vats is an experienced IT blogger, her blogs has been published on sites like Medium. Her keen endeavors to know and understand current industry trends has helped users to comprehend regular uproars happening in the industry. Also, organizations around the globe recognize her knowledge-oriented blogs. She is a tech expert who is capable of engendering business growth.