Software development services from SynapseIndia – Kentico for enterprise tools
11 Jan 2019
"SynapseIndia offers a broad spectrum of software development services covering various industries through solutions like Kentico CMS."
SynapseIndia offers a broad spectrum of software development services covering various industries through solutions like Kentico CMS.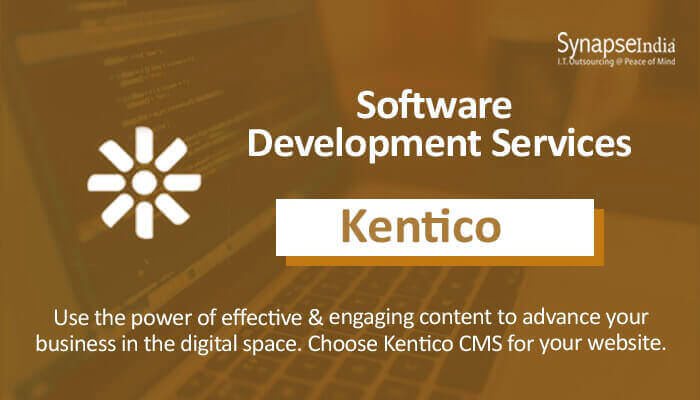 At SynapseIndia, programmers begin the development process with an analysis of the client's business. They study the trends in the industry in which the client operates, and considers potential challenges related to industry-specific needs.
The development team uses the most efficient and sophisticated software development tools available in the market. For example, use of development frameworks like ASP.NET offer advantages like reduction in the number of codes required for building large applications. Moreover, tools like Microsoft .NET enable the developers to implement codes using programming languages such as C# and Visual Basics.
The company has an ultramodern development infrastructure that ensure the delivery of robust, industry-best software solutions and support services. Additionally, it has associations with technology giants like Google and Microsoft. Microsoft Gold Certified Partner status provides it access Microsoft technologies and support.
Software development services from SynapseIndia cover virtually every aspect of creation and deployment of software solutions. For example, software development from scratch helps businesses like startups launch a venture through an effective software solution.
Other service categories like software enhancement, are aimed at addressing the needs of clients who want to modify their existing software infrastructure.
Kentico is a web content management system (CMS) for developing enterprise websites and online stores. It utilizes technologies like ASP.NET and Microsoft SQL Server.
SynapseIndia offers a number of software and web developed services based on the Kentico CMS platform. The services include Kentico Web design and Kentico Custom Modules development.
Tags:
Author

: Manish

Manish, a blog expert by profession, knows how to deliver perfect blogs for various services such as cloud computing, game development etc. From the blogs written by him, it is evident that they are the epitome of knowledge sharing. His expertise and brilliance to deliver unique blogs is what that makes him stand out of the box.