"SynapseIndia celebrated its 14th birthday on 13th February 2014, by taking a trip to Baghaan Orchard Retreat. The two days one night stay was a much needed and well deserved break for all of us."
SynapseIndia has stepped into it's 14th year of success on 13th February 2014. On our foundation day, our management has planned a huge amalgamation of a lot of fun-filled activities for us, allowing us to enjoy a day not as regular as the rest.
The Baghaan Orchard Retreat, where we have celebrated our foundation day was a great escape to the green; offering picturesque landscape that are hard to find in current urban setups. A short drive of only three hours away from the city, the retreat boasts of 25 cottages that speak volumes of sheer comfort. A blend of modern functionalism and local architecture underpins the design of the cottages and each is a unique entity – complete with a bedroom, private sit-outs and more. This was a kind of place we all have been craving for a night-out.
The two days / one night stay was well planned with recreational activities helping all to rejuvenate and recharge ourselves. The team from the event management organization "The Road Ahead" was given the responsibility to make us forget our regular days and let loose with the flow; and they have done an extremely wonderful job. Everyone participated in all the activities with ingenuous enthusiasm, laughing their heart out.
The evening started with inspirational and motivating applauds from Mr. Shamit Khemka (CEO), Mr. Kapil Gupta (COO) and Mr. Sajiv Kumar (Technical Head); continued with individual and group performances; followed by a dinner party.
With its vision to be trusted & respected as a world-class web development company in delivering and developing state-of-the-art, innovative IT solutions; SynapseIndia has curved a niche for itself in the map customized IT services. We have been living our motto - IT Outsourcing @ Peace of Mind - for last 14 years.

In this journey of success, we have feathers like accreditations from CMMI and Microsoft, Google and Drupal in our cap. We have successfully delivered more than 5000 projects, served 2500+ clients from more than 30 countries across the globe; and rated 4.9 out of 5 for over 3000 projects. Our 500 highly qualified and experienced IT professionals are ledged with business domain knowledge, proven methodologies, and technology competence to render truly innovative and high quality solutions.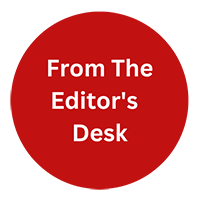 "From the Editor's Desk" is not just about the content. Our content writers will be sharing their thoughts on industry trends, new technologies, and emerging topics that are relevant to our readers. We believe that it's important to stay up-to-date with the latest news and trends, and We excited to share my thoughts and insights with you.