SynapseIndia conducts meticulous analysis in its software development process
07 Mar 2019
"We use advanced research methods & the latest tools to get a proper insight into the project."
SynapseIndia, a leading IT company, uses a tried-and-tested software development life cycle (SDLC), also known as the software development process. This process includes stages of design, development, implementation, and testing.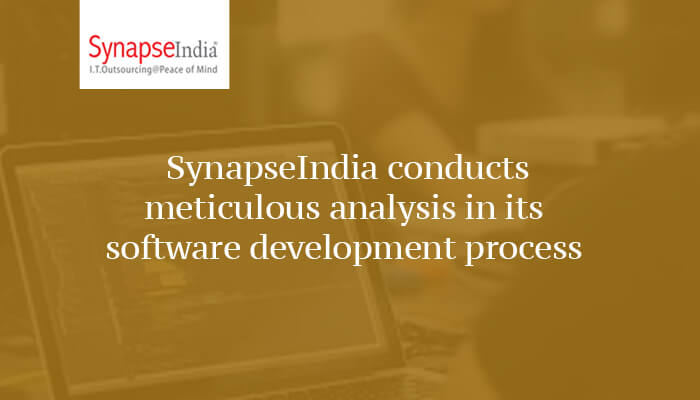 The first stage of SDLC is requirement analysis. In this stage, the development team conducts research and takes inputs from the client, market surveys, and industry experts. The team uses advanced research methods and the latest tools to get a proper insight into the project and its requirements. All the inputs and findings are considered seriously and incorporated into the analysis process. This process helps them identify the specific business goals of the client and foresee potential challenges.
SynapseIndia
is known for culminating its requirement analysis in a remarkably short turnaround time. The IT professionals associated with development projects have a deep understanding of all elements of
software design and development
. This helps them gain a comprehensive insight into the client's requirements. The team then converts the results of the analysis into a project framework. It follows the creation of a project roadmap to design and develop the product.
SynapseIndia has a significant presence across leading developed countries. With a focus on core markets like USA, UK, and Australia, the company has reported remarkable growth in terms of both numbers of clients and outreach in new markets.
Tags:
Author

: Manish

Manish, a blog expert by profession, knows how to deliver perfect blogs for various services such as cloud computing, game development etc. From the blogs written by him, it is evident that they are the epitome of knowledge sharing. His expertise and brilliance to deliver unique blogs is what that makes him stand out of the box.