Mobile browsing surpassed desktop in 2017 and this trend will become stronger over time. With an astronomical growth of the global smartphone market, mobile apps have become some of the most ubiquitous commodities in the digital. These all make the significance of a mobile-friendly website more crucial than ever. Designers at SynapseIndia are focused on designing more fluid and intuitive user experience, which results in more elegant and sophisticated web solutions. And it has become evident that more brands will shift toward a mobile-first strategy while expanding their digital landscape.
Use of technologies like the HTML 5 web development platform enables the designers to make an innovative and responsive design. Moreover, a combination of attractive content and appealing graphic design makes the website distinctive, and increase conversion.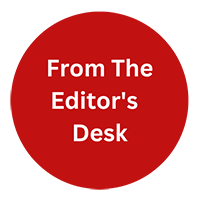 "From the Editor's Desk" is not just about the content. Our content writers will be sharing their thoughts on industry trends, new technologies, and emerging topics that are relevant to our readers. We believe that it's important to stay up-to-date with the latest news and trends, and We excited to share my thoughts and insights with you.