Websites with responsive design have a single URL and HTML code which gets optimized according to different screen resolutions. Responsive designs are more sustainable and are loved by search engines. Responsive design has been a priority for the web design team at SynapseIndia. The designers are aware that the creation of a responsive design involves elements like user experience (UX) and attractiveness.
The implementation of a responsive design brings a number of benefits for the owner of the website. It enables the creation of quick and easy browsing of a website. This eventually increases traffic and conversion on the site. A well-designed website is also closely associated with overall customer satisfaction.
Designers at SynapseIndia keep all these factors in mind while building a website. The company offers a hand-picked range of designing services that help strengthen the visibility and reputation of a brand on the web. With a vast experience of serving businesses of different kinds, the company ensures that its clients get privilege when it comes online branding.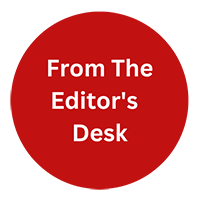 "From the Editor's Desk" is not just about the content. Our content writers will be sharing their thoughts on industry trends, new technologies, and emerging topics that are relevant to our readers. We believe that it's important to stay up-to-date with the latest news and trends, and We excited to share my thoughts and insights with you.