Why Is Software Development Outsourcing A Good Idea?
01 Mar 2023
"Outsourcing has become the new normal in the tech realm. Companies favor outsourcing because it allows them to focus on crucial activities while allowing external service providers to work on a specific project."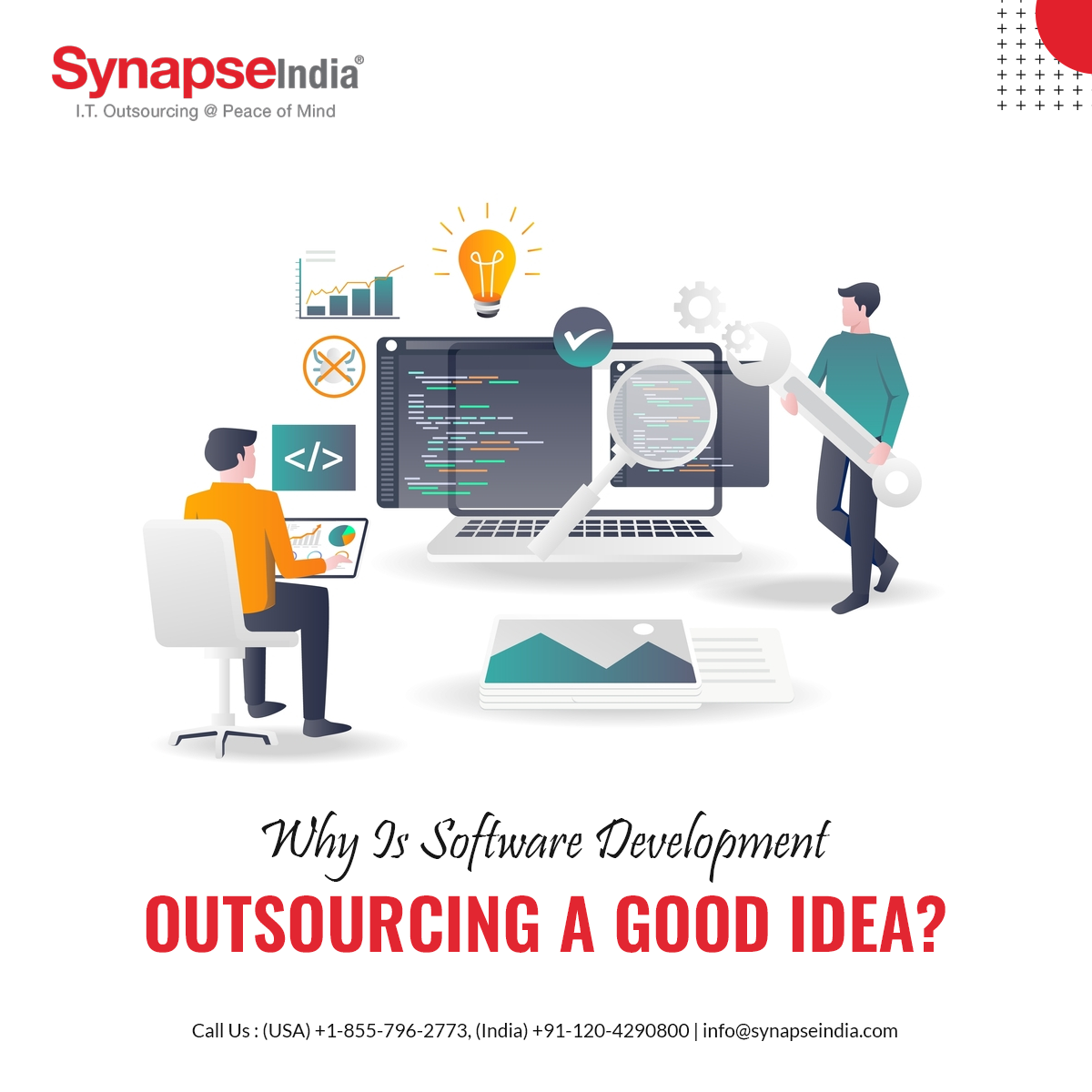 Using external resources for managing and completing internal tasks is known as outsourcing. In layman terms, the process of outsourcing involves transferring of certain responsibilities by one company to the other company. However, both the companies work under an agreement to facilitate their professional journey.
In recent times, software development outsourcing has gained immense popularity because of the advantages it offers to both the companies. Software development outsourcing companies are thriving in the tech market because outsourcing leads to cost reduction, saves time, and enables in-house teams to dedicate their time to more significant tasks.
According to the Outsourcing Institute (USA), outsourcing is an emerging type of business optimization: "IT Outsourcing is the use of external service providers to deliver IT services, such as application development & maintenance, as well as infrastructure solutions for businesses not generally in the tech business, allowing the customer organization to focus on their main business or cut costs and maintain their position in the marketplace. This can also include software-as-a-service (SaaS), Cloud & Mobile solutions, cyber-security, and other related IT managed services."
What Is Outsourcing Software Development?
Outsourcing information processes is frequently perceived as outsourcing IT organizations to associations and software development firms. Numerous advanced organizations use outsourcing services, which discusses its prevalence and benefit for the end buyer. Outsourcing is a help coordinated by a particular organization, where a few services are given in an incorporated way to completely cover the client's requirements. Practically speaking, the attention is for the most part on one of the particular services, for example, software development.
Why Do Companies Choose Outsourcing?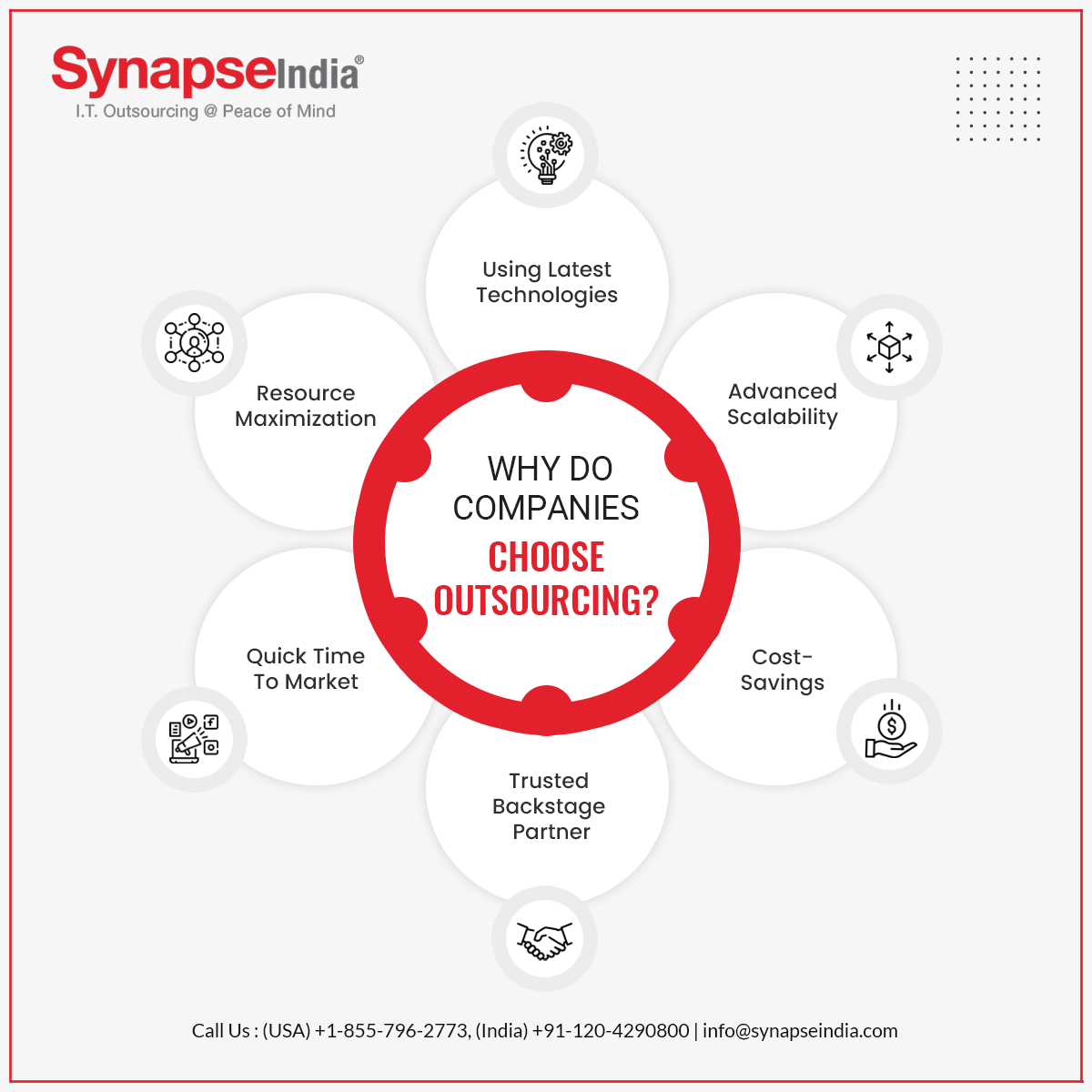 Cost-Savings
Resource Maximization
Quick Time To Market
Using Latest Technologies
Advanced Scalability
Trusted Backstage Partner
Cost-Savings
Organizations that play out each part of their business internally definitely pass these expenses onto their clients. By collaborating with software development outsourcing companies, organizations can save money on some of these costs to gain a competitive edge in terms of pricing. Rather than employing staff to support the IT division, it is more productive to share this task with a specific IT outsourcer.
Shifting responsibilities to outsourcing companies, so they perform key IT functions, brings about the following key benefits:
high-quality results: only qualified specialists work in such organizations;
reduced office, hardware, software, and cloud infrastructure costs overheads.
Resource Maximization
Regardless of whether you have your own group of talented developers, this doesn't imply that you ought to appoint them to work on each and every problem. In the first place, you really must assess the time and effort engaged with assignments to survey what's in question fundamentally. Generally, it's not productive or cost-effective to allot your top ability to IT support. Developers in your organization might be caught up with doing what directly adds to accomplishing your business objectives. Outsourcing fills in as a way to accomplish resource optimization on the grounds that it guarantees that talented employees can zero in on the crucial tasks.
Reliable and experienced software development outsourcing companies offer adaptable choices and devoted teams that can get started immediately. You don't need to sit around idly preparing new workers. Developers who become part of your venture will be viable from the very first moment, paying little attention to how enormous your inner team is. Work is as yet inclined to disruption because of disease, get-away, or unexpected conditions, and outsourcing ensures a smooth activity and fulfillment of your IT project.
Quick Time To Market
SynapseIndia has a gigantic pool of resources for the development of data frameworks. Clients can get necessary development resources swiftly permitting them to give quick time to market to products. Our engineers, project managers, testers, DevOps, and that's only the tip of the iceberg, straightforwardly start project development with a show of the system analysis of the issue and drawing up a project plan.
Simultaneously, SynapseIndia works inside the structure of the Scrum and Agile methodologies and sets the fundamental boundaries to accomplish the outcome that the client needs to see. This reduces the Time to Market boundary and meets the necessary system for giving the project to real users. For this situation, the client may initially require a proof-of-concept, or a MVP project, or a creation prepared solution.
Using Latest Technologies
The client actually must utilize the most current technology stack in present day IT projects. This is on the grounds that finding experts with extensive experience in this specific direction is important. Consistently, the technology stack changes decisively and tragically, developers in many clients' organizations can't dominate all IT regions. Hence, to utilize the most recent innovation stacks, it is important to apply for outsourcing.
SynapseIndia gives the right consideration to current new innovation stacks and has senior developers in numerous areas. Our organization will actually want to give projects and solutions for clients in the expected volume in view of the latest technical solutions and approaches.
Advanced Scalability
Organizations that are developing quickly should be ready to meet new prerequisites. At this development phase, many organizations need to scale their IT support. Finding assets for this undertaking inside the group is frequently costly and unreasonable. These development teams are generally fixed in size and extension. Extending an internal team to meet changing business needs can be expensive and tedious. By collaborating with software development outsourcing companies, you can stay away from this and utilize a scalable solution that can be effectively extended to address your issues. SynapseIndia has adequate assets to scale practically any task for clients.
Trusted Backstage Partner
With expanded adoption, outsourcing is bit by bit transitioning. An ever increasing number of organizations currently outsource IT support and maintenance services which permits them to zero in on their center capabilities. Organizations running on complex legacy systems and applications are frequently overloaded with maintenance and support of programming applications, which leaves them no time for development and deployment of new software systems. The main answer for this issue is to outsource software application maintenance and backing to a trusted technology partner, who can offer constant help and support of frameworks, ideal updates, and movement while guaranteeing consistency of the executives and cybersecurity.
Final Thoughts
Today's IT landscape is ridden with skill shortages, budget constraints, and constantly changing technologies. To address these challenges, an exceptional team is required that can seamlessly deliver application development, maintenance and support. However, despite the global market being awash with world-class IT development companies, very few have the breadth and depth of skills and resources to address these demands. SynapseIndia can help you leverage new found agility to automate and consolidate applications to free up systems, costs, and talent to fuel your digital transformation.
Tags: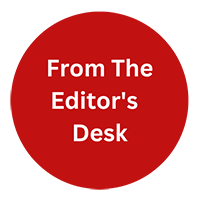 "From the Editor's Desk" is not just about the content. Our content writers will be sharing their thoughts on industry trends, new technologies, and emerging topics that are relevant to our readers. We believe that it's important to stay up-to-date with the latest news and trends, and We excited to share my thoughts and insights with you.