Why should startup Ecommerce companies opt for Bigcommerce or Shopify?
08 Jul 2022
"Shopify and BigCommerce are the two most popular eCommerce platforms for online business. Both the platforms are almost equivalent but there are a few distinctions that makes them different."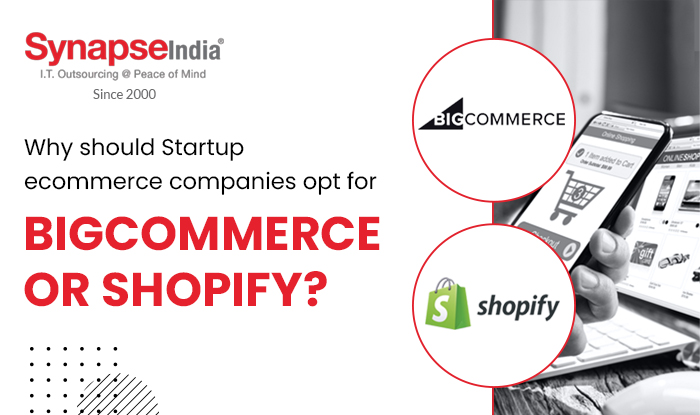 It is important to choose the right eCommerce platform for your online business. Launching your business on the right eCommerce platform can make a huge difference. It can show you a clear picture of your business growth and can tell you the difference between leaping in the black versus getting stuck in the red.
There are two popular choices for right eCommerce solution for small businesses and these are:
BigCommerce
Shopify
Our detailed comparison between the two most popular platforms will help you make a well-informed decision.
Understanding BigCommerce & Shopify
Shopify and BigCommerce are both membership-based eCommerce platforms that help organizations of every industry from solopreneur to enormous worldwide organizations. The two popular online businesses solutions offer limitless products, file storage and data transmission on all their plans alongside online storefronts, retail locations, online deals channels, customer support and gift vouchers.
Both provide fundamental eCommerce highlights, for example, basic shipping tools, an SSL certificate that safeguards online payments and the capacity to sell products over numerous social media channels. The two stages are comparably evaluated, however, BigCommerce has more built-in attributes while Shopify offers in excess of 8,000 paid and free third-party applications in its application store.
Shopify Vs BigCommerce: Which Is Right for You?
The framework of eCommerce is designed in a way that saves you time, cash, and energy by making the paradigm of online shopping easy. Obviously, this accompanies an expense. Moreover, while BigCommerce and Shopify might appear to be almost identical, there are a few distinctions in how user-friendly they are and what choices you get for your money.
Ease of use
With regards to an instinctive plan and usability, Shopify takes this category. Their set up process is one of the most straightforward we've seen. Their page developer and all its tools are thoughtfully designed and planned considering clients. You can relocate elements, see text styles and colors, and completely alter your page rapidly, in real-time.
Not keen on going over-the-top with your online store's plan? That is fine. The excellence of utilizing Shopify is that you can customize as much more or as little as you need depending upon which subject, you're working with.
BigCommerce custom design is simple to utilize but can be somewhat more involved with regards to customizing the presence of your store. Moreover, BigCommerce's page developer feels somewhat more obsolete. The Shopify "Getting Started" framework is somewhat more mind boggling, however justifiably!
Add-on apps & features
Managing online stores and processing orders through Shopify is easy. Shopify's application offers more abilities and choices, yet has less bugs. It is generally easier to use. Most clients value having the option to perceive how their business is doing initially and associate with other selling platforms easily through the Shopify App.
Need to upgrade your eCommerce shop's plan or view greater analytics? There's an application for that. Shopify and BigCommerce both have discretionary modules and application add-ons that can increase your sales and the grace of your site. However, Shopify, having been around longer, has more modules and more applications.
Templates and Themes
Your website represents your online business; and your store's aesthetic influences your sales. Like a brick-and-mortar you're selling a vibe, a brand, and a thought alongside your products. In this way, having the option to stir things up around town notes matters with regards to planning your shop. With an online business system, you build your shop's appearance through templates and themes. Fortunately, both Shopify and BigCommerce have modern and diverse templates and themes that will suit every business needs.
With regards to numbers, Shopify vs BigCommerce pricing are about equivalent. Also, both have a wide cluster of free formats and topics. The two of them also have a few brilliant premium templates and themes you can pay for.
All in all, where do the distinctions lie? Shopify's formats are easier to figure out. They're organized by industry type, and they have a valuable filter that permits you to limit your choices faster. You can find the best Shopify themes for your necessities promptly after browsing.
For high-end prices BigCommerce gives high-end themes. These rich themes run somewhere in the range of $200 and $300 to utilize, however they can add a more tailored feel to your shop.
BigCommerce templates permit you to tweak the design and elements to a more significant level than Shopify. This can cause a layout to look and feel more like your own creation. For some shops, BigCommerce layouts' customization implies more than being boxed-in to even the best Shopify themes and Shopify templates.
Shopping Cart
Online customers are quickly distracted. In the event that the checkout cycle isn't fast and simple, storekeepers can without much of a stretch lose potential customers, which is the reason a store's shopping cart feature should be consistent. Shopify depends on outsider applications for a wide range of discount functionality including cart-level limits, amount breaks or layered pricing and automatic discounts for explicit client gatherings. BigCommerce permits clients to make cart-level limits and coupon codes as well as automatic discounts for clients attached to customer groups without the requirement for a third-party application.
Shopify offers more than 100 installment suppliers to help clients' favored payment techniques, while BigCommerce offers 65 pre-coordinated online payments options.
SEO
Search engine optimization (SEO) is significant for higher search rankings. BigCommerce offers a few SEO includes from the get-go, for example, enhanced URLs, special URLs, embedded micro-data into product pages and URL changes that will naturally change the URL any time a product is renamed. Shopify permits clients to add keywords, adjust meta titles and depictions and alter URLs for blog posts.
BigCommerce additionally offers proficient reporting tools in every one of its plans, while Shopify just offers standard detailing with its mid-level plan and high-level reporting tools with its most costly plan. Both BigCommerce and Shopify clients can coordinate Google Analytics for more inside and out reports on website user behavior. BigCommerce seo improves with out-of-the-box SEO highlights, notwithstanding, Shopify has a superior choice of available third-party applications to integrate for SEO purposes.
Shopify Vs BigCommerce: A Quick Comparison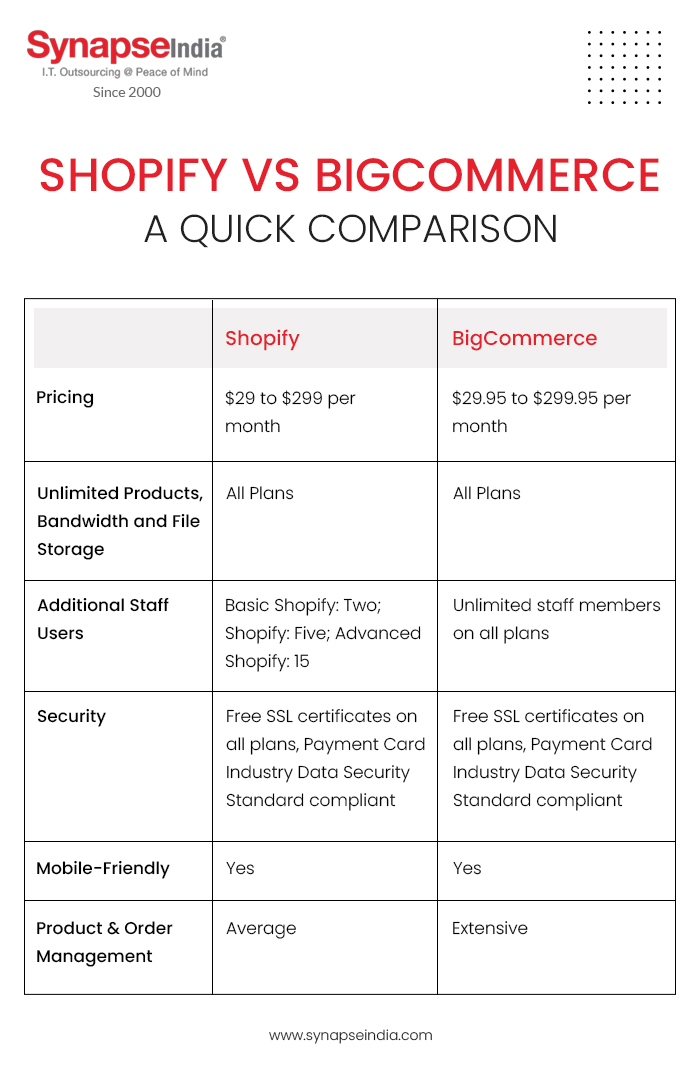 Bottom Line
The two platforms permit beginners to construct a lovely web-based store. For genuine site building novices, Shopify is easier to utilize, pursuing it as a go-to decision for beginners. One reason BigCommerce is such a strong online business builder is that it offers built-in devices that require an expectation to learn and adapt. Shopify, then again, is genuinely dependent on its application store, making its fundamental stage easier to use for novices. Free trials are available on both platforms, so explore different avenues with each platform to figure out what turns out best for your organization.
Tags: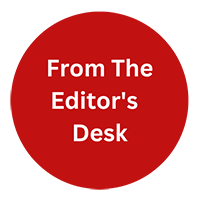 "From the Editor's Desk" is not just about the content. Our content writers will be sharing their thoughts on industry trends, new technologies, and emerging topics that are relevant to our readers. We believe that it's important to stay up-to-date with the latest news and trends, and We excited to share my thoughts and insights with you.