SynapseIndia's Social Initiative:
Being a responsible business organization, SynapseIndia feels proud in having a strong focus towards social causes that bring changes in the society.
Education is the most significant right as well as necessity for every child. Working on the same belief, we feel proud to have joined hands with International Chandramauli Charitable Trust of Varanasi. The Trust constantly works with a motivation to teach the children with ancient values inherited from Indian history.
Furthermore, the Trust actively works on traditional values, Rishis-ascetics and Vedic literature. All this combined with the philosophy of eternal peace of mind to manifest infinite peace.
Project Chandramauli:
The primary aim of International Chandramauli Charitable Trust rests at providing children with better education and living facilities. Operating on the traditional residential education philosophy, the Trust offers both (accommodation as well as education) to children.
Starting from pre-school to post-graduation, "after school" classes are run by the Trust for students of all ages. The Trust offers free education to its hundreds of registered students on various subjects like English, Hindi, Sanskrit, Mathematics, Science etc. As a part of modern-day education, the Trust also runs a computer center where children are educated with basic web designing techniques. Further, the curriculum includes art & craft classes along with music lessons.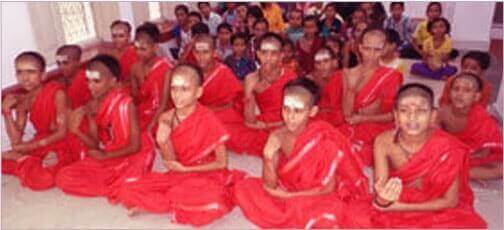 Chandramauli is a Trust that imparts teaching on "Sat Svar Vedas" along with "Panini's Vyakaran". Also, Saahitya, Darshan, Translation and Spoken Sanskrit are also taught to the students.
How SynapseIndia Contributes:
SynapseIndia CSR program has always focused on providing aid to everyone in the areas of Health, Education, and Livelihood.
The association of SynapseIndia with Chandramauli Trust is a commitment towards educating the children with the core Indian values. Apart from providing regular financial assistance to the Trust, we also help them in the overall infrastructural development. The inhabitants of the Trust are constantly provided with supplies such as stationaries, apparels, computers, medicines etc. Aid offered by us to the Trust includes -
Provided a new building to accommodate more children.
Funding for computer education.
Helping students with medical expenses.
Encouraging worthy students.
Provided help in acquiring land next to Trust's building.
Helping children with special sweaters during winters.

Our CSR program further assists the Trust in improving the health and education of students. The programs are always focussed on providing innovative and sustainable solutions that bring real benefits to all those who are in need.
Under SynapseIndia CSR, our employees are motivated to actively participate in the noble cause of the Trust. Thus, empowering them (Trust) to spread the ancient Indian values among more people.
To know more about the Chandramauli projects supported by us, please visit their website: www.chandramauli.org