10 Ways Robotic Process Automation Can Help Your Business Streamline Operations
21 Jul 2023
"Find in various ways how Robotic process automation (RPA) can help businesses streamline operations and improve efficiency. In this article, we discuss 10 ways that RPA can streamline your business."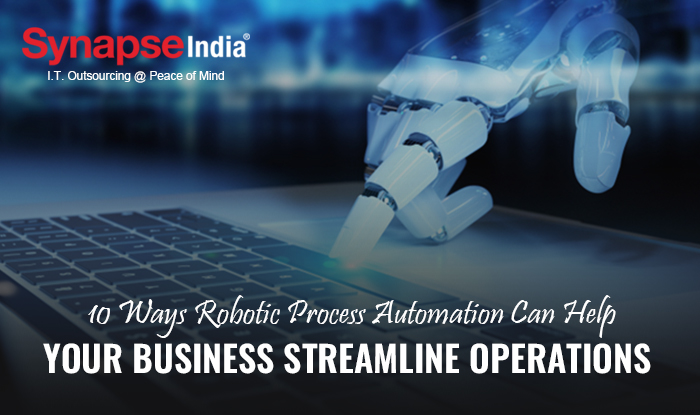 Businesses across the globe are increasingly adopting Robotic Process Automation (RPA) to streamline operations and free up resources for more strategic tasks that earn revenue growth and innovation. When utilized in combination with artificial intelligence, and machine learning, RPA can design the applications that works like typical human brain with adaptability, to assess and implement cognitive tasks by verifying data and handle the flow, evaluating outcomes at different decision point and reaching to deduction based on the data. It can further make powerful by emotional intelligence to build the huge influence in the customer services and different creative segments of the business
Quick Peek on Robotic Process Automation
The potential for RPA is crucial for streamlining different functionalities across the business. Let's see how RPA is going to optimize your business operations.
RPA comprises developing bots that mimics human actions and streamlining interactions in retail sector. This bot serves as a common point of assimilation, allowing seamless integration among software system an apps without any APIs. Capgemini estimates the retail sector could save up to $340 billion annually through an automated key processes like customer returns, managing and updating customer databases, inventory record maintenance, supply chain management and more.
Robotic process automation, like the definition suggests, makes it easy for you to carry out repetitive tasks. So, what type of tasks can you are automating in your educational establishment? Whether that's administrative, academic, human resources or financial and tasks, you can readily automate them all with RPA. At least 70% of these tasks can be performed effectively with RPA tools, providing educators longer to make what they do best, that is teaching.
How does RPA improve your business?
Ever since its inception, Robotic Process Automation is reviving the business wheel. Organizations in all sorts utilizing its benefits automating iterative tasks that need little or no individual intervention. Here are 10 different ways listed below that help streamline business process.
Optimized usage of Resources
Completely eliminating the possibility of error occurrence is impossible if the tedious and repetitive tasks are assigned to human as they get bored and commit silly mistakes while doing the same time and again. This leads to low efficiency, loss of money, time, and other valuable resources. But, with the integration of RPA into our business, we can eliminate all such possibilities to a great extent and divert the potential to human resources to the tasks of more importance.
Enhanced communication
Effective communication is essential to help people understand what we really do. Even all official communications with are customers, visitors and users go futile. This leads wastage of resources. To prevent this to happen, businesses can implement RPA and identify about their audience needs and make alterations to all sorts of communications accordingly. This way, consumer informed and well-aware without any need of manual intervention from the end of the businesses.
Lower costs and operating risks
RPA is considered double-edge sword for business as if programmed and tested well it may substantially, up to 100%, decrease human error risk related to committing an error while doing it manually. This not only cost-effective but improves overall operational efficiency of business.
Faster services
RPA utilizes bots and algorithms of artificial intelligence to handle frequently asked customer queries and other concerns. Additionally, automation process fastens the speed of task execution to a great extent from few days to some hours and that too with least possibility of error. It also eliminates the risk of supervision or alternation and augments the customer satisfaction.
The benefits of RPA support business use the power of flexibility, scalability, and productivity, that legacy systems cannot offer. Hence, if RPA programmed and deployed well for your business, you immediately be ahead of your opponents. Besides, RPA deals with critical task faster and accurately than traditional system, making your business considerably more agile and be capable of finishing a large task load.
Extracting information
Getting the best deal is always your primary priority when purchasing anything. Unlike the legacy system, which requires you to follow several resources to obtain the essential information, RPA can do it quickly by scraping data from websites, comparing it, and providing you the best deals.
Enhanced customer experience
RPA combined with the benefits of AI, machine learning and natural language processing, supporting business gain more traction due to their improved level of customer servicing. It is well established fact that serving a customer requires complete dedication, patience, and an eye for details. Additionally, it involves tedious repetitive tasks. With the incorporation RPA for doing these boring tasks, respective staff can devote their time into more productive and crucial administrative tasks. This will offer deep satisfaction level among the customers as they will get their solutions on time without waiting in a queue for a long.
Onboarding made simple
If you are looking for a solution that ensure onboarding process done according to the established norms, then RPA is the perfect choice for your business. It digitizes legacy manual procedures such sending welcome mailers, feeding employee data, and assigning different tasks related to documentation, trainings, and interaction. It decreases time spent on dull manual tasks.
Elimination of Errors
RPA bots are trained to apply programmed rules. Humans can make mistakes knowingly or unknowingly, but when bots take the place of humans, they can't make mistakes. When there are no errors in the code, the jobs will be fully bug-free.
Improved Job Execution
One of the significant advantages of RPA is that it can perform a certain and prearranged job without mistakes. When a task is finished with small errors, it doesn't require a rebuild. Operating excellence facilitates institutions enhance their overall efficiency and make more profits.
Increased Compliance
RPA removes data discrepancies between various sources and registers all actions filled out by the software robots while conducting automation. This lets staff proactively acknowledge and handle conformity issues and carry out regular internal reviews. Following RPA features businesses in various industries, needs to respect security and privacy rules, or must comply with certain regulations to keep data safe.
Empowering Your Business with RPA Tools
Even though it's nearly impossible to anticipate where technology is going to take us next, it is reasonable to suppose that Robotic Process Automation will further affect and impact digital and IoT conversion for the immediate future. At SynapseIndia, we are sure that RPA will continue grow in a fast-paced manner. If you're looking for ways to improve your business's operations, RPA is a great option to consider. Contact us today to learn more about how RPA can help your business achieve its goals.
Tags: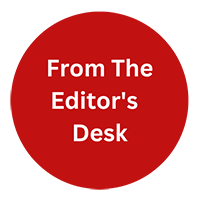 "From the Editor's Desk" is not just about the content. Our content writers will be sharing their thoughts on industry trends, new technologies, and emerging topics that are relevant to our readers. We believe that it's important to stay up-to-date with the latest news and trends, and We excited to share my thoughts and insights with you.