A Complete Guide To Build A SEO-friendly Website
17 Feb 2023
"To gain ranking on Google, it is important for websites to be seo-friendly. A properly optimized website gives users a satisfying experience. However, it is not easy to rank on the top of the search engines. "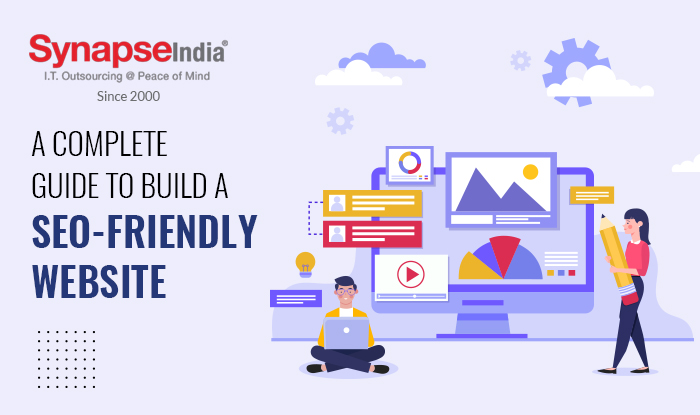 On an average, Google manages approximately 3.8 million searches every single minute. Endless number of users searching for the answer of their query. Do you want to appear on the top of the search engine? Does your website possess the quality to become a search engine's favorite?
Search engine optimization has gained popularity after digital marketing has become a global phenomenon. However, it is not easy to build an SEO-friendly website, proper strategy needs to be implemented.
Developing an SEO-friendly website allows search engines to crawl each page on the website, read the content effectively, and then mark it in their database. Once the content is indexed search engines can give the most useful and valuable web pages to their users based on the topics they search for. To make your web page SEO-friendly, integrate SEO practices into the web design process.
What Is An SEO-friendly Website Design?
A properly optimized web design that can be accessible and indexable by search engines is the primary quality of an seo-friendly website design. It is important for a website to utilize the techniques of SEO so that search engine crawlers can easily find and access them on the web. Seo-friendly websites will get a ranking on the search engine results pages (SERPs).
Search engine optimization is a broad concept, making website ranking in Google a necessity. Additionally, an seo-friendly website can give users a quality experience and satisfy searcher intent.
How Do Search Engines Rank Websites?
The internet houses the world's biggest repository of data. At the point when we really want to bring up specific data, we utilize a search engine to look for it. In 2007, there were nearly 140 search engines universally. But if you're similar to most web users, you likely just utilize one of the large three — Google, Yahoo, or Bing. With over 92% market share in search engines, Google is the top dog, so we'll base this guide around their search engine.
Indeed, the primary thing you ought to know is that when you do a Google search, you're not really searching the entire internet. Instead, you're looking through the site pages that Google has recorded. There are a few pages and assets on the web that Google doesn't list, thus when you look for them, you won't find them on Google's search results page. For example, your email inbox isn't listed by Google, so nobody can see your messages by simply doing a Google search.
So looking at this logically, the absolute initial phase in a Search engine optimization friendly website design is ordering your site pages on Google. Only then you focus on positioning on SERPs. So when you look for data on the web, Google gets back with answers in light of their relevance to the pursuit question.
For the ranking part, clearly, there are heaps of pages on the web. The search engine should then sort out some way to show the outcomes in order of relevance. Each search engine tool utilizes its own algorithms to rank websites based on a given set of criteria. But, of course, the actual ranking process is not public knowledge, else everyone would be doing it.
Instead, we have ranking variables and best practices to direct our Search engine optimization system. These ranking factors are the premise on which websites become Search engine optimization friendly.
How To Make Your Website SEO-friendly?
The importance of having an SEO-friendly website is undeniable, now more than ever. So how do you go about it? Here's a quick step-by-step guide to help you get started.
If you're building a new website
Start with a great domain name
If you're simply beginning with another site, your search engine optimization cycle will for the most part begin from your domain name. It's a smart idea to bring some component of Search engine optimization into your domain name. For example, you could include a prominent keyword in your domain name. This makes it more straightforward for individuals to understand what the website is about just by looking at the URL.
Choose a quality web hosting
Your web host plays an important role in how quick or slow your site loads. It can likewise influence the security level of your site. A few years ago, a SSL security certificate (HTTPS) was just expected for sites that handled direct only payments or stored delicate data, for example, ecommerce sites. Today, in any case, even a basic one-page site is supposed to have a SSL security certificate.
Being a critical part of Web optimization best practices, HTTPS sites give a feeling of security to users, which permits them to explore your website with certainty.
Build your website on a good content management system (CMS)
WordPress remains the most popular choice among entrepreneurs, however go ahead and investigate your choices and find a CMS that impeccably suits your requirements. You'll need a CMS that is wired for Website design enhancement at its generally basic level. Along these lines, you don't need to get excessively specialized with the optimization process.
Set up your website for crawling and proper accessibility
This is where you're setting up the site for legitimate indexing by Google and other web search tools. To do this, you want to ensure search engine crawlers can grasp your webpage.
There are numerous ways of getting Google to index your website. The absolute most normal include making and presenting a XML sitemap, utilizing the "Request indexing" capability on Google Search Control center, and uploading Google's HTML file to your root directory. These are careful cycles, so you'll need to employ a good website admin or Search engine optimization master to do them for you.
Optimize your website architecture
This refers to the structure of your site. It covers everything from the ordered progression of the site pages to the site route and, surprisingly, the content flow and internal links. The point here is to make it as simple as possible for your website visitors to find the content they need while additionally ensuring web index bots can crawl your pages without preventions.
Best practices for optimizing your website architecture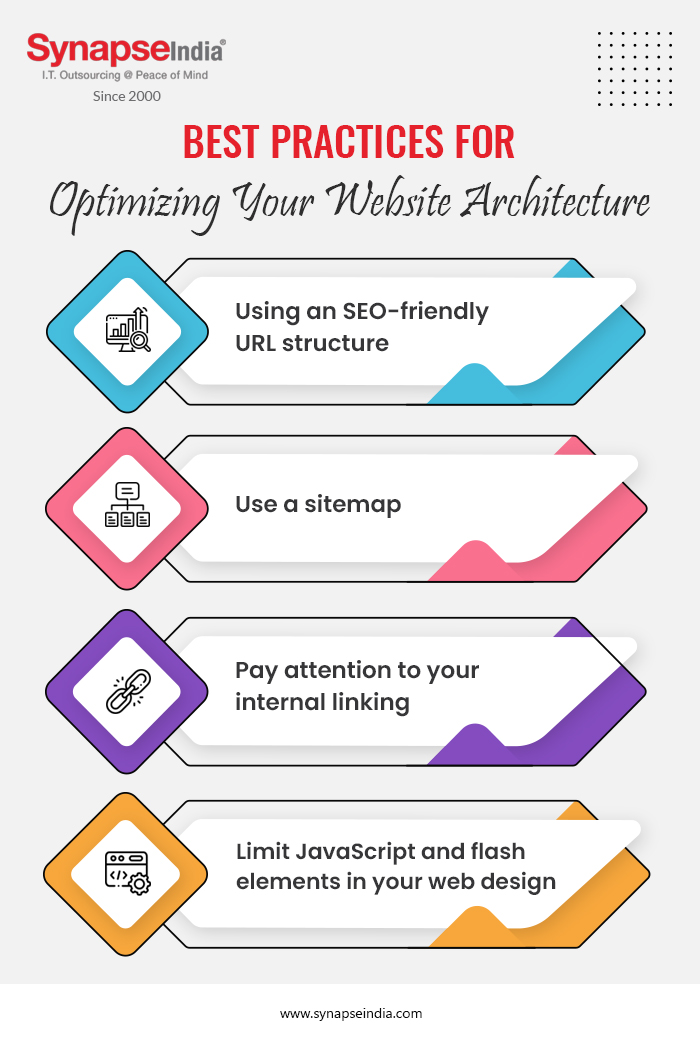 Using an SEO-friendly URL structure
Use a sitemap
Pay attention to your internal linking
Limit javascript and flash elements in your web design
Make sure your content marketing is on point
Each marketing technique depends on incredible content. Each piece of content on your site ought to have a reason — to illuminate and teach perusers, as well as give them directions on what to do next. There's no space for cushion and positively no space for jargon either.
Some best practices for producing quality content include:
Understand who you're creating the content for
Make sure every web page is optimized with relevant keywords
Avoid keyword stuffing
Avoid duplicate content
Get backlinks from only authoritative sites
Drill down on the technical stuff
On-page SEO contains a number of seemingly small yet powerful pieces that must come together to uplift your website's SEO efforts. Here's a quick rundown of the most important considerations.
HTML title tags
Meta tags
Header tags
Image optimization
Rich snippets
Mobile-friendly = SEO-friendly
Many people access the internet through their mobile phones. This implies your site should be upgraded for mobile users. Sites with poor mobile responsiveness are among the main sources of high bob rates. Since, if individuals can't get to your site from the device they are using, they'll just return to the SERP and select an alternate site from the rundown, most likely that of your competitor.
Bounce rate is a significant positioning element since it tells web indexes that your site isn't pertinent to the searcher. All in all, don't expect high rankings when you have high bounce rates!
Link your social media accounts to your website
This is an incredible method for expanding the authenticity of your site. Also, you get to coordinate a portion of your content on these pages, making them simpler to track down on the web. There are a few modules that permit you to connect your social media accounts to your site in just a few clicks. Once completed, make sure to add the symbols to your site.
The typical practice is to include them on the footer area, however a few sites also add them on the header segment and, surprisingly, on the sides of the page. Significantly, they're there and that they don't cover the content on the page.
Wrapping Up
An effective Web optimization campaign is vigorously subject to having an seo-friendly website. It's basically impossible to get around it. The key is to focus on conveying a brilliant user experience while following best seo practices. Take as much time as necessary, particularly during the initial web building stage. Recall that the plan choices you pick can make or blemish your Website optimization attempts.
Tags: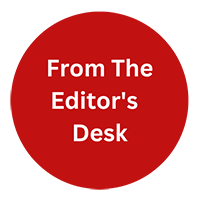 "From the Editor's Desk" is not just about the content. Our content writers will be sharing their thoughts on industry trends, new technologies, and emerging topics that are relevant to our readers. We believe that it's important to stay up-to-date with the latest news and trends, and We excited to share my thoughts and insights with you.