Android Wear app development company - Explore new business leads
14 Sep 2018
"Android Wear app development company, SynapseIndia is well acclaimed for developing futuristic apps for Android smartwatches and other wearables."
Android Wear app development company, SynapseIndia is well acclaimed for developing futuristic apps for Android smartwatches and other wearables. Businesses from USA and across the world put complete trust on our Android Wear app development services due to our fast turnaround time, innovation, cost-effective and flexible hiring models, timely project delivery, etc.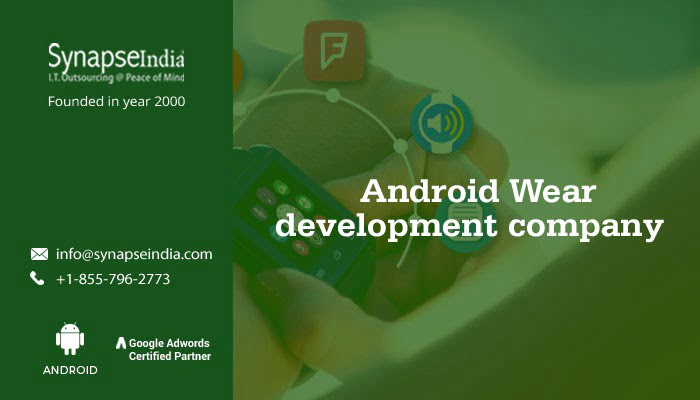 How we help brands to deliver a personalized user experience?
Android Wear smartwatches have completely transformed the way people use technology in their lives. Now, people are more interested in using wearable devices instead of smartphones for doing various activities, i.e. fitness activities tracking, music, communication, etc.
These trends have opened new business opportunities for enterprises that want to earn more revenue by delivering a personalized user experience to the potential customers.
Google certified Android Wear app developers
SynapseIndia has the best-in-class team of Google certified Android Wear app developers who help clients to leverage the benefits of Android Wear or Wear OS. From developing apps for food industry to apps for fitness industry, we have served a wide range of industry verticals.
If you want to cater your product or service to millions of target customers around the world, then SynapseIndia, a top Android Wear app development company can help you to fulfill your business goals under your budget.
Contact us for any query at info@synapseindia.com
Tags:
Author

: Manish

Manish, a blog expert by profession, knows how to deliver perfect blogs for various services such as cloud computing, game development etc. From the blogs written by him, it is evident that they are the epitome of knowledge sharing. His expertise and brilliance to deliver unique blogs is what that makes him stand out of the box.