eCommerce website development companies – SynapseIndia stands out with quality
08 Oct 2018
"eCommerce website development companies are key players in the global software development industry. SynapseIndia is a well-known name among them."
eCommerce website development companies are key players in the global software development industry. SynapseIndia is a well-known name among them and serves businesses in USA, UK, and Australia. The company builds fully-functional, customized eCommerce stores for all types of businesses.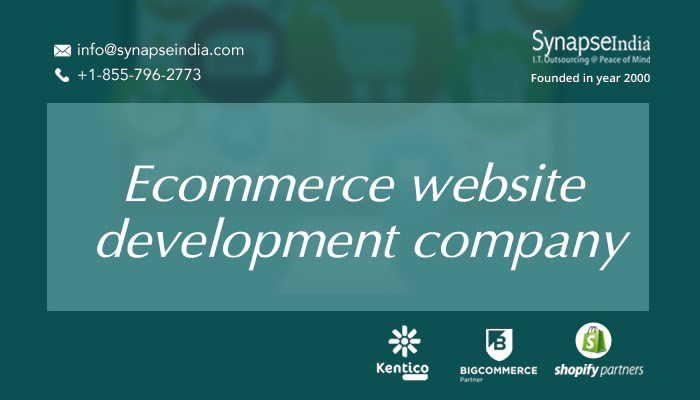 It offers eCommerce websites and solutions with an array of most desired features and functionalities. The company ensures that the significance of mobile devices is kept in mind while developing the eCommerce solutions. SynapseIndia also guarantees the security of the websites, helping clients avoid any potential security threat.
The eCommerce website development services can be technically categorized into the following major types:
eCommerce website development from scratch
Website enhancement/modification
Maintenance & support for websites and solution
Our eCommerce development offerings include:
eCommerce web design
eCommerce website development
Shopping cart development
mCommerce application development
Payment gateway integration
SynapseIndia has built, customized and enhanced thousands of eCommerce websites for a diverse group of clients spread across the globe. A few examples of development projects are mentioned below.
We developed an eCommerce website with a contemporary design and categorized the products on the site in an attractive way. The developers used various Magento extensions and plugins to make an appealing and user-friendly eCommerce website.
Our WordPress developers upgraded the older version of an existing WordPress website to the latest version. WordPress plugins were upgraded for better security, user experience, and faster website loading.
Click the link below to know more about the projects:
https://www.synapseindia.com/portfolio/eCommerce-development-services
SynapseIndia has a team of highly experienced, certified eCommerce website developers. They always stay updated with the most advanced development tools and technologies. Additionally, the developers follow coding standards adopted by leading eCommerce website development companies to ensure the delivery of industry-best services and solutions.
Get in touch with us at info@synapseindia.com
Tags:
Author

: Nilesh
Nilesh is an industry-expert technical content writer carrying a wide experience of writing blog posts and marketing content. He writes as per his great technical/IT knowledge acquired through the years to provide informative content. Also, the author has a real expertise in writing detailed and specific content for technologies.