Elements to be Considered Before Development of Mobile App for Your Business
22 Jul 2022
"Mobile applications are crucial for expanding business reach. It is a way to retain existing customers and attract new customers from around the globe. But developing mobile applications includes proper planning and execution."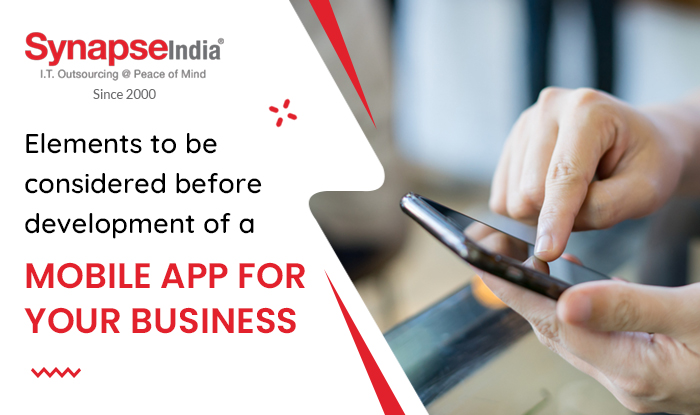 For most companies a mobile methodology is not a choice, it has turned into a prerequisite for each business. In the realm of mobile application development, it has a vital role to play in a wide range of organizations to make it succeed. Furthermore, one of the top reasons behind why mobile applications fall flat at the market within the initial days is because of ill-advised planning and execution.
Mobile app design and development is more than just a technological advancement. In the present scenario, it is a way of achieving growth and success. In this blog, we will discuss certain important elements that every app developer and business owner need to consider before developing an app.
Important Elements to Consider at the Time of Mobile Application Development
Research
If you believe in your extraordinary idea of developing an app for your business, the main thing you want to comprehend is the market, users interest and trends. Indeed, even prior to giving a mechanical touch to your business application, you really want to do a statistical survey. A market examination report can give you useful knowledge. This way, you can understand the demand and popularity of similar apps in the market and what strategies your competitors are following to stay ahead.
Customer reviews are essential to understand customers likes and dislikes. You can focus on the pain areas and can try to provide better solutions for those areas in your mobile application. Thorough research can offer you a chance to design better and permit you to set up a strong application all along.
Identify Target Audience
This goes under the research stage and is critical. Recognizing the right set of audience for your application is vital. The future of your application relies on your target set of audience and they will contribute a lot in the development process and as well as app feature expansion and growth. Questions like who will utilize my application and how it can add value to their lives, ought to be asked prior to the development process.
Choosing the Right Platform & Technology
It is important to pick the right technology and platform for your business mobile app. It's actually a significant obstacle when you need to oblige on your budget and require more money to get their application produced for more than one platform, particularly for small businesses or start-ups. You need to be aware of market trends if you want to gain your end users attention and stay ahead of your competitors.
Considering these essential components in mobile app development strategy will take you on the path of growth and success when you deploy your app to the app store.
Know Your Budget
Building a mobile application for business requires investment alongside information and procedure. Knowing your budget and distributing it appropriately among each phase of application development is significant. There are different parts of an application that need monetary investment; application improvement, updating, marketing etc. Essentially your application budget relies upon your specialty. The sort of application you need to make and the kind of content you wish to add in your application.
Smooth & Efficient
No excuse, your app development UX design has to be smooth and effective. If your application is taking time to load, it might end up being lethal. Either the client uninstalls the application after first use or seldom opens. It leaves a bad impression. Ensure your application doesn't consume a lot of memory space and processing power on a cell phone.
Efficiency in mobile applications keeps users engaged and guarantees success. It incorporates user-friendliness, data efficiency, battery usage, and security. If your application is utilizing a ton of 3G or 4G data, it probably won't work for you in a more drawn-out run. End-user might download and forget. In this way, don't fall into that classification and create your application in such a way that it will not consume more data of your clients and doesn't deplete battery.
User Experience
User Experience is the foundation of any application. If you neglected to give your clients an incredible experience, there is not a great explanation for them to return to you and utilize your application. User experience is an undeniably significant component with regards to the digital landscape. An application characterizes how an end-user feels and thinks about your products and services. At the end, the goal is to develop useful, valuable, and easy-to-use applications for the customers. Try not to make your application complicated.
A thoughtfully developed mobile app design and development offers flawless user-experience and can result in several key benefits. The functionalities and content that are conveyed to your application should be in accordance with your target audience. The final result should give a prevalent quality client support. If you can't provide your customers a quality mobile application, it might impact your brand image.
Security Measures
When your business mobile app is in development phase it is important to consider its security, make sure it is being built and taken care of early. Your client's information, from the specific area to bank details and passwords, is your most important asset. Regardless of the way that security has fundamentally improved in recent times, you should be aware of the security stage while building any business mobile application. In any case, assuming something turns out badly, you can watch yourself crash and burn right there.
Thus, to overcome what is happening, you should include a privacy policy in case your application will gather any delicate data from the clients. Make sure you follow proper steps to collect, handle, and store data from the users.
Conclusion
Make sure to employ the above-mentioned elements in your mobile application development phase. Moreover, feedback from both the employees and customers is always useful and insightful since it will help in adding special features to your business app. Once you have considered all these elements carefully, youll be able to deliver a bug-free app to your customers.
Tags: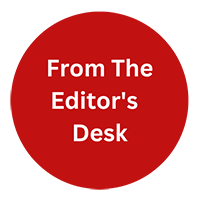 "From the Editor's Desk" is not just about the content. Our content writers will be sharing their thoughts on industry trends, new technologies, and emerging topics that are relevant to our readers. We believe that it's important to stay up-to-date with the latest news and trends, and We excited to share my thoughts and insights with you.