Five Most Popular Web Design Trends to Boost Traffic to Your PHP Website
09 Aug 2023
"Find Out the top five web design trends that can bring in more visitors to your PHP website. Stay one step ahead of the race and create a user-friendly, visually attractive online presence to attract and retain visitors."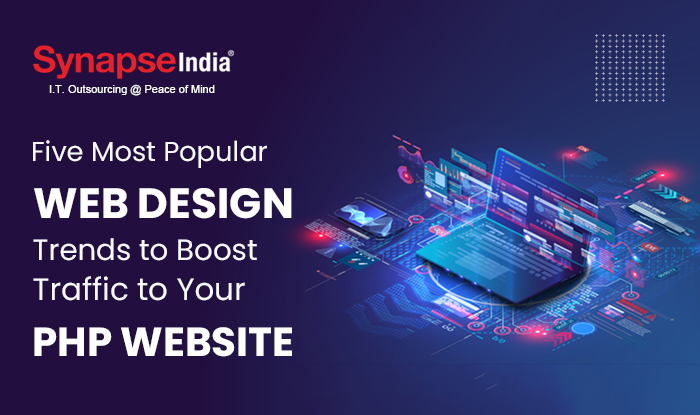 Having a distinct web design empowers your business and helps your brand stand out from the competition. As the data from Top Designs suggests, more than 50% of users agree that website design plays a significant role in an organisation's overall reputation. Thus, businesses must prioritise website design to cater to customers' expectations and build their brand identity. Your site is a face of your enterprise. So, it's necessary to update your website on a regular basis and according to recent web design trends. In this world of modernization, people enjoy trendy things, be they fashion, food, or web design. While creating a web page, every developer puts their psyche into it. And to get the best results out of their effort, they must research and integrate the newest site trends in design to make it look fresh.
Let us delve into the world of PHP website development and find out the five most popular design trends to incorporate into your website to boost your traffic significantly.
Minimalist and clean design
Simplicity is something that brings ultimate sophistication to your website. Subtle design focuses on decluttering the outline, making ample use of white space, and prioritising necessary elements. A clean and orderly design not only enhances aesthetics but also improves UI to a great extent. Ensure a minimalistic approach for your PHP website with a clear navigational menu, well-structured sections, and concise content. Integrating this trend into your site not only keeps visitors engaged but also enhances loading speed, improves SEO rankings, and improves traffic to your website.
Dark Mode
Dark mode is not a novel concept. Since the 1970s, it has become a default feature on any desktop computer. As the UI and white background became prominent, dark mode became outdated, but now once again, it has become a prominent website design trend. It is now available on many distinguished social media platforms and browsers; it has become an appealing feature all its own. It also reduces stress on the eyes so that users can focus more on website content.
Additionally, the dark mode feature has gained huge popularity due to its aesthetic appeal and possible advantages for users. By using a different dark colour mode, you may reduce eye strain, improve battery life on a few devices, and create a more fascinating experience. Additionally, implementing dark mode on your website can appeal to users who wish to use this theme and wish to give their site a trendy look.
Organic shapes
There are ongoing website design trends that have grabbed the attention of web developers and designers. There was a huge trend for geometric forms until 2020, but contemporary web design is about organic and smooth shapes. Be it asymmetrical shapes motivated by natural components like raindrops, rivers, or mountains.
Integrating organic shapes into the content adds personality without disturbing the content. It is also less common, giving websites a more classic look.
Mobile Responsiveness
With the rise in mobile phone users, a mobile-responsive website is necessary to gain a competitive edge. Also, it is significant to optimise your website for different screen sizes, which ensures an effective user experience. Additionally, responsive design modifies content and layout dynamically, providing users with a seamless experience despite the kind of device they use. A mobile-optimised website improves user engagement as well as positively impacts search engine rankings because search engines assign priority to mobile-optimised web pages in their algorithms.
Thumb-friendly design
As the data suggests, 54.8% of website traffic comes from mobile devices globally. In recent times, path-breaking changes in mobile technology have made every website mobile-optimised. But just optimising for mobile screens is not sufficient. Have a look at how you hold your mobile; our fingers are packed around the phone, and the thumbs are doing every task. In these cases, the website must be thumb optimised. Icons, buttons, and menus on your website are designed to make it easy to gain access to the users' thumbs.
Website loading speed
Regarding website design and development, loading speed will always be among the top website design trends. As per research conducted by PORTENT, around 70% of users said that page speed affects their willingness to buy from an online retailer.
According to different marketing sources, Yelp for businesses improves conversion rates by as much as 15%, along with a great UX experience, by minimising page loading speed and augmenting TTI and FCP metrics. Folks don't count split seconds, of course, but instinctively, their minds judge your business website.
Other than this, design trends are dominating the market. Virtual reality, muted colour, micro interaction, smart video, micro animations, etc. are counted among the best website design trends for the future of the digital world. Chat bots are also gaining popularity and making the chatting and support processes easier than ever.
How do you check if your website design is responsive?
While creating your web designs, it is important to check if they are consistent across different screens like laptops, desktops, smartphones, and tablets. Building a responsive design is imperative for conducting responsive testing. Testing manually is cumbersome, so a feasible solution is using a smart solution like LT Browser, a mobile-optimised testing tool. This tool can conduct dynamic design testing through more than 50 pre-installed view ports, like desktops. laptops, tablets, etc. for creating personalised device resolutions, creating performance reports, and network simulations.
Final words
Web design is an ever-changing art affected by the changing interests and preferences of visitors. We can predict if what is trending will be outdated tomorrow or will be popular again in the future. And in the coming time, some new trends can completely change your PHP website development and design techniques. So, it's significant to keep the website design updated and stay ahead of the competition because it's your canvas to serve the web with your creative flair!
Tags: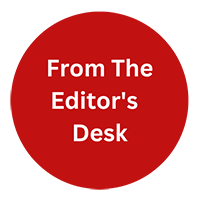 "From the Editor's Desk" is not just about the content. Our content writers will be sharing their thoughts on industry trends, new technologies, and emerging topics that are relevant to our readers. We believe that it's important to stay up-to-date with the latest news and trends, and We excited to share my thoughts and insights with you.