Is SynapseIndia Right Choice for Your Business? A Commentary on World-Class Software Development Services
21 Oct 2021
"At SynapseIndia, we offer custom web and mobile solutions that will help engage your audience. Let us dive in to find out is SynapseIndia best choice for your custom software development?"
The custom software development process can be overwhelming, especially when you expand beyond your internal bandwidth and hire an I.T. outsourcing company to bring your solution to market or to your business. Did you know that most outsourcing companies do not provide you the source code on completion of the project? Seeing your vision come true begins with choosing a capable development partner, considering aspects of your development model that may not necessarily seem central to the decision-making process. Let's dive in to find out is SynapseIndia best choice for your custom software development?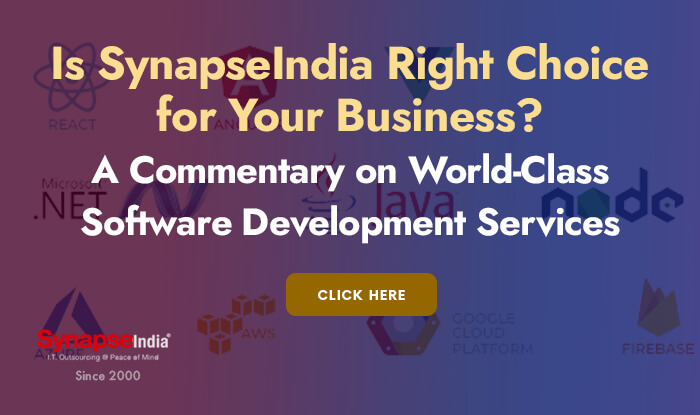 Choose the Right Software Development Partner
There is a constant for all operations: the need to evolve and reinvent to remain relevant in a dynamic consumer climate. Businesses brainstorm innovative software, innovative apps, and intuitive website designs to keep up with market demands, but when it comes to bringing these projects to fruition, entrepreneurs often find themselves with limited bandwidth. When internal resources cannot be scaled to meet project demands, owners turn to the Internet for outsourcing a software development company, overwhelmed by sheer numbers of programmers, and not knowing where to start.
Finding a true and perfect back-end software partner can be a challenge in a saturated market. To refine your search, it is crucial to review the key components within each prospective development model before committing to an official partnership. Thoroughly vetting each prospect will ensure that they not only complete your project goals but supersede them.
While budget concerns are a major facet of the decision-making process, selecting a development company based solely on cost structure returns software that reflects low investment. Unfortunately, low quality and low cost often go hand in hand. Instead of thinking one-dimensionally, you need to think of the big picture. Answering the following questions before committing to a software vendor will ensure robust, revenue-generating software that will guide your operation into an enlightened era.
SynapseIndia – A Leading I.T. Outsourcing Company
SynapseIndia is a leading I with happy and satisfied customers around the world. Thousands of startups and giant companies have achieved their business goals with our cost-effective mobile, web and software app design and development solutions. We have successfully delivered over 10,000+ projects to date and counting more.
At SynapseIndia, we offer custom web and mobile solutions that will help engage your audience in the competitive era. We work with the best tools and technologies for Android, iOS, and web applications. Easily outsource your project for the most reliable and cost-effective next-generation solution, incorporating research-based insights to improve the customer experience.
With more than 500 highly skilled IT professionals and more than 10,000 successful projects, we are motivated by emerging technologies as the next technology-driven organization. To offer the best quality and innovative value-added services, we are committed to delivering high-performance technology-enabled solutions through high-delivery mechanisms and flexible engagement models. We continue to build a global service company by developing extraordinary talents that enable us to help our clients improve business offerings.
Contact us to get the best software development services including Website development, Mobile app development, eCommerce solutions, CMS & CRM solutions, Cloud solutions.
A Commentary on World-Class Software Development Services
"No doubt about it, Career Communication Group (CCG) could not have delivered such as innovative digital experience to the global WOC STEM community of attendees and sponsors without Synapse's flawless technical support.
On behalf of the CCG team, I send a big thank you and our appreciation for Synapse's willingness to go above and beyond the call of duty. Our respect for your professional integrity grew with every project delivered by the CCG-Synapse partnership of nearly twenty years.
As CCG continues a corporate-wide transformation, we look forward to the exciting digital journey ahead and opportunities that are driven by our mutual push for reliability, performance, and customer service satisfaction." ----- Said Tyrone D Taborn -Chief Executive Officer at CCG "Career Communication Group"
Client's testimonial video
We would like to thank all of our clients who have helped us grow over the years and all the team members who allow us to be successful every day.
Tags: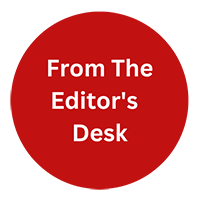 "From the Editor's Desk" is not just about the content. Our content writers will be sharing their thoughts on industry trends, new technologies, and emerging topics that are relevant to our readers. We believe that it's important to stay up-to-date with the latest news and trends, and We excited to share my thoughts and insights with you.