Follow this Guide to Start or Expand Online Business By SynapseIndia
12 Feb 2020
"Starting an online business or expanding the already one is not a rocket science. All you require is a professional technical support of a reliable organization."
Earning huge profits is the ultimate aim of every single business. SynapseIndia the IT outsourcing company brings forth a productive guide to expand your online business or start the one for selling products/services worldwide and increase the share of the revenue.
Use Technology to Grow your Business
Advanced technology brings innovation and modification to your business processes. It can automate your operational work, reduce time, enrich work efficiency, reach target customers, understanding demand, and fulfilling the same.
Overall, successful businesses make the best use of innovative technology to run day-to-day operations and also to automate many processes.
Types of technology services for your business
Mobile App Development
Mobilization is something you cannot ignore in this digitally acquired era. A comprehensive mobile app development helps you get a responsive and fast business mobile application to boost your brand entity, improve customer service, personalise buying behaviour, connect in a better way, acquire new customers, and of course generate more revenue. In fact, you can stay ahead of the competitor's list after having a fully-functional mobile application developed by technical experts of SynapseIndia.
Artificial Intelligence
AI plays a vital role in shaping the future of online business and understanding customer preference with ease. It can help you create a buyer persona based on the last searched detail and then allows you to showcase only preferred products/service to customers.
The technology of Chatbots helps to solve customer queries despite having a different time zone and geographical difference. It can work non-stop without any break and let your customers feel totally satisfied with the service as per their call.
Cloud Computing
Cloud Computing technology can do wonders for small scale online business by meeting storage and security requirements with ease.
This technology helps businesses to maintain data storage online without needing internal space for the same. Thus, you can save storage and security costs of maintaining the efficiency and management of data.
On top of that, business professionals can have access to particular data from any location and time with the help of remote access. All you require an uninterrupted internet network and a device to stay connected and have seamless connectivity to data all the time.

CRM Solutions
Customer Relationship Management System helps businesses to interact with customer's data, based on which upcoming marketing efforts are organized to drive sales and revenue.
The power of CRM technology helps you deal with the right potential customers, offer related products/services, study their social platform insights, and further analyze their buying behaviour. This helps you save costs on sales but also to enrich customer engagement with the business.
Tags: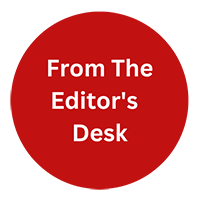 "From the Editor's Desk" is not just about the content. Our content writers will be sharing their thoughts on industry trends, new technologies, and emerging topics that are relevant to our readers. We believe that it's important to stay up-to-date with the latest news and trends, and We excited to share my thoughts and insights with you.