Hybrid mobile app development company - Cross platform apps
28 Sep 2018
"Hybrid mobile app development company, SynapseIndia is committed to offer end-to-end cross-platform mobile app development services to its clientele in USA, UK, Australia, etc."
Hybrid mobile app development company, SynapseIndia is committed to offer end-to-end cross-platform mobile app development services to its clientele in USA, UK, Australia, etc. We have rich experience in leveraging the benefits of major hybrid mobile app platforms.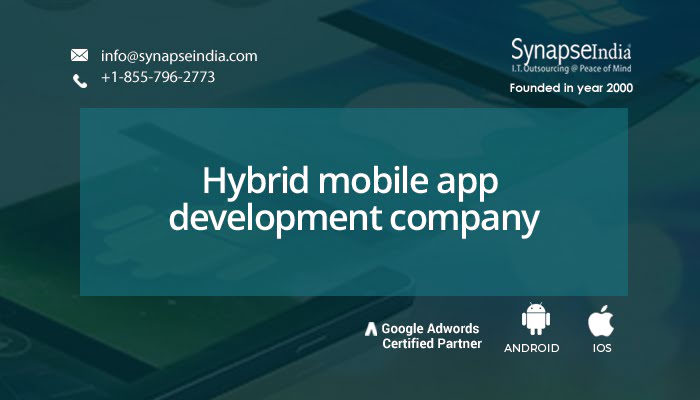 Why choose SynapseIndia for hybrid mobile app development?

We have dedicated hybrid mobile app developers who create fully-functional apps that deliver native-like performance across all the major platforms, i.e. iOS, Windows, Android, etc. Our reputed clients have achieved business goals by exploring innovative sales opportunities available on various mobile platforms.
Xamarin, PhoneGap, Ionic and React Native are the top hybrid mobile app technologies that we utilize to exactly fulfill the custom requirements of our diverse clients.
Hybrid mobile app development related projects

We have accomplished various types of projects, i.e. cross-platform mobile app design and development, app feature enhancement, app migration, app support & maintenance, etc.
We developed a hybrid mobile app for iOS and Android using Xamarin for the recreation industry in USA. We enhanced the features of a PhoneGap mobile app for the digital media industry. Also, we created a hybrid Xamarin iOS and Android app for the roofing industry.
Check industry-wise projects completed by our talented hybrid mobile developers here: https://www.synapseindia.com/portfolio/Mobile-App-Development-services
Deliver an amazing multi-platform experience across devices by availing services of the top hybrid mobile app development company, SynapseIndia.
Get in touch with us at info@synapseindia.com
Tags:
Author

: Nilesh
Nilesh is an industry-expert technical content writer carrying a wide experience of writing blog posts and marketing content. He writes as per his great technical/IT knowledge acquired through the years to provide informative content. Also, the author has a real expertise in writing detailed and specific content for technologies.