Magento vs OpenCart: Understanding Their Features
23 Sep 2022
"Both Magento and OpenCart have been designed for large online stores. Read on the blog to know Magento VS OpenCart and understand their features in depth."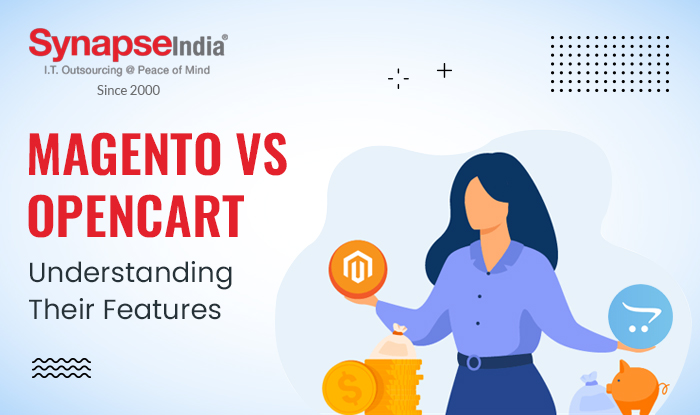 We usually hear success stories of people who went on to eventually achieve massive success in their own fields of expertise.
In essence, a business will go through various stages of development. The first stage is usually the most difficult when you have to deal with many challenges and funding sources.
Choosing which eCommerce platform, you should use to scale your business in its early stages is one of the most crucial decisions.
Therefore, this post will make this selection relatively simple for those who are stuck between the 2 most popular platforms: Magento vs. OpenCart.
Let's dive in!
What is Magento?
Magento is one of the most sought-after open-source platforms owned by Adobe. The platform is known for its 100% customization capabilities that allow store owners to weave personalized experiences.
Magento is available as two main offerings namely Magento Open Source and Magento Commerce. The business version, Magento Commerce, is available with integrated AWS hosting.
More than 213,057 stores use Magento, of which 106,299 are running Magento 2.x, the latest platform offering: Builtwith. Magento is popular with both SMEs and businesses. The platform has its own B2B-focused variant that caters to the wholesale, distribution, and D2C market segment.
What is OpenCart?
OpenCart is a free open-source e-commerce platform based on PHP. Based on MySQL database and HTML components, the platform supports multiple languages and currencies. OpenCart is known for its easy-to-use admin interface.
The platform's comprehensive dashboard allows you to manage products, promotions, orders, and reports without the need for technical knowledge. According to the Builtwiths report, 471,669 are operating on OpenCart. Most of OpenCart's clients are small and medium-sized businesses.
Magento VS OpenCart - A Detailed Comparison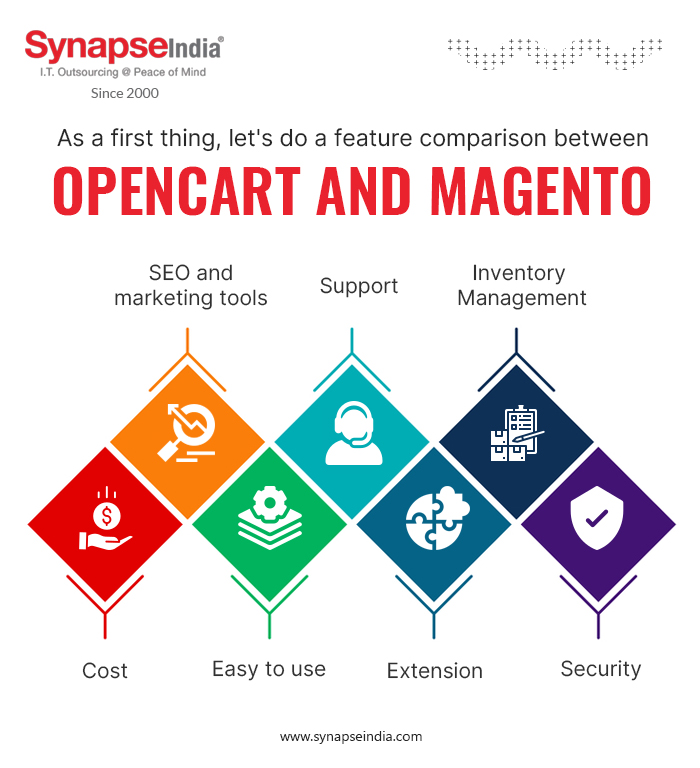 Magento vs OpenCart: Similarities
Before we start comparing them, let's look at some of their similarities:
Both platforms are open source and are developed in PHP.
Allows for the ease of adding products using the template-based approach.
It offers many extensions and plugins.
Supports multiple languages and currencies.
Allow your customers to make recurring payments.
Magento VS OpenCart: Understanding Their Features:
This comparison will extensively cover the main areas of Magento and OpenCart:
Security
Nowadays, security is a big concern. When using an e-commerce platform, it is very important to protect the data of customers who make payments online.
Magento
Magento takes security very seriously. It offers regular updates with security patches for any loops. But it is still an open-source platform, and you will need to add extensions and follow certain Magento security guidelines. Aside from that, you can also use SSL and WAF to secure your store.
OpenCart
Since OpenCart is a simple and lightweight platform, it is also less vulnerable to a security breach. The basic defense system offered by the platform is more than enough. Although many people claim that OpenCart extensions can be insecure as they are not monitored very closely.
Hosting Cost
The ecommerce platform you choose has a huge impact on the performance of your store. But you just can't ignore the hosting service provider. Hosting services will decide the speed and security of your store. There are many companies that offer hosting for Magento and OpenCart. The only difference is the cost involved.
Magento
It is a commonly known fact that Magento is resource intensive. We strongly advise you to stay away from shared hosting. A shared host will always have a negative impact on the performance of your store. Managed Magento hosting is your best bet when it comes to better store performance.
OpenCart
Hosting costs are much cheaper when it comes to OpenCart. Being a lightweight platform, it uses fewer resources. You can also start using OpenCart with a free demo on its official site. For hosting, you can get a hosting provider for as little as $11.95/month.
Features and Extensions
When it comes to Magento vs OpenCart, we need to decide which platform offers better shopping experiences, design options, powerful SEO resources, and unlimited integrations and plugins.
Magento
There is almost everything you can get on Magento Marketplace. Magento was designed for larger eCommerce stores and offers features and extensions for them. Also, there is a huge market for Magento developers who can easily develop any new extension required for your store.
OpenCart
OpenCart has a lot of extensions to offer, but it doesn't come close to Magento. It allows you to access and maintain order history, but it is quite complex for a beginner.
SEO Friendliness
Designing a high-quality eCommerce store isn't enough when you don't have traffic. You have to make your store SEO friendly to rank higher in search engines. And you need extensions and plugins to make this work.
Magento
Magento has endless possibilities when it comes to SEO. You can download Magento SEO extensions, optimize titles, images, and URLs. Many people complain about difficulties in eCommerce SEO as you can only add limited content. There is also a solution for that, you can easily add a WordPress blog to your Magento store. You can target many new keywords using your blog content.
OpenCart
OpenCart has a long way to go when it comes to SEO. It allows some modifications, such as editing the meta tags and adding canonical 301 and references. You can rank your page, but you won't get any high-end SEO solutions.
User Interface
Whether you're a hobbyist or an experienced developer, you'll always be looking for an easy-to-use interface. Let's explore the user interface and admin panel of both eCommerce platforms.
Magento
If you had the opportunity to explore any of the ecommerce platforms, you would already know that Magento is not a child's play. Packed with features and functionality, Magento comes with a steep learning curve. Many store owners are also looking to hire Magento developer to avoid dealing with the user interface.
Key Features:
Easy to navigate sidebar.
Requires some level of technical expertise.
It comes with official documentation for help and support.
OpenCart
OpenCart offers a much simpler user interface and is also easy to install and configure. It comes with an easy to navigate sidebar in the admin panel. You can easily download extensions, change layout, and add products with the help of different tabs on the left side.
Key Features:
Easy to navigate side panel.
Presents simplified statistical data.
OpenCart VS Magento: Which is the Best Option?
Both Magento and OpenCart are great eCommerce platforms, but depending on your needs, one may be better than the other.
Magento is a great option for larger companies with higher expenses. It has the scalability to handle the expansion of your business for many years, as well as any future requirements you may have.
On the other hand, OpenCart is better for building your store from scratch as it is simpler and almost free to use, but keep in mind that your business may outgrow it in the future.
Final Thoughts
In this blog, we have highlighted some of the best features of two of the most popular eCommerce systems, OpenCart vs Magento. Hopefully this blog can help you find a suitable platform for your business.
If you want to learn more about each platform or start creating an online store quickly and easily. Feel free to contact us now!
Tags: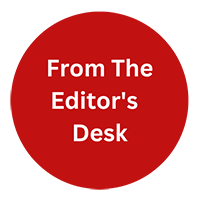 "From the Editor's Desk" is not just about the content. Our content writers will be sharing their thoughts on industry trends, new technologies, and emerging topics that are relevant to our readers. We believe that it's important to stay up-to-date with the latest news and trends, and We excited to share my thoughts and insights with you.