SynapseIndia is one of the best software companies featured by GoodFirms
27 Feb 2019
"We provide wide-ranging software development and IT outsourcing services, covering almost every category listed by GoodFirms."
SynapseIndia has an impressive reputation on various review and rating platforms, including GoodFirms. With the delivery of thousands of software and IT-related projects, we have consistently achieved new milestones. This excellence is evident across all major platforms offering business information about companies.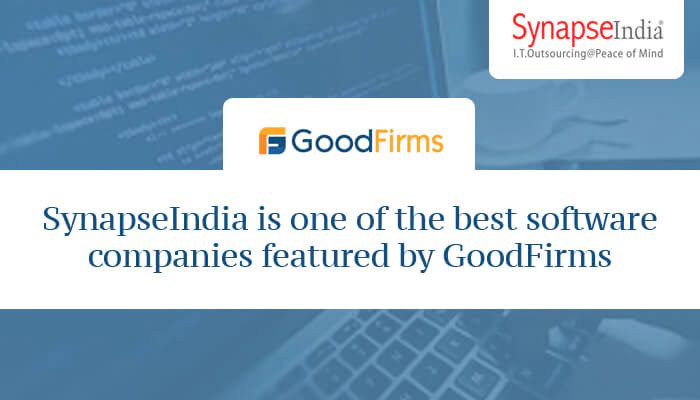 GoodFirms is an online platform that lists different service categories in the software industry, along with rating based on its independent reviews and research. The platform has thousands of authentic reviews on companies and software solutions. It also conducts surveys and research on industry trends and emerging technologies.
We provide wide-ranging software development and IT outsourcing services, covering almost every category listed by GoodFirms. Our highly experienced professionals serve clients in categories such as mobile app development,
software development
,
web development
,e-commerce development, and
web designing
,among others. Additionally, we also meet clients' demands in areas of emerging technologies such as blockchain technology, intelligent business solutions, and
big data analytics
.
The consistency in our superior rating on GoodFirms is solid proof that we put uncompromising efforts to maintain the quality of service. In fact, the company has a dedicated team of quality assurance (QA) professionals to make sure that every solution/service is delivered with the desired quality. Besides, we follow CMMI Level 3 standards and quality guidelines set by ISO.
Tags:
Author

: Nilesh
Nilesh is an industry-expert technical content writer carrying a wide experience of writing blog posts and marketing content. He writes as per his great technical/IT knowledge acquired through the years to provide informative content. Also, the author has a real expertise in writing detailed and specific content for technologies.