Private Cloud vs Public Cloud: What Should You Choose
17 Sep 2022
"A private cloud can be expensive, but they are more secure than public clouds since you control everything for yourself. Check out the blog to know Private cloud vs Public cloud: what should you choose."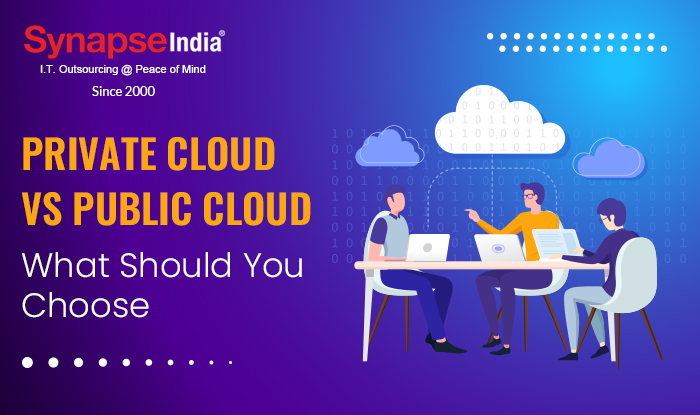 In this blog, we will take a look at a summary of Private Cloud vs. Public Cloud. Cloud computing has become an integral part of business today. Therefore, a growing organization must learn and understand the structure and facilities available in a cloud computing environment.
Public cloud and private cloud are the two popular categories of this transformative network computing model. Cloud computing is generally described in 2 categories i.e., deployment model and service model, public cloud, private cloud, and hybrid clouds are currently available deployment models. An increasing number of companies are incorporating cloud computing results that are overwhelming but confusing. Private Cloud is a proprietary architecture delivered over an intranet dedicated to the needs and goals of a single organization. It is accessible inside the firewall by a group of people alone.
The public cloud is computing services offered by third-party providers over the public Internet, making them available to anyone who wants to buy them. It can be free or sold based on CPU usage cycle, bandwidth, or storage. For example, Amazon AWS, Amazon Elastic Computing Cloud, Google Cloud Engine, and Microsoft 365. Both public cloud and private cloud have their infrastructure, ownership, location, data center, security, customization, cost, and upgrade properties., and administration. Depending on the needs and specifications of the business, it is up to an individual or organization to choose between public or private clouds.
What is Private Cloud?
If the servers are owned and dedicated to a single organization (called a user or tenant), they are in a private cloud. A private cloud can be built locally on hardware you own and remain at your location or hosted by a third party in a data center. The key defining factor is that the servers are not open to other users.
The owner is responsible for managing and maintaining the servers and planning for future capacity and performance to meet the needs of the organization. This planning often involves long lead times for the provision of additional hardware and services (electricity, broadband, cooling, etc.) to meet future demand.
Glimpse of Public Cloud Definition
In a public cloud, servers are shared among multiple, unrelated tenants. A public cloud is off-site (or off-premises). Public clouds are often owned by a provider who sells access to servers that are co-located with many servers serving many users. Users contract the services they need with the provider.
The user is not responsible for capital expenditures, and customers are only required to pay for the resources they use as a recurring operating expense. If their needs change, they can quickly and easily add or remove capacity by requesting changes from the provider who reserves additional resources to meet customer demand.
Advantages of Private Cloud
One of the main advantages that the private cloud offers is its incredible data security and compliance capabilities. Here are some other vital advantages that the private cloud offers:
Private clouds give companies the freedom to control their data and customize their core architecture however they wish. It also makes monitoring easy and effective.
Private cloud users tend to enjoy more features, such as monitoring and automation tools, compared to public cloud users.
Customization and reliability: The private cloud gives companies the ability to customize the components of their infrastructure in a way that increases their performance. Private clouds are also reliable.
Performance: Public clouds suit businesses with powerful computing needs as they offer room to upgrade infrastructure.
Disadvantages of Private Cloud
Despite having a host of advantages, the private cloud has its own dark side. Here are some disadvantages of private clouds:
Limited remote access Due to its security-first approach, remote access is limited, which tends to slow down performance in some cases.
Private clouds are expensive compared to public clouds. Components such as software licenses, hardware, network infrastructure, and labor costs all contribute to increased costs. This element limits public clouds to well-established companies.
Advantages of Public Cloud
There are many advantages that come with using the public cloud deployment model, but the most popular one is its low cost.
Inexpensive (reduces maintenance and hardware costs), making it popular with startups and SMEs.
Public clouds are easy to use when it comes to setting up and managing.
Offers high levels of scalability and reliability: Public cloud services give you the ability to scale whenever you want.
Most vendors offer disaster recovery functionality, which can traditionally be expensive.
Disadvantages of Public Cloud
Limited customization capabilities and poor support: The multitenant nature of the public cloud prevents its users from customizing some components. Most public cloud providers also offer poor or no technical support, which can limit performance.
Can be costly if not managed properly: Most public cloud providers use a pay-as-you-go model, which may sound convenient, but requires extra caution.
Data compliance and security issues: This is the main concern for companies that want to integrate cloud computing into their workflow. With this model, companies have to go the extra mile with their security strategies.
High risk of vendor lock-in, which can be disastrous in the event of a future migration.

What is the Difference Between Public Cloud and Private Cloud?
The following table summarizes the comparisons between private cloud and public cloud:
| | | |
| --- | --- | --- |
| Properties | Public Cloud | Private Cloud |
| Customization | Only a standard customization feature is offered. | It offers to customize the cloud infrastructure according to the specific needs and requirements of the company. |
| Cost | Less expensive as no administration or additional hardware is required. | More expensive, as setting up a private cloud requires additional hardware and explicit administration. |
| Security | It offers standard security that cannot be modified or customized based on your business model. | Highly secure as the owner can implement a higher level of authentication. |
| Ownership | Owned by multiple organizations that are not related to each other. | Ownership of a single organization or a set of related organizations. |
| Infrastructure | Network and shared hardware. The data is stored on the shared infrastructure. | Network and dedicated hardware. The data is stored on a dedicated infrastructure. |
| Upgrade & Management | Service providers perform management and implement updates. | Dedicated administrators are required to manage updates and installations. |
Verdict Virtual Private Cloud VS Public Cloud
For most businesses and organizations asked query like what a public cloud service is, how can we get Hybrid cloud hosting service? As we know the important factors selecting a cloud will be reliability, accessibility, cost, and scalability. Whether a private or public cloud, or some combination, offers the best solution for your needs will depend on your type of business, regulations, budget, and future plans. The good news is that there are a wide variety of options to meet almost any use case or budget. Please contact SynapseIndia, we would love to hear your approach to choosing cloud storage services. What is your preferred use case for a private cloud versus a public cloud? Let us know in the comments.
Tags: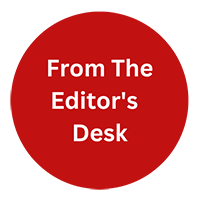 "From the Editor's Desk" is not just about the content. Our content writers will be sharing their thoughts on industry trends, new technologies, and emerging topics that are relevant to our readers. We believe that it's important to stay up-to-date with the latest news and trends, and We excited to share my thoughts and insights with you.