All-In-One Membership Management Solution: Everything You Need To Know
13 Oct 2021
"All-In-One Membership Management Solution: Everything You Need To Know"
Would you like to our membership management software solution to grow exponentially? If yes, then you are on the right page, since Synapseindia has developed an all-in-one membership management software that will help you grow and drive engagement.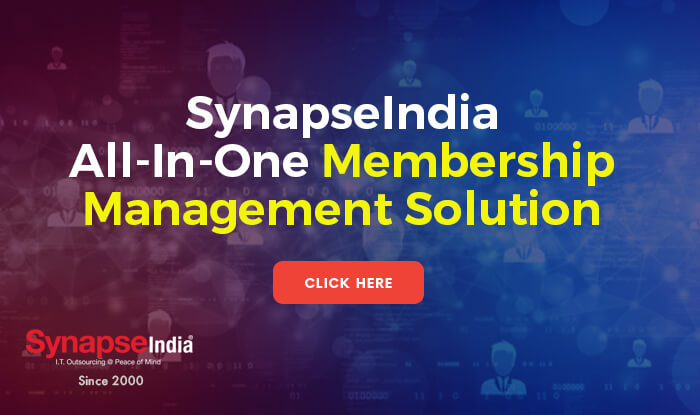 Benefits of our Membership Management Solution:
All-In-One Access To Your Organization's Data
One of the greatest advantages of Membership Management Software is that it will create deploy platform where both the administrative and members' needs of the organization are met.
Save Time On Administrative Processes
One comprehensive system helps a lot in saving time since your team does not have to hop from one program to another to complete the tasks. Both the administration and the members will have simplified access to valuable information.
Boost Event Registration & Attendance
The ease of registration offered by membership management software doubles the number of registrations. Not only it makes registration easier, but it also helps in raising awareness for upcoming events and renewals.
Develop Accurate Report
Developing reports and thus creating analysis on the basis of these reports can be time consuming. Moreover, working on spreadsheets while creating reports and analysis can often lead to errors that result in poor decision for organization.
With membership management software, you can create error free reports and analysis in stipulated time frame.
Receive A Return On Your Investment
Membership management software improves the quality of work that organization offers. As a result, you'll experience an spur in event registration & membership retention and registration; and increase in the number of members means more money to work with.
When Is The Right Time To Invest Into Membership Management Software?
Investing in membership management software helps you in building a community.
Of course, it is feasible to manage the community manually via programs like Microsoft Excel. But the moment you begin to add complicating factors like growing members list or giving access to membership data to more than one person, things often become messy.
Membership management software is good even for a startup, having it from the initial days of your company will make your professional life much easier.
Features of SynapseIndia All-In-One Membership Management Software
The software offers multiple features which you can use as per your requirement for the growth and development of your company.
Customized Profiles
A customized landing page will help members to know about your organization and register for their membership.
Flexible Membership Types
Setup your membership type with basic or advanced configurations like multiple tiers, trial period, and many more.
Simple Membership Database
You will have the liberty to choose the kind of information you want to collect when members are joining. The members can easily login and update their information.
Dashboard and Custom Reports
Quickly gain visibility to member growth, retention rates, engagement scores, and more, so you can make data-driven decisions to move your organization in the direction of growth.
SynapseIndia All-In-One Software Is For Organizations of All Sizes and Sectors
Grow Your Organization With SynapseIndia All-in-One Software
Grow and Retain Membership
With powerful membership management software, you can grow your organization at lightning speed. All it takes is one tool to create your membership campaigns, collect online payments, follow-up via mails, and add information into your CRM, all done automatically.
Generate Revenue
Grow your current revenue streams and introduce new funding through SynapseIndia easy-to use membership software. Create events, open an online store, or promote your latest membership or fundraising campaigns to new prospects.
Increase Member Engagement
Communicate more effectively with your members and increase their engagement. Send newsletters, create a membership intranet, dedicated members-only website pages, membership directory, and more. You have all the tools you need in SynapseIndia software to boost engagement and retention for years to come.
Offer A Great Membership Experience
Membership is made easy with campaign management and online registration. You can bid adieu to the days of tracking membership data in spreadsheets, tracking down checks, and sending out mass email reminders for membership renewal. With a powerful software created for membership management, you have the tools that you might need to offer a great membership experience, for you and your members.
Why All-In-One Software?
Membership Management
It offers multiple functionalities in one central location. You can add, manage, renew, and communicate with members to generate engagement while saving your staff time.
Give members an easy path to signup and renew with auto renewal functionality. Empower members to manage their own membership information via an online portal and Mobile App.
Event Management
Easily create, host, and manage your organization's events.
Create a personalized registration path for attendees, speakers, and sponsors, only displaying relevant tickets and event sessions. Tailor event registrations by including early bird pricing, coupon codes, and members-only pricing. Automate and schedule confirmation, reminder, and thankyou emails.
Workflow Automation
Increase efficiency with automated workflows for repetitive, day-to-day tasks.
Schedule automatic email renewal and expired notices. Generate and send invoice automatically, schedule reports for automatic distribution via email on a daily, weekly, or monthly basis. Automate event confirmations, reminders, and thankyou emails. Automatic payment collection.
Connect With Other CRM and System
Take leverage of rest APIs to connect with your existing software or any other solution. This will help to import/export information of members, events and accounting software integration.
Conclusively, instead of compromising on your process and organizational approach, it is wise of you to use custom software that will meet your unique needs. At SynapseIndia, our purpose is to build custom software solutions that will let you grow and generate engagement.
You are only a step away to avail the benefit of membership management software- Chat with us today to know more.
Tags: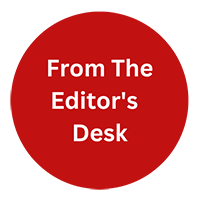 "From the Editor's Desk" is not just about the content. Our content writers will be sharing their thoughts on industry trends, new technologies, and emerging topics that are relevant to our readers. We believe that it's important to stay up-to-date with the latest news and trends, and We excited to share my thoughts and insights with you.