Are There Any CMS Solutions for Online Marketplaces
01 Oct 2022
"Online marketing has seen immense growth during the pandemic and since then the world of ecommerce has only experienced growth and expansion. Since the ecommerce industry is a thriving industry, it has its own challenges that every organization needs to overcome to succeed."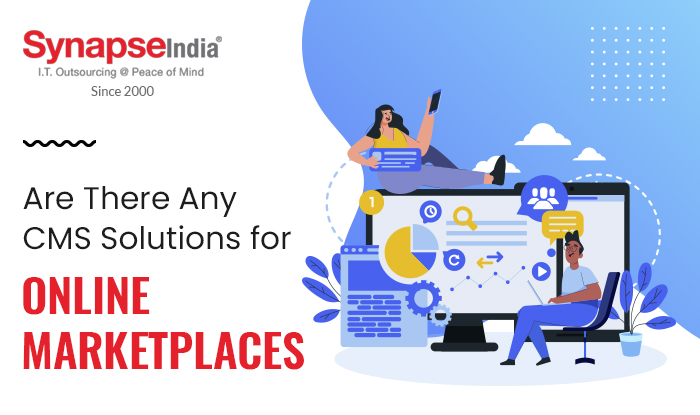 Post pandemic, organizations around the world are experiencing economic uncertainty, surprisingly, ecommerce sales continue to grow in an economically uncertain environment. More interestingly, as per eMarketer prediction, the global sales of eCommerce industry will see a hike of 23% by 2023. This will provide an opportunity to online store owners who want to grow their online presence.
Of course, the percentage of competition increases in every thriving industry, it attracts a number of risk-takers. But before you decide to invest in the landscape of e-commerce, you need to understand its business flow clearly and concisely.
First, lets understand the world of eCommerce content management systems. Then it becomes easy to decide whether you need your own online store or not. In this blog, we have discussed the most popular cms for eCommerce.
What is an eCommerce CMS?
A content management system is a software that allows eCommerce entrepreneurs to create their digital website without writing the code for it. Users can also modify the look and feel of the website such as changing product page layout, adding promotional banners, and adding new website sections to better promote their product.
An eCommerce platform provides the businesses owners a place on the internet where they can manage and sell their products directly through their website. Some eCommerce platforms act as a CMS.
eCommerce CMS software has two main categories- SaaS and open source.
SaaS CMS
Its a cloud-based solution for ecommerce shops that do not need any separate server. The user may have to pay for a subscription fee but in exchange you dont need to download anything, manage updates, or check for data storage- the vendor of the software will take care of all these issues.
Open Source
In open-source ecommerce platforms, users manage the functionality of the website. Open-source software is self-hosted and is free to download. This means store owners are responsible for hosting their ecommerce website and installing software updates when needed.
Main Features of Best eCommerce CMS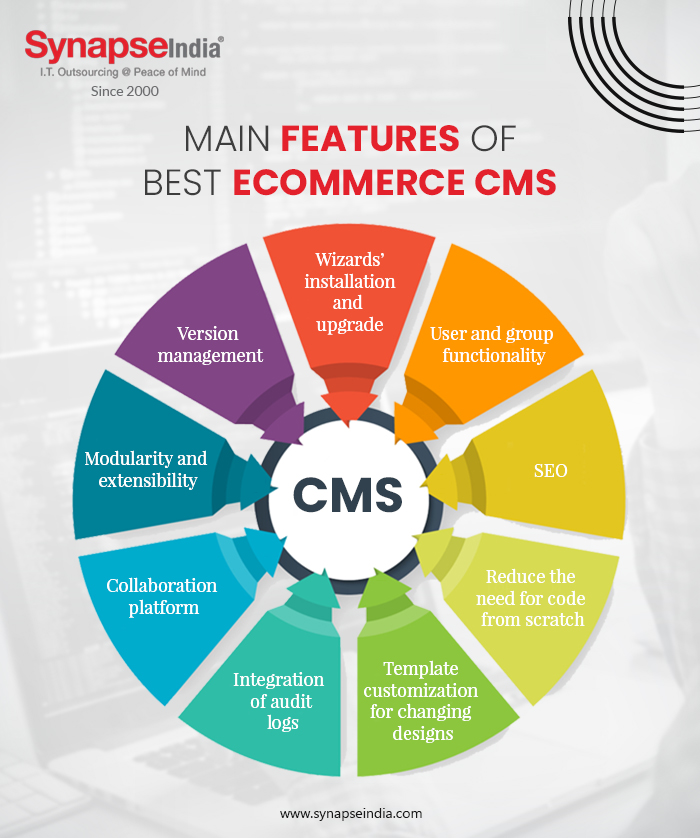 Best eCommerce CMS Platforms
Abundance of CMS platforms are available in the market and to choose one among many is an intricate errand. Below we have discussed the most popular CMS for ecommerce that will help you in your search to discover the option as per your requirement.
BigCommerce
BigCommerce is one of the promising and prominent ecommerce platforms that supports more than 60,000 merchants of all types and sizes. Its built-in-features are huge and has CMS capabilities that make it a powerful ecommerce platform that facilitates growth.
WordPress
Currently, WordPress is dominating the market, but in reality, it is not a purely ecommerce platform. Users can transform a WordPress website into an online shop with the help of a WooCommerce plugin.
Drupal
Although Drupal is not a purely ecommerce platform, when combined with different plugins and frameworks it can enable ecommerce functionality. In fact, the open-source content management system is quite popular amongst online shop owners. However, Drupal is not a good choice for those who lack development knowledge.
As a CMS, Drupal is incredibly flexible and if you integrate the BigCommerce plugin, youll get the best of both worlds- a fully computerized frontend and fully hosted backend.
Joomla
Joomla is an open-source content management platform that allows users to create their own website which users can use to expand their business and publish content online. Joomla has numerous free extensions that makes it possible for a Joomla site to act as an ecommerce store.
Magento
The popular open-source CMS platform provides ecommerce solutions and is owned by Adobe. The platform has a great reputation around the world and provides support to more than 260,000 online store owners. Magento has rich functionality and a diverse extension marketplace that includes solutions like chatbots, CRM, ERP, and other enterprise-level software. Though Magento can serve all types of merchants' needs, it is quite favored by large businesses because of its extensive setup, pricing, and development requirements.
Shopify
Shopify is one of the most popular CMS SaaS products. Merchants desire this platform because of its simplicity and affordable pricing. Specifically, startups and small businesses are its great admirers. However, this does not mean Shopify cant be used by big brands. Shopifys 24/7 free support and ample of free store templates makes it users favorite.
PrestaShop
PrestaShop is an open-source platform that uses MySQL data management and has substantial backend code customizability. It has a number of addons and themes, making it possible for merchants to create a web store as per their requirement. However, it is essential to consider total cost because some of the extensions are costly.
OpenCart
Indeed, OpenCart is the best ecommerce CMS which is available for free and offers multifunctional solutions. The open-source content management system has a bunch of templates that makes setup quick and easy and has a thriving plugin marketplace. OpenCart integrates with over 20 payment gateways and eight shipping methods.
Wix
Lately, Wix has gained popularity in the world of online business because of its drag-and-drop website feature. Although it is not typically an ecommerce platform, business owners can convert it into an ecommerce CMS by adding the commerce module. Wix has different templates that serve every business need and has built-in-features and no-code approach. Wix is an apt platform for beginners and non-coders.
HubSpot
A pioneering CMS and marketing automation platform is not supported by ecommerce functionality but has the potential to integrate purpose-built ecommerce platforms like BigCommerce and Shopify.
Volusion
Volusion is a cloud-based ecommerce platform that holds specialization in building no-code web stores. Volusion is a good choice for mid-sized and large organizations because of its useful features such as inventory management, payment collection, and marketing features. Though the company has filed for bankruptcy in July 2020, hence it cannot be considered as the best option for long-term plan.
Wrapping Up
These days when online shopping has become the favorite pastime of youth, the world of ecommerce is shapeshifting on a regular basis. That is why choosing a retail content management software is not as easy as it seems. It is essentially required for organizations to consider everything from marketing to design to technical capabilities and potential future needs.
Tags: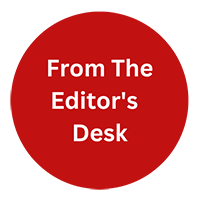 "From the Editor's Desk" is not just about the content. Our content writers will be sharing their thoughts on industry trends, new technologies, and emerging topics that are relevant to our readers. We believe that it's important to stay up-to-date with the latest news and trends, and We excited to share my thoughts and insights with you.