The Secret to Digital Transformation Is a Strong Foundation
23 Sep 2022
"Digital transformation has become inevitable. In order to succeed, businesses need to adapt to digital transformation. However, the process of going digital is not as easy as it seems. You need to identify the gaps and prepare your organization for the future."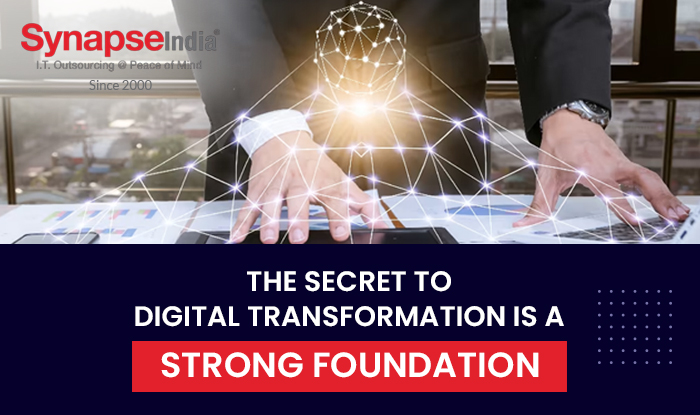 It has become the need of the hour to integrate disruptive technology in key business processes to achieve well-defined business goals. Undoubtedly, technology improves operational efficiency, customer experience, and services. However, it is not easy to digitally transform any business, you need to have a clear understanding of its model and identify the gaps that you need to fill that will take your organization towards the future.
Companies around the globe are going digital because of the benefit it offers accelerate efficient workflow, increase profitability, and strengthen security.
Many companies prefer to do their business on cloud and as they migrate their data to the cloud, much of what is being done is to replicate existing services in a digital format. But transforming a business digitally is more than that; it includes creating a technology framework to funnel services and data into useful and actionable information that can be used to improve business performance.
Why is Digital Transformation Important?
Digital transformation has completely changed the way an organization works. It covers almost every aspect of business such as processes, systems, workflow, and organizational culture. This transformation plays a significant role in almost every aspect of business and unites data of different areas to work together more effectively.
It is nearly impossible to neglect the importance of data in digital transformation. By evaluating the data of customers and connecting the dots of their journey through technologies like AI and ML it has become possible to predict their behavior pattern.
Benefits of Digital Transformation
Enhanced Data Collection
Stronger Resource Management
Data-driven customer insights
Enhanced Data Collection
Businesses collect customer data in order to improve their services, but the real benefit lies in optimizing the data for evaluation purposes that can take business in the direction of growth. Through digital transformation businesses can collect the right data and use it according to their needs to generate profitable results.
It makes a way that different functional units inside an association can make an interpretation of crude information into insights across different touchpoints. By doing this, it delivers a solitary perspective on the client venture, tasks, production, finance, and business opportunities.
It's essential to evaluate how that customer data is being gathered, stored, examined, and shared as a part of this cycle. While you're reconsidering your tech stack, you'll need to guarantee that delicate information streaming into and out of your customer relationship management (CRM) software and different platforms is safeguarded with a layer of SaaS data encryption.
As you assess the customer journey as a part of your digital transformation architecture, consider how you can give your clients more noteworthy independence over their own information making data privacy as a business differentiator.
Stronger Resource Management
Digital transformation unites data and assets into a suite of devices for business. Instead of scattered software and data sets, it unites organization assets and diminishes seller cross-over. Digital transformation can incorporate applications, databases, and software into a central repository for business insight.
Digital transformation isn't a division or useful unit. It includes each region of a business and can prompt process innovation and proficiency across units. From sales and marketing to fund and the C Suite, each division uses sensitive information. It's crucial to improve and secure data wherever it streams, while outfitting groups with easy-to-use tools to get their jobs done.
Data-Driven Customer Insights
Data can be used to unlock customers' insights. By better comprehending your client and their necessities, you can develop a business strategy that is considerably more clients driven. Utilizing both organized information (individual client data) and unstructured information, for example, social media metrics, these bits of knowledge can assist with driving business growth.
Data makes strategies actionable by providing personalized, relevant, and agile content.
Ways to Apply Digital Transformation in The Organization
Move to the Cloud
Indeed, moving to the cloud is a crucial initial step, permitting organizations to effortlessly increase and layer on new technologies more easily.
We know that omni-channel interchanges are becoming significant, as consumers progressively hope to move flawlessly between smartphones, tablets, and PCs and be served through chats, voice, or video.
The Internet of Things (IoT) will connect everything in our lives to the Internet, making it feasible for devices to easily communicate with other devices, and for individuals to speak with others, all over a UC network.
Manage the Network
Network performance management is the establishment that guarantees organizations can drive full speed ahead with their digital transformation initiatives. That is on the grounds that the interest in Digital transformation will be compromised if technologies intended to further improve business communications and cooperation are not accessible or perform gravely.
Network Performance Management effectively screens each side of the organization and alarms IT to irregularities and issues. For the CIO, this conveys approval of ROI for digital transformation drives while giving frontline IT staff important knowledge into performance analytics. This can prevent the sorts of performance issues that can accompany quick growth while improving on scope quantification and site capability.
Make the Simple Transition
The change from conventional premises-based UC to a cloud-hosted business correspondences solution gives a fantastic illustration of this. Development in cloud-facilitated UC is driven by its cheaper opex model, and the adaptable, versatile stage it conveys for digital transformation. Cloud-facilitated networks create simplicity for clients.
Final Words
Digital transformation is rethinking the way that organizations work. From better data collection to a superior customer experience, organizations are seeing both cost savings and expanded benefit. Digital transformation development will keep on speeding up. By 2023, IDC predicts that 53% of all investments in data and communication innovation will be in digital transformation.
One of the greatest difficulties with digital transformation architecture is the integration of various frameworks into a solidified work process. Data management and security protocols should be in a state of harmony but somehow data security is really difficult for associations.
Data security is as of now not exclusively an IT task, however an essential business initiative, to a great extent because of stricter guidelines and serious results on account of data loss. As a part of your digital transformation, it's critical to foster a framework for safeguarding sensitive data.
Tags: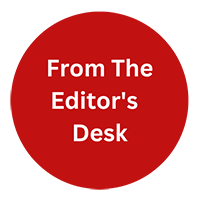 "From the Editor's Desk" is not just about the content. Our content writers will be sharing their thoughts on industry trends, new technologies, and emerging topics that are relevant to our readers. We believe that it's important to stay up-to-date with the latest news and trends, and We excited to share my thoughts and insights with you.