Cloud Best Practices to Follow for Retail & Wholesale Organization
29 Oct 2022
"Here, we will explain how retailer & wholesalers are moving to the Cloud to become best in the industry. Read on to know the Cloud best practices to follow for retail & wholesale companies."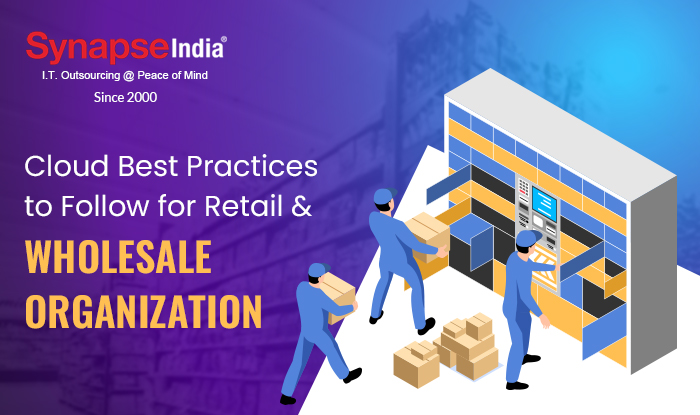 Retail & Wholesale is expanding beyond traditional ERP, CRM, and supply chain management. With competition between businesses increasing, the importance of online retail has never been more acutely felt. To continue to thrive in this highly competitive industry, each merchant must extend their reach to customers by managing multiple stores and supply chains, providing a unique customer experience.
The integration of cloud computing in retail and wholesale is the best option to better streamline all these processes. Adopting the cloud reduces IT costs, streamlines workflows, and improves efficiency and the end-user experience. Cloud adoption is growing exponentially every year. Gartner projects that by 2022, 90% of organizations will use cloud services.
Cloud services are helping retail industries in many ways. They primarily help reduce infrastructure, storage, and computing costs to enable real-time access to inventory and operational data. It also helps transform the retail sector in many ways.
What is Cloud Computing?
Cloud computing is the on-demand delivery of computing services, including applications, data storage and processing, over the Internet. You'll generally pay for cloud computing services based on usage, so you only pay for the applications and cloud services you use. This approach helps reduce operating costs for your business and allows for flexible scalability.
In today's ever-changing business climate, small business owners need to be able to access data and applications from their computers, tablets, or mobile phones, whether they're in the office, in the field, or on the road. Cloud computing provides this access from anywhere through an Internet connection.
Retail & Wholesale Cloud Computing Environment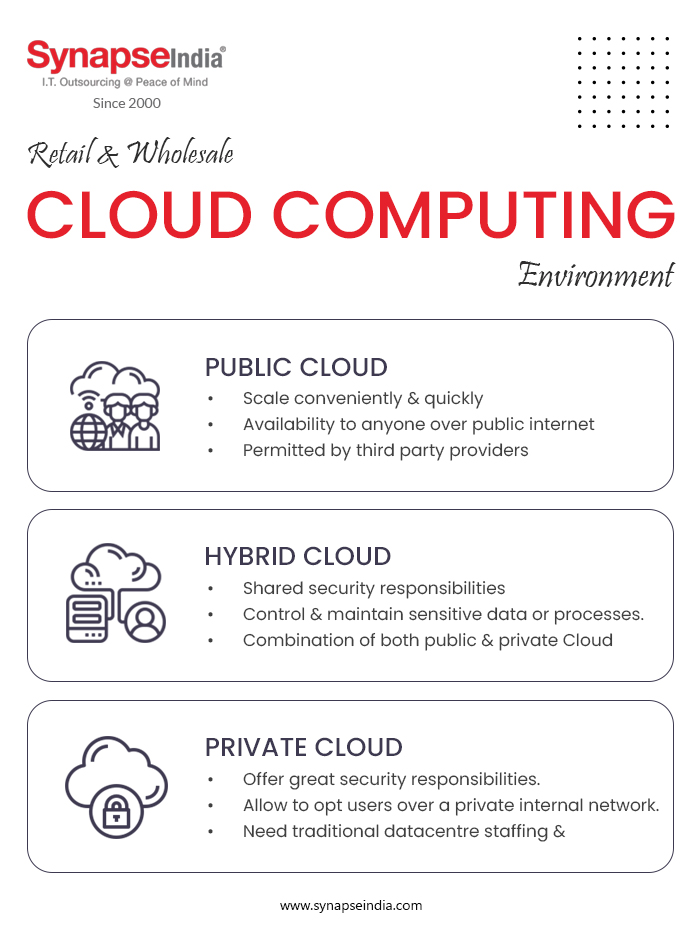 Cloud Helps Speed Up the Entire Retail & Wholesale Organization
Here, in this section, we will explain how cloud helps accelerate the entire retail and wholesale industry:
Tailored Shipping Experience
One of the most frequently asked questions is whether cloud computing can handle both inventory and shipping. Cloud computing allows stores to instantly view each customer's purchase history and check their shipping process, regardless of when and where orders need to be delivered.
It provides retailers with real-time access to all data related to their customers and orders. In this way, the merchant can even send personalized recommendations, membership offers, coupon codes, etc., to add them to loyalty programs.
Versatility Advantages
All businesses experience ups and downs. Most companies depend on promotions, the time of year, or even the weather. Therefore, the internal IT operations team should be able to handle the changing scenario effectively. A cloud-based model allows retailers to contract the use of server space and gradually expand when needed.
This approach allows the retailer to use the cloud more profitably. Your cost flexibility is driven by multiple pricing options that depend on increasing or decreasing your labor usage when needed.
Improved Profitability
Retailers continually look for areas to cut costs in order to keep the profit ratio high. The retail market is struggling to maintain its level of profitability. However, opting for cloud computing not only helps you in IT operations, but also allows you to reduce the costs of infrastructure, operations, logistics, etc.
Cost-effective
Retail is one of the rapidly evolving sectors. To meet rapidly changing business demands, retailers must focus more on growing the business than manually spending time on procurement, budget approval, and other operational workflows. This is where cloud computing in retail comes into play. In cloud technology, retailers only pay for what they use. For example: it helps reduce the cost of manual labor, reduces warehouse staffing, minimizes reliance on manager approvals, and much more.
As new roles are added, the cost will be redefined. This saves a huge amount of money, which is usually spent on operations, hardware, software connectivity, etc. The dedicated cloud support team even handles system updates.
Cloud Best Practices to Follow for Retail & Wholesale Organization
Here are top 3 best practices for a retail cloud computing:
Adopt a Retail SAAS
With the cloud paving the way for an effective as-a-service model, it makes sense to start your cloud journey by implementing and leveraging business applications as a service to drive growth. Through the as-a-service model, you can use cloud resources based on your needs and accelerate as-a-service usage as your needs grow in the future.
Choose the Right Model
Successful cloud implementation also requires that you choose a cloud model that is right for your business. Given the various models available, it is essential that you understand the need and approach of each and select the one that best suits your needs. For example, with IaaS, you can access virtualized computing resources over the Internet.
With PaaS, you can have a third-party vendor deliver hardware and software tools for application development. And with SaaS, you can access software online through a subscription, rather than buying and installing it on individual computers.
Benefit from the Services of an Experienced Partner
Cloud implementation is a complex undertaking and requires organizations to take each step towards it with the utmost planning. Since even a single misstep can result in catastrophe, leveraging the knowledge and experience of experienced service providers can help improve delivery and reduce obstacles. Highly trained partners can provide you with the information and direction you need to accelerate your cloud adoption journey.
How Much Does Cloud Computing Cost?
The cost of cloud computing varies widely, depending primarily on the cloud service you need. Here is a general idea of typical costs:
1. Cloud storage and file sharing services like Dropbox start with free accounts, but paid plans with advanced features start at $20 per user per month.
2. Amazon Web Services offers a variety of cloud services. The company offers some tiers for free, while others are available on a pay-as-you-go basis.
3. Cloud backup and recovery services like Carbonite can cost $50 per month.
The price of cloud-based software also depends on the industry. Other factors that affect the price include the number of users, how you will launch and distribute the software throughout the company, and priority support options.
Final Thoughts
As you can see, cloud computing has become an essential part of almost every business and has gained the most attention in the retail and wholesale industry. Choosing the right retail cloud technologies to improve your business can be a bit tricky. That's where we come in. Just contact us and our team of experts will make sure to provide you with tailored cloud solutions for all your business requirements.
Tags: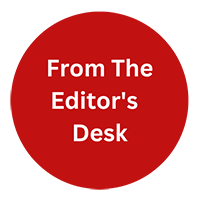 "From the Editor's Desk" is not just about the content. Our content writers will be sharing their thoughts on industry trends, new technologies, and emerging topics that are relevant to our readers. We believe that it's important to stay up-to-date with the latest news and trends, and We excited to share my thoughts and insights with you.