What Are the Advantages of Cloud Robotic Process Automation Solutions?
23 Mar 2022
"What is RPA? And what are the advantages of Cloud Robotic Process Automation solutions. Hire developers from SynapseIndia to get best RPA and cloud services."
Robotic Process Automation (RPA) and cloud computing are two technological advances that have gained immense popularity in recent times. RPA makes it possible for companies to automate repetitive processes by using software tools in a streamlined and error-free way. On the other hand, cloud computing provides location-independent computing services to businesses with the help of databases, remote servers, and many more.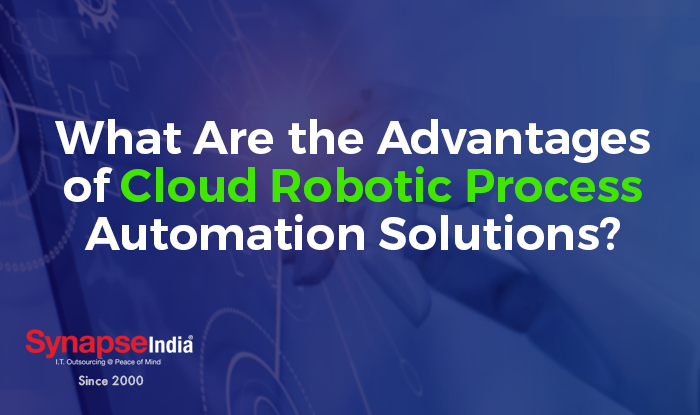 RPA and cloud computing are amazing standalone technologies. However, both technologies will transform into an ultimate technological solution when combined. The combination of these two innovative technologies allows different types of companies to optimize their processes with ease.
What is Cloud RPA?
In a nutshell, RPA in the cloud is a fusion of two technologies. Cloud RPA offers all the agile features of RPA through the capabilities of the cloud. Traditionally, RPA applications have been implemented as local tools for companies. With the help of cloud-based RPA, companies can take their on-premises software as-is and migrate the entire infrastructure to the cloud.
Cloud-based RPA enables businesses to remain agile and tech-savvy. It enables companies to scale quickly and fuels the bottom line. RPA's cloud-native architecture significantly improves the pace at which businesses can build, deploy, and manage applications.
Advantages of Cloud RPA Solutions
Cloud RPA offers a wide range of key advantages to businesses and some of the most common are discussed below.
Ease of Implementation
Another impressive benefit of Cloud RPA is the rapid deployment of the technology and ease of installation. Many companies are a bit hesitant when it comes to adopting automation throughout their company. Cloud RPA does an impressive job of removing the barriers to adopting automation by managing and hosting everything in the cloud. As a result, the installation of optimized and pre-built cloud services will be extremely fast and easy.
Scalability
Cloud RPA is a very scalable business application, but it allows companies to start by automating some tasks at first. That said, companies will be able to gradually scale as their automation requirements evolve.
Most cloud RPA tools are regularly updated. In fact, they are updated once a month or every four weeks. This means that companies will have access to the latest system software with automatic and regular updates, giving them the bandwidth to deploy new products and work on innovative solutions at an unprecedented rate.
Data Protection and Security
RPA and the cloud offer a perfect hybrid solution for dual delivery. The technology is subject to strict regulatory compliance. Therefore, data extraction and migration are safe and error-free. The hybrid model keeps all data on-premises, while automation can be run in the cloud.
Remote Accessibility
One of the main advantages of integrating RPA with cloud computing is remote accessibility since you will not have to download and install software systems on local devices. Email is an excellent example of cloud computing.
Just like you'll be able to access email from any device, anywhere, you'll be able to access business automation workflows. Since there is no location barrier, team collaboration is sure to be smooth and effective, which is good for all businesses.
Ease of Use
Another highlight of cloud RPA is that it is incredibly easy to use. In most cases, you won't need any special training to use it. All you need to do is simply select a task or business process that needs to be automated. Companies that already have strong RPA in place will be able to easily migrate to the cloud.
Cloud RPA features an intuitive interface, which is optimized across different business and vertical functions to help users. Features like drag-and-drop AI capabilities, dedicated design views for separate departments, and built-in product learning ensure an interactive experience for users.
Final Thoughts
The power of RPA when combined with the capabilities of cloud computing has the potential to significantly alter the business processes of organizations. In short, companies that adopt cloud RPA technology will be able to adapt and grow at a faster rate. Contact us to learn more about Cloud RPA and start your automation process to stay competitive in the industry.
Frequently Asked Questions
Q1. How to get started with RPA in the cloud?
Getting started with cloud RPA is virtually instant. Web-based implementation with intuitive interfaces and in-product guidance means users of all skill levels can quickly learn how to automate, on their own, and create automations in minutes right in their web browser. For the enterprise, automation with cloud-based RPA streamlines the RPA journey by eliminating setup steps and costs, such as costly and time-consuming server provisioning.
Q2. What is RPA as a service?
RPA as a service is business process automation software available through the web. That means no downloads, nothing to install, and no software updates; just an internet connection, and you're on your way.
Q3. How secure are cloud-based RPA solutions?
While cloud-based RPA security includes a long list of aspects, across the spectrum of requirements, cloud RPA can provide better security and privacy than on-premises. At the service level, the security of cloud software is continuously monitored. For IT, cloud-based automation makes it possible to monitor and manage all bots in the company from a single web-based control center, ensuring security and compliance across all aspects of automation. In terms of data, cloud RPA platforms are designed for security: data is kept isolated, with strict adherence to global privacy laws. And data is never written to the local device, which means if a device is lost or stolen, the data cannot be recovered.
Tags:
Author

: Priya Chandoliya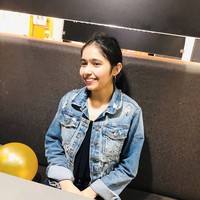 Priya Chandoliya is a professional blogger who specializes in building online communities. She has helped many of brands to increase sales, leads, and retentions. Priya has recognition of her write-ups across the globe. And Priya writes about how businesses can escape marketing mediocrity to achieve tangible results.