10 Unique features of Shopify To Boost Your Sales
29 Sep 2021
"SynapseIndia explain ten unique features of Shopify To Boost Your Sales"

The global e-commerce platform, Shopify, has been empowering all types of online stores. This ecommerce solution has literally made online business a household preoccupation. With the rigorously growing ecommerce business, having a store on Shopify is unavoidable. Furthermore, the growth it has seen in the previous years is profound. Shopify's merchants are spread across 175 countries and in October 2019 this world's rapidly growing ecommerce solution has surpassed one million merchants.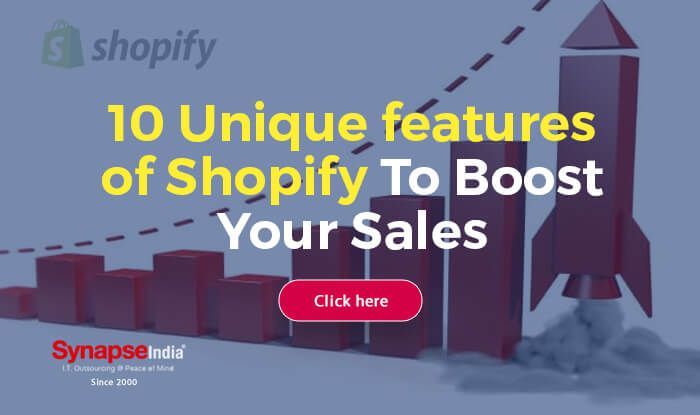 As Shopify is evolving and growing with each passing day, here are 10 unique features of Shopify that will surprise you:
1. Abandoned Cart Recovery
The increasing cart abandonment rate is not a good sign for any online store. If your cart abandonment rate is more than 68% then it is matter of concern for you, it simply states that you are missing out on a huge number of sales. In laymen term, 7 out of 10 customers are adding your products on their cart and leaving without making any purchase.
Shopify dashboard allows you to see the status of your business by navigating to orders>abandoned checkouts. On the dashboard, you'll see a list of customers who added items in their bucket but left without buying. What if you have the option to send them an email as a reminder?
The standard Shopify plan gives its users the option to manually send an email to each customer and remind them of their (un-checked out) abandoned basket.
2. Auto-Calculate Shipping Prices For Each Customer
Running an online store is not as easy as it may seem. As an online vendor you may encounter difficulties in different aspects of selling, such as calculating the shipping cost of the products is often deceptive. If you underestimate your product, you may suffer loss and overestimating has the chances of scaring off the customers.
Thus, to get over this hassle Shopify offers 'real time carries shipping' to its vendors. This feature helps in calculating the exact cost of shipping based on the location of the customers and the size/weight of the product.
To utilise this feature, you need to activate an advanced Shopify plan and select a carrier (UPS, FedEx etc) to calculate the rates.
3. Use Discount Codes
Discounts boost both sales and revenue, but do you know how to avail the benefit of discount on Shopify?
As a Shopify vendor you can use the Shopify app 'Bulk Discounts' to generate discount codes, percentage discount or free shipping.
4. Take Payments Anywhere With Shopify POS
POS (Pont of Sale) is useful if you are planning to sell your products in real world too. A Shopify app, POS, permits you to receive payments in the real world. It uses a card reader to indulge in the process of payment. Any sales that happened in the real world are automatically linked to your online store which helps in harmonizing your accounts and inventory.
5. Sell Gift Cards For The Holidays
Gift cards has become a new normal thing to boost sales, especially during the holidays. With the help of Shopify, you can create your own gift card. All you must do is navigate to Products> Gift Cards.
6. Create Customer Profile To Identify Your Best Buyer
As a seller it may seem creepy to you but asking your customers to create an account is extremely useful. Customer accounts help in tracking and monitoring customer information and purchase history. You can keep a watch on who bought and what, and thus, accordingly identify your best customers.
Having an information about your customer base helps you in planning your sales strategy. You can send targeted emails to your best and loyal customers.
To activate the tracking of purchase history, head to Settings>Checkout then change customer accounts section from 'optional' to 'required'. This will make a customer's sign in a mandatory at the time of buying.
7. Use Shopify Fulfilment Services (Drop Shipping)
As an online store you do not want to spend hours in packaging and shipping since it is the most time-consuming part of running an online store. But if your store is on Shopify then heavy lifting should not be concern because Shopify literally do all the heavy lifting for its vendors.
Shopify has connected with existing fulfilment services, like Rakuten or Amazon, they'll manage all warehousing and shipping on your behalf.
To activate this, go to Settings>Shipping>Drop shipping & Fulfilment>Add Drop shipping Service and select your proposed fulfilment service.
8. Use Shopify Experts
Shopify is a place for experts and of experts, here you will get a handful expert partners in designing, marketing, promoting, and photography. These experts will give you the best and most out of your online store.
Shopify's experts are listed as per their price, location and specialization, so you can select the right expert as per your requirement. If your store is in dire need of experts, then this option is helpful.
9. 24*7 Customer Assistance
Shopify's customer support is commendable. They are available 24*7 to help their customers and the response time is also fairly instant. Furthermore, Shopify provides a number of community forums in its Help Centre along with Shopify University guides.
10. Own Payment Gateway
Shopify has consolidated with dozens of payment gateways, but it also has its own payment gateway which is powered by Stripe. The benefit of using stripe is that you will not have to pay any transaction fee. Also, it avoids you having to sign up for a merchant account.
Tags: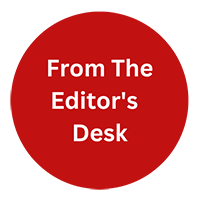 "From the Editor's Desk" is not just about the content. Our content writers will be sharing their thoughts on industry trends, new technologies, and emerging topics that are relevant to our readers. We believe that it's important to stay up-to-date with the latest news and trends, and We excited to share my thoughts and insights with you.