How to Expand Into Newer Markets with your Android App
28 Apr 2015
"Reaching the suitable user group for your Android app is a cumbersome task; however making concrete plans can help you reach newer markets and potential audience. Localizing your app is one way to optimize its distribution potential besides helping it attain higher ratings from Android app users across the globe. Furthermore, suitably localizing your Google Play listing besides setting the app pricing will also help you in this regard."
Its rightly said that with Android and Google Play, you can reach suitable audience for your newly developed app. A very powerful user base already exists in more than 130 countries across the globe. So, besides making plans for hiring a company for Android tablet application development or mobile app development, you also need to make plans for expanding into these new promising markets across the world.
Industry experts recommend localizing the app in order to optimize its distribution potential. It also helps your app earn high ratings from global Android app users. Initially, at the preliminary level, you need to strengthen your position in your home market and then look further to expanding your app's reach to newer markets.
Proceeding with App Localization...
Several tasks need to be performed during your android app development cycle for successful localization.Hence, prior planning is extremely essential. It should also be understood that localization is more than simply translating your UI. If you wish to get more success, then you should consider localizing your Google Play listing as well while ensuring that your marketing is as per the demographic you want to address.Its also recommended to reduce your maintenance and mobile app development effort - you can use single APK for all regions. In this way, you will also be able to track metrics country-wise. Based on user location, Google Play will provide your app's suitable localized version.

Testing & Support...
Do use beta testing and staged roll outs before app launch so that issues with your app can be addressed before users start using your app. Google Group or Google+ Community can be helpful to collect Feedback. Respond according to the user sentiment and post launch, offer support hours positively in the local time zone and in the local language.
Localizing Google Play listing...
Set regions in your Google Play listing where your apps will be available. Same can be done by going to developer's console. Also set app pricing and customize your Google Play listing so that better connection with local audiences can be made. Setting prices manually is crucial due to reasons like price perception, cost of living differences, competition and local interests. Depending on your requirement, you can also run short-term promotions, discounts in countries of your choice.
Contact us to get the top-notch android app development services.
Tags: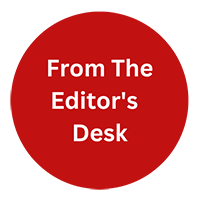 "From the Editor's Desk" is not just about the content. Our content writers will be sharing their thoughts on industry trends, new technologies, and emerging topics that are relevant to our readers. We believe that it's important to stay up-to-date with the latest news and trends, and We excited to share my thoughts and insights with you.