Reasons to Choose MEAN Stack Development for Your Next Project?
03 Nov 2021
"Why choose MEAN Stack development? Read the blog to know the reasons to choose MEAN Stack development for your project."
In terms of software development, "Stack" is a combination of different software products and programming languages to create smart mobile or web applications. Today, software companies are implementing the strategy of using a combination of various technologies to enable a faster and more dynamic web development process.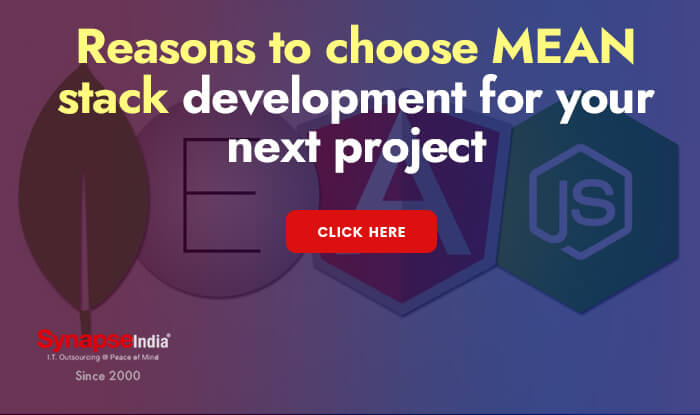 For example, LAMP (software package), which is an acronym for Linux (operating system), Apache (web server), MySQL (database management system), and PHP, PERL, or Python (server-side programming language).
Similarly, there is a new technology stack, which is so popular with developers for its potential web development ingenuity. So, what is MEAN stack, and what are the reasons to choose MEAN stack development?
What is MEAN Stack Development?
MEAN is the name of an acronym that stands for technology stack: MongoDB, ExpressJS, AngularJS, and NodeJS. These are separate technologies, developed at different times, but bundled together to provide smooth and seamless web / mobile application development services. The combination of these four technologies is called a MEAN stack, which is quite popular for developing dynamic web applications.
Key Aspect of MEAN.js Stack
We already know what MEAN stack means. But the fact that it is a stack of superior JavaScript framework technologies can provide development capabilities that may be unknown.
An ideal mean stack architecture is a complete set of JS technologies that can help build web applications and applications. Let's understand what it is made of!
MongoDB
MongoDB is the document database used by backend applications to store data as JavaScript object notation JSON documents. Therefore, the role of MongoDB in MEAN is to store the application data. Since both the database and the application use JavaScript, the need for translation is overridden when the object is passed from the application to the database or vice versa.
MongoDB is popular for its scalability in storage and performance. It also allows you to add fields to the database without reloading the entire table. MongoDB is cost-effective and can be used to move the client and server-side data.
ExpressJS
Express.JS is a backend web application framework that is considerably server-light. It helps the development process by making use of Node.JS and assists the APIs while developing the necessary web applications. Express.JS further merges with Node.JS as the development process becomes easier.
Express.JS enables speed, facilitates secure applications, and manages the interaction between the front-end and the database. It is also noteworthy that with Express.JS you cannot accidentally redefine a variable because it prevents them from being overwritten, saving you a great deal of time and money.
AngularJS
Angular is one of the popular web frameworks in use today. It becomes the default choice as a front-end JavaScript framework. It is built and maintained by Google. In MEAN Stack, the Angular.JS server is used to rapidly develop dynamic single-page web applications. AngularJS is an ideal UI framework largely due to its easy-to-use templates and superior performance. Also, you can develop the application simultaneously on both desktop and mobile with Angular.
NodeJS
The popular server-side JavaScript runtime supports the MEAN stack very well. Works with Express to provide greater system response to user requests. The framework is based on Google Chrome's V8 engine. The best thing about Node.js on the MEAN stack is that it works as the backbone of the framework.
Reasons to Choose MEAN Stack Development for Your Dream Project
Developers who are new to stack development often wonder - why use MEAN stack for web and mobile app development?
So, without further ado, let us check out the top factors that help you get a better insight into why MEAN stack:
Developer efficiency
MEAN stack can help companies increase developers' productivity. It is easy for organizations to create a more streamlined approach. Especially when you are using JavaScript as a common language among developers, it is like clockwork. You can also use modern approaches like agile with MEAN.js.
Massive Libraries
MEAN Stack Development Server Provider comprises a huge library of JavaScript modules that offers great help to developers. Because these libraries provide outputs by definition, it prevents developers from writing long code to obtain certain outputs. These libraries are very fast and guarantee the correctness of all code. All in all, libraries save developer efforts and speed up the entire development process.
Great Talent Pool
According to annual reports, JavaScript is one of the most widely used programming languages ​​in the world. This helps developers across the globe and leads to the evaluation of the organization's development. Along with this, there are experts around the world who are dedicated to solving the queries of other mid-stack web developers.
Faster MVP development and high scalability
As the MEAN stack offers a large number of additional reusable frameworks, libraries, and code modules within the stack, you can easily create a Minimum Viable Product (MVP) in a short amount of time. This helps you to get started as early as possible, where you can get proper feedback and scale based on the customer's feedback response.
MEAN stack is highly scalable, adapting to the requirements of a modern business that thrives on the idea of ​​accelerated growth.
More flexibility
MEAN stack offers a lot of flexibility to the developer, where one can quickly develop single-page applications that could double as complementary business applications. For such products, the resource requirement remains low, which is profitable for companies.
Final Thoughts
As we all know, MEAN stack technology continues to improve day by day. Hence the count of leading web and mobile application development companies using MEAN stack technologies is constantly on the rise and are delivering cutting-edge web and mobile applications.
If you want to develop any application or website with MEAN stack technology, you can contact us. Developers at SynapseIndia are exceptional when it comes to MEAN stack technology and have years of experience. Thus, you can go through our portfolio to know more about us.
Tags: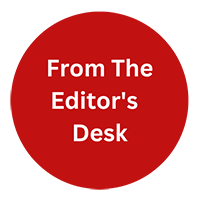 "From the Editor's Desk" is not just about the content. Our content writers will be sharing their thoughts on industry trends, new technologies, and emerging topics that are relevant to our readers. We believe that it's important to stay up-to-date with the latest news and trends, and We excited to share my thoughts and insights with you.