Web Development Outsourcing: Complete Guide
14 Dec 2022
"The benefits of outsourcing cannot be ignored. Companies from every industry prefer to outsource employees instead of hiring an in-house team because it is cost-effective and allow the employers to focus on other crucial business activities."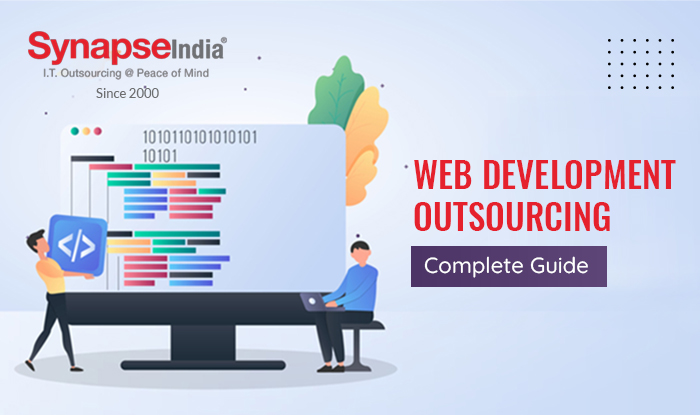 Companies prefer outsourcing because its a feasible solution to development and allows top executives to focus on more crucial business activities.
Web development outsourcing has gained popularity amongst organizations. The benefits of outsourcing cant be ignored, but before you decide to outsource, it is essential to know whether you need outsourcing or not. To help you in knowing this, we have created a complete guide on everything you need to know before you make any decision on the outsourcing of web development.
Identify If You Actually Need to Outsource or Not
Post pandemic, outsourcing in the web development industry has seen tremendous growth. Outsourcing has a significant role in the success of many webs development companies.
Although, an in-house team is a viable option when you want to hire the development team for a long duration. Other times, out staffing proves to be more apt.
Hence, before coming to a conclusion it is best to consider all the options you have and lock the one that suits duly to your business requirements.
To develop a web application, you can choose one of these options:
Outsourcing to a web development agency
Hiring an in-house developing team
Out staffing a few experts to work with your team
When is Web Development Outsourcing Right for You?
Outsourcing is prevailing in the tech world because it is cost-effective. As per the Deloittes Global Outsourcing Survey 2020, for web design and development projects, companies outsource development teams because it minimizes project budget.
However, high ROI can be a motivating factor behind choosing outstaffing but at the same time it offers many other benefits to the companies.
According to the same survey in 2018 by Deloitte, businesses ranked these 5 top reasons for outsourcing web development services:
Faster Speed to Market
Scaling
Enhanced User Experience
Competitive Edge
Cost Reduction
There are a myriad of benefits of web development outsourcing. But if you are a small company or deals in small projects then outsourcing may not be for you, outsourcing developers can become costly and also demotivate your employees.
5 Steps to Outsource Web Development Successfully
Once you have decided to outsource web application development, the search for the right company begins. Which company should you hire? How much should you pay?
Below we have discussed in detail on how to outsource web development.
Define Your Project Goal
Each application is different in its own way; hence their requirements will be different. Therefore, it is important to know what you want from your project, define your goals clearly before you decide to invest your time and money in the application development process.
Dont forget to ask yourself the following list of questions:
What is the purpose of the project?
What exact solution are you delivering to your users?
What is the USP of your idea?
Who are you targeting?
What is your vision for the web solution?
While answering these questions, you will get a clear picture of the web development project. Moreover, youll get the basic understanding of the development process.
Clearly defined goals make it easy to funnel ideas to the web outsourcing development team. And if you are working with a group of experienced people, theyll share their insight to upgrade your idea.
Define Project Requirements
A clear project vision lets you add more technical features into the project. Envision how you want your app to perform. Think about all the features that you can add to make your app more user-friendly.
Some questions to ask for defining the project requirements.
What kind of web solution do you need such as web app, website, enterprise-level, CMS, eCommerce, or web portal?
Which platform do you want to launch on mobile, desktop, cloud, TV, tablets, wearables like smartwatches, hybrid platform, or cross-platform?
What are the basic features of the app? (The bare minimum the web app needs to work)
What are some other functionalities you need to add?
What are unique features you want to add if any? (The extra feature to attract users)
Conduct your own research to find the target audience and what they need. Go through interviews and examine your competitors to understand the current market scenario.
Define Timeframe, Budget, and Location
Timeframe
During the development process, every project goes through unexpected changes that can have an impact on the project delivery. To avoid disruption in the project timeline, it is recommended to set some deadlines to ensure that the project will be delivered on time.
When you already know the requirements of the project, you can calculate the approximate time it will take to develop and launch the web app.
Some factors that affect the total timeline of your web project
Project scope
The scale of the project
Number of features required
Experience of the development team
Testing and quality assurance
Location
It is important to select the place where your application will be developed because the web development process is a labor-intensive job, and the cost of the team and development process will depend on the location.
Budget
Once the location and timeframe are fixed, it is easy to predict the cost of the project.
However, these factors also influence your web development cost
Project complexity
Features and functionalities
Development Team
Location
Time
Find and Shortlist Companies
There are many web development outsourcing companies out there and it is not wise to select any company abruptly. Dig deep and make a list of companies that suit your requirement. There are a number of sites that will provide you a list of good companies in a location of your choice. Research thoroughly before coming to a conclusion and shortlist a few best. Youll surely find the company that fits your business needs.
Choose the Right Outsource Web Development Company
Talk to the firms that you have shortlisted, conduct meetings with them, discuss what are your expectations from the project.
When you are interviewing them, consider a few important criteria
Which communication methods do they follow?
What deliverables can you expect?
Copyright and privacy statements
Division of the total budget
Which technologies do they plan to use?
Ask for references of previous clients you can talk to
The different payment methods and hiring models the company offers
The above-mentioned points will help you in understanding your equation with the company. As a consequence, you can decide whether to go with the company or not.
One other important thing to consider- Vision. It is always sensible to work with a company that understands your business vision and what target customers want. This will make sure that the team believes in your idea. If the team is as invested as you in the project, the end result will be much better.
Final Words
Web development outsourcing has its own ups and downs, it requires proper planning, communication, and flawless execution. Above-written process, help you find the right outsourcing vendor for your web development project. Havent tried web development outsource yet? Find trusted website outsourcing companies and start with small projects like web design outsourcing. SynapseIndia is a trusted outsourcing partner who will understand your requirements. Contact us today to discuss and validate your idea for free.
Tags: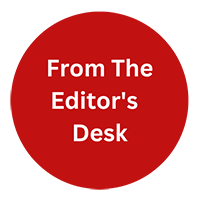 "From the Editor's Desk" is not just about the content. Our content writers will be sharing their thoughts on industry trends, new technologies, and emerging topics that are relevant to our readers. We believe that it's important to stay up-to-date with the latest news and trends, and We excited to share my thoughts and insights with you.