WooCommerce vs Shopify: What Should You Choose & Why?
16 Dec 2021
"WooCommerce vs Shopify is a popular clash in the eCommerce industry. A deep analysis of both the stores may help you in figuring out which store to choose."
Starting an online business is not a walk in the park. As an aspiring eCommerce business entrepreneur, you will encounter many platforms with exceptional features, each with their own unique qualities. Shopify and WooCommerce are peoples' favorites. Choosing for your small business largely depends on the requirement of your business.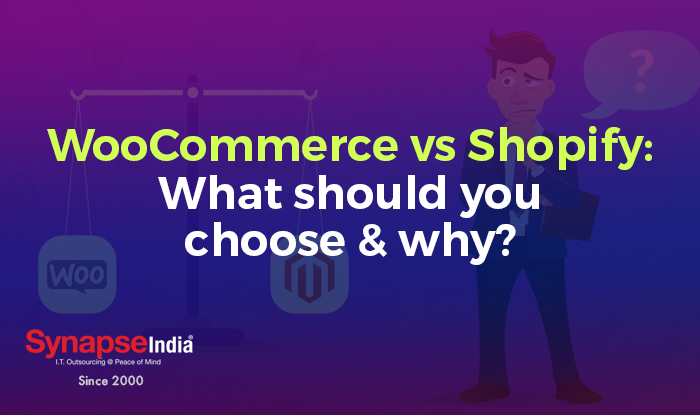 Both platforms have something in common such as attractive design, different shipping rates, product variations, payment gateways, SEO and marketing features along with various different extensions and add-ons that further accentuate your online store.
In this post, we will analyze the difference between WooCommerce and Shopify and let you decide which one is the best eCommerce platform for the growth of your online business.
WooCommerce Versus Shopify: A Brief Overview
Both platforms are easy to use even for a naive. Both platforms offer an inbuilt interface for easy tasks like creating a site's basic pages (contact, privacy policy, etc), listing products, and more. Often these processes are permissive.
However, we cannot overlook the difference between the two. WooCommerce is a WordPress plugin which means you cannot use it on any other website. To use WooCommerce you need a WordPress website for which you have to pay for hosting, install the plugin and then set up the store. In case if you already have a WordPress website then it is relatively easy for you to set up WooCommerce.
Shopify is a self-hosted solution which means finding a web host will not be an issue for you. If you are good at technical aspects or if you are starting from zero, Shopify is indeed the best option. Furthermore, Shopify also has an integrated blogging capacity which means you won't suffer any loss just because you have not chosen a WordPress route.
Let's dig in further and understand the pros and cons of each eCommerce software platform and see what they have to offer.
WooCommerce: An Overview
As we have mentioned earlier, WooCommerce is a WordPress plugin. The plugin works on the freemium model, meaning the core plugin is free, with different add-ons available that adds extra features to your online store. Some of those add-ons cost nothing while some are paid.
Features of WooCommerce are as follows:
● It offers various payment gateways such as PayPal, BACS, and Cash on Delivery.
● Free or flat rate shipping along with tax settings which include different tax classes and local tax rates.
● It covers reports on incoming sales, inventory levels, reviews, and general store performance.
● Integrated user reviews, discount options, usage limits.
● Has the potential to cross-promote and upsell products.
● Product variations and the ability to sell both downloadable and physical goods.
Design Options
The developers behind WooCommerce, WooThemes, know the importance of design when it comes to eCommerce. They provide WordPress themes which have been enhanced for WooCommerce. But, WooCommerce has its own unique features that can be integrated into any WordPress theme and the theme selection is certainly rich when it comes to WooCommerce compatibility.
SEO
As we all know, WooCommerce is a WordPress plugin which also offers many SEO benefits to take into consideration. The primary function of WordPress is content creation which is also popular for its SEO capabilities. Once you pair it with WooCommerce, you can willingly edit body content and add meta description as well, it refines your search engine rankings. Moreover, WordPress manages blog content in a logical and organized pattern with the help of its categories and archives.
How WooCommerce Helps You Sell
The standard feature of WooCommerce is available for free. And they are perfectly fine to get you started with. But if you are planning to expand your store's potential then WooCommerce extensions are certainly for you.
The add-on store has many interesting choices which allow you to scale up your selling on Facebook, integrate your store with MailChimp, automatically record sales in QuickBooks, create recurring subscriptions, and much more. The add-ons range from free to paid, with paid add-ons ranging in price from $29 to upwards of $200.
Support
WooCommerce offers exhaustive documentation and has a dynamic community of users and designers whose focus is to improve and expand WooCommerce by developing themes and add-ons for it. It shows that help is easily available and is not difficult to find and chances are there is already a solution out there for any issue you may run into.
Cost
While WooCommerce is free, there are costs related to it. As referenced previously, you will require a WordPress site, which means you need to buy your own area name and set up a facilitating plan prior to whatever else. The expense will shift contingent upon your facilitating plan and the additional items you decided to improve in your store.
Shopify: An Overview
Shopify is popular for being a self-hosted solution, meaning you can open your store in minutes since no additional software is required. However, it does not provide any kind of free plan but the pricing is affordable. And like WooCommerce, it offers a range of themes along with add-ons which provide you additional features for your store.
The main features are as follows:
● Shopify offers enough professional themes
● Responsive, mobile-friendly design
● Seo oriented blogging platform
● Website builder to customize the look and feel of your store
● Detailed reports and site analytics
● Social media and email marketing integration
● Product variations, reviews, and discounts.
Design Options
Shopify has a nice selection of themes to get you started but still they are not as eye catchy as some third-party themes. Shopify offers both free and paid themes with paid themes ranging from $100 to $180.
SEO
Shopify has servers that are exclusively committed to Shopify stores which results in improving overall performance and slightly improving the page loading time. Shopify also has integrated SEO features such as: image optimization, alt and meta tags, defining title, as well as product descriptions. Another significant service that Shopify offers is the SSL certification, it comes with all the stores in every plan, free of charge.
How Shopify Helps You Sell
Free features of Shopify such as discount codes, the ability to offer gift cards, a cart recovery system, Facebook selling, product import, helps in business expansion.
Like WooCommerce, Shopify offers different add-ons which give you extra capabilities like cross-selling, tracking deliveries, QuickBooks integration, and more.
Support
Like WooCommerce, Shopify consists of detailed documentation and a very vibrant community. However, unlike WooCommerce, Shopify has a dedicated support team which is available 24/7 to assist the customers.
Costs
Shopify offers three pricing levels, with the least plan being $29 and the most costly one being $299. They likewise have a medium plan for $79 and basic plan for $9 strictly for selling on Facebook. Having said that, Shopify offers a 14-day free preliminary so you can test the platform prior to choosing if it's the ideal decision for you.
Each of the plans incorporate unlimited items and bandwidth, fraud investigation, a blog, and a free SSL certificate. The domain name can be bought directly from Shopify or you can associate your existing domain name to it. Your final cost will be dictated by the measure of paid add-ons which you add to your online store.
Which Platform Should You Choose?



Both WooCommerce and Shopify offer unique and distinguished sets of advantages and disadvantages. Analyzing their pros and cons in advance will help you narrow down which is the best eCommerce software for your new store.

WooCommerce-Pros

● It has user reviews and ratings.

● Nicely organized reports which are categorized by date, product, category, coupons, etc.

● WooCommerce is a free plugin which means there is no extra cost if you need basic store functionality and you already have a WordPress website.

WooCommerce-Cons

● If you're starting from scratch, you need to sign up for hosting separately and then download, install, and set up WooCommerce.

● If you want an SSL certificate which proves your website is secure, you will need to purchase it separately.

Shopify-Pros

● Free hosting which means your store can be up and running as soon as you sign up for Shopify and start adding your products.

● Slightly better SEO capabilities than WooCommerce, most notable being page loading times and the fact that it comes with a free SSL certificate.

● Includes social media promotion and sharing which helps with both product and website promotion.

● The admin area is modern-looking, easy to use, and very intuitive—even for a novice user.

Shopify-Cons

Shopify too has its con side, which is its default product attributes. Shopify offers its users only three product default product attributes: size, color, and material which can have further options, but you cannot create new product variations.

Get Started With an eCommerce Platform Today

Both WooCommerce and Shopify are unique in their own ways and are a suitable option for setting up your online store in a quick and efficient way. Furthermore, both eCommerce platforms have plenty of options when it comes to satisfying users with visual appearance. No matter what platform you choose, experts at SynapseIndia do their best to get your store noticed so that it can stand out from the crowd.
Tags: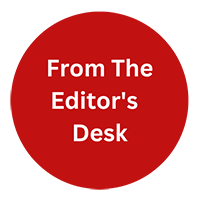 "From the Editor's Desk" is not just about the content. Our content writers will be sharing their thoughts on industry trends, new technologies, and emerging topics that are relevant to our readers. We believe that it's important to stay up-to-date with the latest news and trends, and We excited to share my thoughts and insights with you.