Work Ethics That Make SynapseIndia A Great Place To Work
05 Apr 2022
"Work ethics contribute immensely in creating a healthy and positive work environment."
A working environment is the common qualities, belief systems, mentalities and the series of expectations that individuals in a working environment share. A positive work environment is the key to success. Eventually, the way to making and supporting a high-performing association is creating a healthy workplace. Organizations that focus on long haul achievement should show that they care about their employees, regardless of whether their colleagues are nearby, remote, or part time. In any case, it's difficult to characterize a sound workplace, not to mention set it up as a regular occurrence - especially when such countless employees are working from home.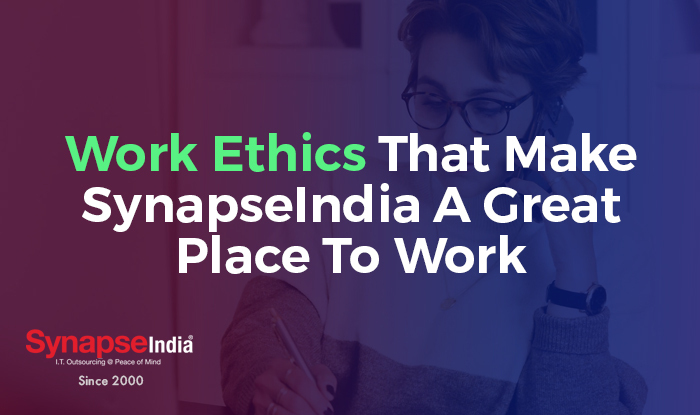 However, at SynapseIndia we strictly follow work ethics that make us a desirable place to work. We are proud to have team members that understand an ethical work environment and do their best to keep it alive.
Understanding An Ethical Workplace
Industry and government laws shape moral work environment culture, where employees are relied upon to follow the organization's implicit set of rules. Work environment culture (or potentially sorts of ethical culture in business) comprises the organization arrangements that direct hierarchical standards, morals, social environment, and values in the workplace. It influences each part of the workforce from recruiting and firing, to usefulness, to the presence-or lack thereof- of strong teams. Compliance is the adherence to regulations that influence an association, and whether or not an organization is focused on compliant business practices profoundly influences the soundness of a work environment culture.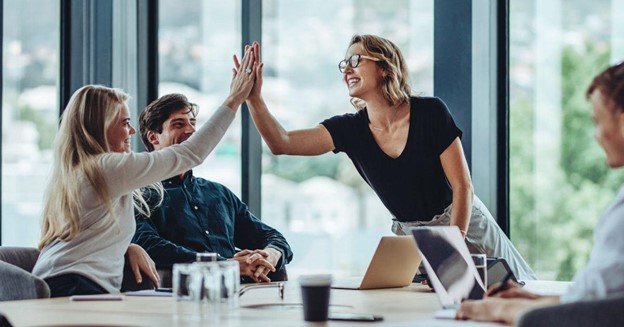 Six simple ways that SynapseIndia follows to create and maintain an ethical workplace culture environment.
Integrate core values into the day-to-day
Without fundamental beliefs, it's almost difficult to make an ethical working environment culture. Fundamental beliefs teach employees, clients, and prospects regarding where the association is proceeding to impart what's generally important to the company. Internally, core values are made to construct a feeling of trust with your employees and shape the hierarchical culture. They additionally make a feeling of clarity and purpose for the labor force to be sure about what they need to pursue consistently.
Publishing core values will not get you anywhere. You need to live them consistently beginning with the conduct at the top. Get your executives involved from the start while laying out your fundamental beliefs, so they have more ownership over them.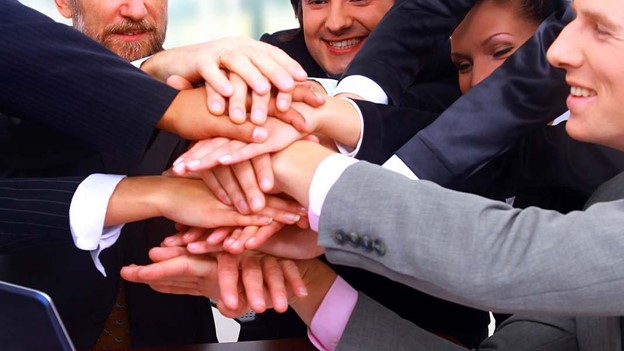 Organizations should proceed to communicate and educate workers about these basic beliefs and guarantee they are reflected in and examined in everything from interviews with potential new hires, onboarding fresh recruits, all-inclusive meetings, and individual one-on-one sessions. Like that, everybody is helped to remember the organization culture and seeing conduct that is lined up with these qualities.
The following are instances of core values that these organizations have laid out to make and keep a moral work environment with employees and clients:
● Integrity: We are honest, open, ethical, and fair. People trust us to adhere to our word—Adidas
● Green: We strive to minimize our negative impact on the environment—Ben and Jerry's Ice Cream
● Genuine: We're sincere, trustworthy and reliable—Adobe
It begins at the top
Since your core values are good to go, your task is finished. Not exactly. To ensure workers are motivated to experience your organization's guiding principle, executives and directors should live it and model similar conduct they expect in their groups. Leaders should be cautious with regards to their activities and how their employees decipher them.
If a manager acts deceptively, so will the workers; it's a cascading type of influence. Compromising to reach a goal, lying about measurements and numbers to the CEO, and taking part in obnoxiously oppressive conduct are only a couple of instances of how leaders can abuse moral conduct. If employees are seeing these practices, they will either believe it's alright to do and reflect that conduct or think that it is hostile and at last lose trust in the manager.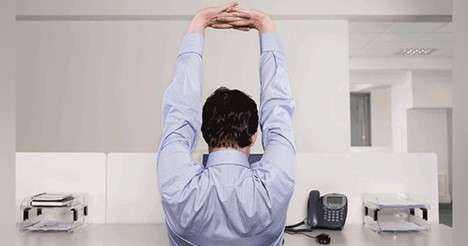 As a HR proficient, you can equip leaders with the tools and resources they need to impact and support moral conduct. Moral initiative should track down potential chances to examine ethical dilemmas in day-by-day work, for example, how to try not to compromise to fulfill a difficult deadline and looking for help to complete a project on schedule without driving colleagues to do as such. Leader impact is imperative, and perhaps the best strategy to guarantee representatives are adhering to organization rules and being moral in their everyday work.
Reinforce the message
While it could require some investment for executive impact to kick in, as a HR leader, your responsibility is to keep guiding workers. You've conveyed company core values and values in the work environment by means of email, on the organization website, in all-inclusive meetings, and during the onboarding system of fresh recruits. Tragically, even with all that, employees fail to remember what the fundamental beliefs are, and you see more ethics infringement in the work environment, and many are in any event, asking the HR office, "Where can I find our core values?"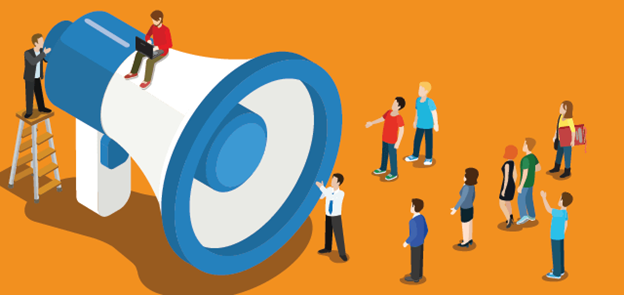 Proceed with the discussion regarding how ethical behavior lines up with the organization's guiding principle. Build up the message in a variety of ways, for example, training and workshops that show how to address moral difficulties, open door lunch, and learn meetings to talk about potential ethics violations and company newsletter that feature moral practices, to give some examples. Make your group gatherings intelligent by pretending instances of ethical versus unethical practices in the working environment and uplifting feedback versus pessimistic results individuals face. Urge top leaders to talk about organization values also. One more extraordinary method for supporting the message is by posting your basic beliefs and ethical guidelines all around the workplace.
Reward good behavior
Bad behavior catches a lot of HR's attention. Shouldn't something be said about good behavior? One more method for impacting and propelling employees in the work environment is to recognize and reward acceptable code of conduct. While perceiving and rewarding acceptable conduct could seem like a nurturing method, organizations will see a positive result. A couple of ways to reward ethical behavior is to incorporate positive feedback from leaders and managers, expanding the worker's lunch break, or giving them the remainder of the free day on a Friday evening.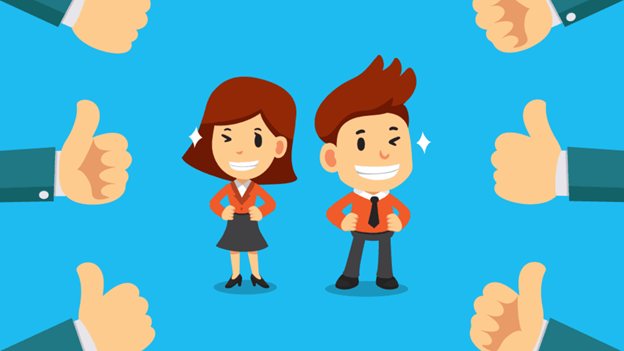 As leaders and HR experts, notice and recognize appropriate conduct in workers so the right employees are climbing the ladder and getting the promotion they deserve. At the point when these representatives get into administrative roles, they can keep on making an ethical workplace culture.
A positive culture in the work environment is important for encouraging a feeling of satisfaction and possession among the employees. Whenever individuals invest heavily, they put their future in the association and endeavor to create an opportunity that will benefit the company. By recognizing and rewarding the people who are effectively endeavoring towards making a positive work culture, and supporting others around them, organizations can urge others to do likewise. Positive attitudes and conduct in the working environment are the immediate results of effective authority and a positive management style.
Tags: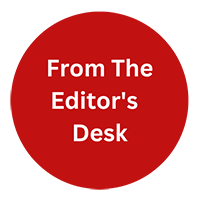 "From the Editor's Desk" is not just about the content. Our content writers will be sharing their thoughts on industry trends, new technologies, and emerging topics that are relevant to our readers. We believe that it's important to stay up-to-date with the latest news and trends, and We excited to share my thoughts and insights with you.