How Cloud Solutions Offer Complete Data Security for Your Business
10 Aug 2023
"Explore the all-embracing data security benefits that cloud solutions bring to your business. Learn how cloud services safeguard your crucial corporate information, ensure compliance, and provide you with strong measures against cyber threats."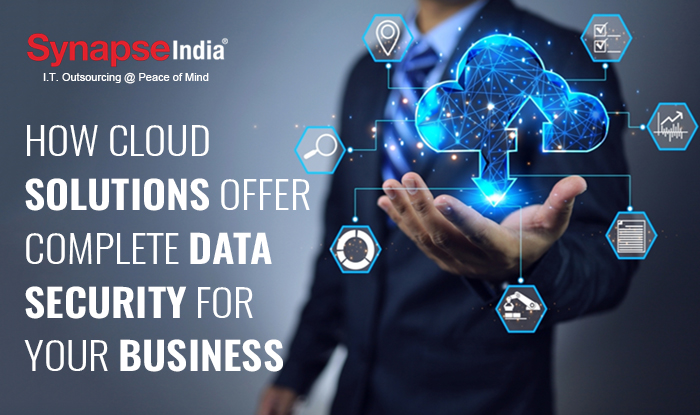 Security is the primary consideration for all businesses, despite their size. And the present digital landscape compels every organization to have a strong online presence to stay relevant, be competitive, and grow exponentially. However, this dependence also makes them susceptible to cyberattacks. Cyber-attacks inflict significant damage on businesses as they lead to data infringements, economic losses, and, at times, losing customers as well. Additionally, cyberattacks harm businesses' reputations and make it difficult to attract new customers.
Moreover, organizations are now moving to digital platforms; cloud business solutions have emerged as powerful ways for storing and managing data. In contrast to common fallacies, cloud computing provides sophisticated security measures that can protect crucial business data more effectively than conventional on-premises solutions. In this blog, we will delve into ways that cloud solutions ensure comprehensive data safety and security for your company, tackling concerns related to data theft, compliance, and security threats.
Encryption and Secure Access
Cloud solution providers are using state-of-the-art encryption techniques to protect data both in-transit and storing. Using sophisticated encryption technique makes sure that even when intruders trap the data, they may not be able to decipher the critical business data. In addition to this, cloud services perform security access controls with multi-factor authentication, ensuring that only verified individuals can have access to sensitive business information.
Redundancy and disaster recovery
Cloud service providers utilize data redundancy and data replication across various servers, named RAID servers, and data centers. Such redundancy not only improves productivity but also protects data in the event of device failure or any natural calamity. Here comes data recovery services into play, where they plan to restore data promptly in case of contingencies.
Regulatory norms and compliance
There are certain industry-specific regulations with which businesses must comply, such as HIPPA, GDPR, and CCPA, which are significant for businesses dealing with sensitive business data and customer information. These industry-related specifications require rigorous compliance auditing and certifications to meet the necessary business requirements. Using compliant cloud-based services, businesses can confidentially manage and store data without facing any risky legal consequences.
Physical security measures
Security of data centers Physical security is also a crucial aspect of the overall protection of data in the cloud. Renowned organizations execute rigorous security measures, including monitoring, access controls, and disaster recovery protocols. Such measures protect significant business information from physical threats as well as natural calamities.
Threat detection and Prevention
Cloud service providers implement enhanced threat identification mechanisms to locate and thwart potential security breaches in real time. These systems also examine patterns, conduct, and variances for detecting unauthorized attempts to access sensitive business information and any other dubious activities. If the potential security threats to the system are identified promptly, it becomes easier to address them on time. In addition to this, such solutions improve business's ability to respond effectively to any potential intrusion activity that takes place.
Regular security updates
There is a constant need for surveillance and updating the system and its security patches to counter the emerging threats and risks. Such updates are necessary to protect the system from any potential cyberattack and prevent it from stealing crucial business information. Additionally, frequent security updates ensure that the infrastructure remains robust against cyber robbery. If the cloud expertise is deployed in a proper manner, it can benefit your business in monetary terms as well. As it eliminates the need to allocate resources for other security maintenance.
Advantages of using a cloud system for security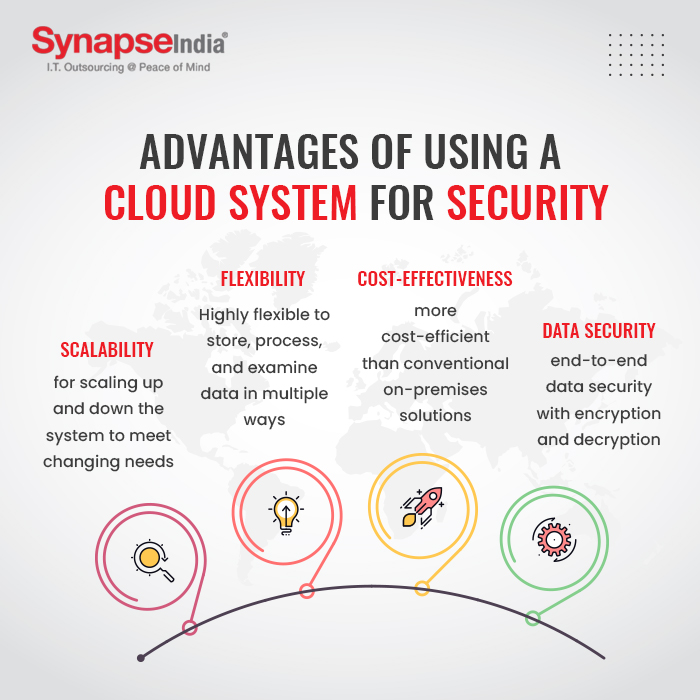 Scalability: for scaling up and down the system to meet changing needs.
Flexibility: Highly flexible to store, process, and examine data in multiple ways.
Cost-effectiveness: more cost-efficient than conventional on-premises solutions
Data security: end-to-end data security with encryption and decryption
Besides the security support provided by cloud services experts, organizations also take the necessary steps to protect their data in the cloud. Such steps comprise:
Besides the security support provided by cloud services experts, organizations also take the necessary steps to protect their data in the cloud. Such steps comprise:
Using strong passwords and multi-factor authentication is significant for protecting user or business accounts on the cloud.
Ciphering and deciphering data both in transition and at rest protects data from any potential intrusion into your system that could lead to any potential harm to your business.
Scrutinizing your data for frequent security updates as well as assessing it to identify any possible breaches can protect your business to a great extent.
Final Words
Adopting cloud business solutions transforms your data management and strengthens your overall safety posture, protecting your company against developing cyber hazards and possible data breaches. In addition to this, early warning and detection systems always help identify potential security breaches that can take place in real-time. Through a partnership with a reliable cloud business solution, you can safely entrust your confidential information to their safe infrastructure, allowing your business to thrive while retaining data privacy and integrity.
If you're considering a secure and cost-efficient approach to storing your data, cloud solutions are great option.
Tags: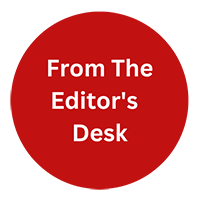 "From the Editor's Desk" is not just about the content. Our content writers will be sharing their thoughts on industry trends, new technologies, and emerging topics that are relevant to our readers. We believe that it's important to stay up-to-date with the latest news and trends, and We excited to share my thoughts and insights with you.